Chatsworth Products brings home CI&M 2015 Innovators Award for University of Florida Health Shands Hospital data center
CPI's deployment for University of Florida (UF) Health Shands Hospital was recognized among the best in the industry.

Sep 29th, 2015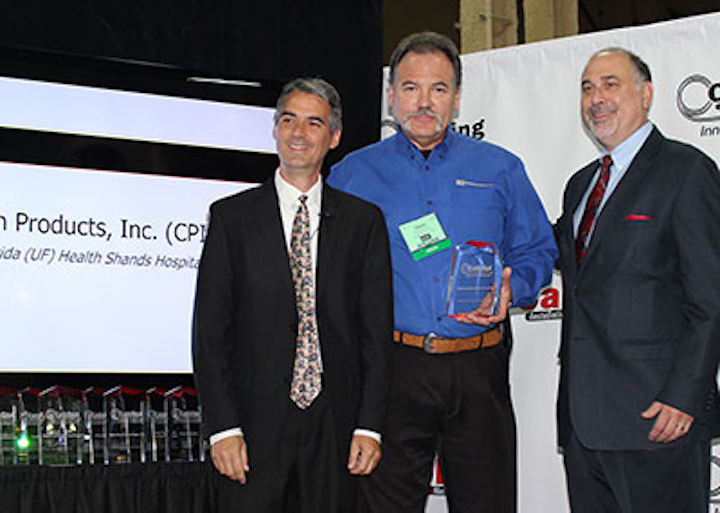 WESTLAKE VILLAGE, Calif., Sept. 22, 2015 — Chatsworth Products (CPI) announced today that its custom data center solution for University of Florida (UF) Health Shands Hospital was recognized among the best in the industry by the judges of the Cabling Installation & Maintenance (CI&M) 2015 Innovators Awards program.

UF Health Shands Hospital features the company's custom CPI Hot Aisle Containment Solution, F-Series TeraFrame Gen 3 Cabinets with Vertical Exhaust Ducts, and N-Series TeraFrame Network Cabinets and accessories.

Download CPI's UF Health Shands Hospital case study for complete solution details.

Steven Bornfield, CPI Sr. Data Center Consultant [pictured above], accepted the award on behalf of CPI during the award ceremony held at the BICSI Fall Conference and Exhibition. Patrick McLaughlin (shown on left), CI&M Chief Editor and Alan Bergstein, CI&M Group Publisher (shown on right), presented the award.

The CI&M 2015 Innovators Awards program reviews and recognizes the most innovative applications of cabling and communications technology products and systems within the structured cabling industry. The judging panel consisted of cabling and communications system specifiers, designers, integrators and managers with vast professional experience.

"On behalf of the Cabling Installation & Maintenance Innovator Awards, I would like to congratulate Chatsworth Products on their Silver–level honoree status," said Alan Bergstein. "This competitive, unbiased program celebrates the most innovative projects in the structured cabling industry. We are pleased to celebrate Chatsworth Products' Silver status and recognize their contribution to the structured cabling industry."

About Chatsworth Products
Chatsworth Products is a global manufacturer providing voice, data and security products and service solutions that optimize, store and secure technology equipment. CPI Products offer innovation, configurability, quality and value with a breadth of integrated system components, covering virtually all physical layer needs. Unequalled customer service and technical support, as well as a global network of industry-leading distributors, assures customers that CPI is dedicated to delivering products and services designed to meet their needs. Headquartered in the US, CPI operates global offices within the US, Mexico, Canada, China and the United Kingdom. CPI's manufacturing facilities are located in the US, Asia and Europe.

CPI is listed with the General Services Administration (GSA) under Federal Supply Schedule IT 70. Products are also available through GSA Advantage and through Government Wide Acquisition Contracts (GWACs), including GSA Connections and NITAAC-ECS III. Visit www.chatsworth.com/gov.