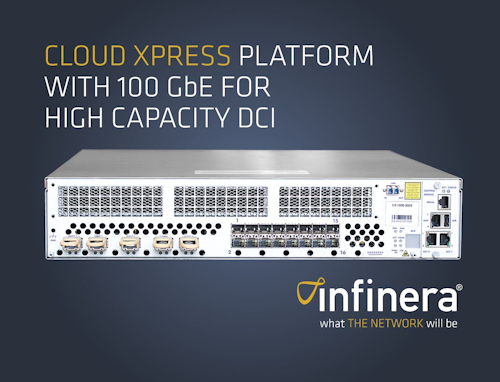 Infinera (NASDAQ: INFN) has expanded its Cloud Xpress portfolio with a platform that offers client-side 100 Gigabit Ethernet (100 GbE). The company has also added common software-defined networking (SDN) protocols and MACsec encryption support across the product line.

As reported by CI&M's sister publicaton Lightwave, the company introduced the Cloud Xpress last year to meet the data center interconnect and cloud networking requirements of cloud service providers, Internet content providers, Internet exchanges, large enterprises, and related customers. The new platform makes good on Infinera's promise to support 100 GbE client-side interfaces on the Cloud Xpress; the previous versions supported 10GbE and 40GbE, respectively.

Each new example of the 2RU Cloud Xpress platform will support five 100 GbE interfaces or twenty 10 GbE interfaces. The 100 GbE platform offers a typical power consumption of 500 W.

"100 GbE is finally becoming available on data center switches and achieving cost-effective pricing on routers, creating an emerging demand for 100 GbE client-side interfaces on optical equipment designed for metro data center interconnect," observes Andrew Schmitt, research director, carrier transport networking at IHS, via an Infinera press release. "Infinera is shipping 10 GbE and 40 GbE; adding 100 GbE is a well-timed extension to the Cloud Xpress family and helps it retain a leadership position in this emerging product category."

Meanwhile, the company also reportedly announced support across its Cloud Xpress portfolio for NETCONF and YANG, two popular SDN protocols. The systems also will support LLDP discovery protocols for data center automation. The MACsec support addresses the need for secure connections between data centers.

Lightwave notes that Infinera has already announced a few customers for the Cloud Xpress. The 100 GbE capabilities also drew kudos from Equinix (which has not been announced as a Cloud Xpress customer).

"As cloud and application enterprise adoption accelerates, our customers increasingly rely upon Equinix to meet their growing bandwidth demands," concludes Teri Francis, vice president of technology at Equinix. "Infinera's Cloud Xpress is a cloud-optimized platform offering the highest density and terabit scalability to interconnect our data centers while maintaining a very low power footprint. This enables our customers to access cloud and network nodes between data centers across the metro with high performance and great efficiency. The new 100-Gbps interfaces will definitely expand the potential applications for Cloud Xpress."