Finland's CSC taps CommScope for rapid data center expansion
Once CSC placed the order, the company's DCoD solution was delivered in approximately 16 weeks to begin on-site installation in Kajaani, Finland.
Oct 23rd, 2015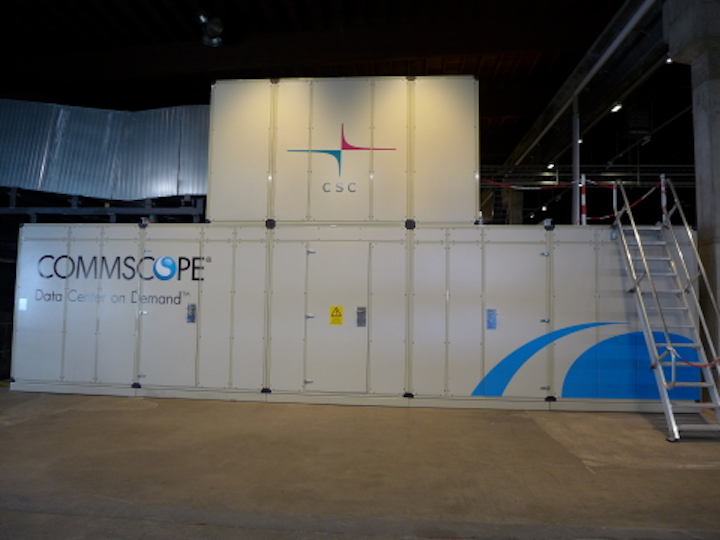 As a non-profit, state-owned company tasked with promoting the operational framework of Finnish research, education, culture and administration, the Finland-based CSC – IT Center for Science Ltd. (CSC) has an obligation to provide its growing customer base with competitive computing resources for research. To quickly meet increasing customer needs for data center capacity, CSC deployed CommScope's modular, purpose-built Data Center on Demand (DCoD) data center solution.
According to a press release from the company, once CSC placed the order, the DCoD solution was delivered in approximately 16 weeks to begin installation at its site in Kajaani, Finland. Assembly and acceptance testing was completed within two weeks. CSC deployed its first CommScope modular data center in 2012, adding a second at the end of 2014. "Our customer base is growing and their requirements are changing. We needed to provide more data center capacity in a scalable, environmentally friendly and cost-efficient way," comments Tero Tuononen, director ICT Platforms, CSC. "The new modular data center concept from CommScope fits nicely into our portfolio."

With growing demands on its IT infrastructure, CSC says it needed to expand its existing modular data center facility in a way that could meet its unique requirements of fitting within a certain budget, a short time to deployment and feature a robust design that would withstand Finland's harshest temperatures. As recounted by CommScope, in less than three years, the solution delivered significant bottom-line benefits to the organization, including:

* Sustainability: Significantly reduced energy consumption and costs, compared to a traditional brick-and-mortar data center, demonstrates CSC's commitment to leading- edge technologies that reduce its carbon footprint and complement its ecological credentials.

* Water usage effectiveness: One DCoD at CSC consumes approximately 120 cubic meters of water each year – less than a typical household in Finland (164 cubic meters). The water usage effectiveness of the DCoD greatly offsets the extensive energy required for typical data center chillers.

* Power usage effectiveness (PUE) reduction: While the average PUE for a typical data center varies from 1.8 to 2.9, the DCoD installation at CSC averages 1.03 to 1.06. This is all the more significant, noting summer-winter temperature swings from +30°C to -35°C.

* Seamless expansion: The DCoD is an expansion of the existing data center, forming a single expanded facility. Installation and integration had to be achieved without causing any interruption to the existing IT services.

"The concept of a data center has fundamentally changed. When considering the requirement for the physical space, traditional brick-and-mortar facilities may not be appropriate for all project scenarios," contends Ciaran Forde, vice president, Global Data Center Solutions, CommScope. "The CSC project is a perfect example of where an organization, requiring more capacity, was able to expand in phases. The modular approach of Data Center on Demand enabled a phased capacity expansion from an engineering and economically sound perspective."

"IT technology and applications are changing very fast," concludes Tuononen. "So our data centers need to be able to adapt to those changes in a scalable and cost-efficient way. Customers, suppliers, owners and personnel alike must feel certain that we will fulfill our commitments and promises in an ethically sustainable manner. Right-sizing and delivery strategy are key factors when planning for data center capacity, which is why we decided on CommScope's Data Center on Demand solution."

The Data Center on Demand platform is globally available to CommScope customers and is supported through CommScope's extensive PartnerPRO Network. A video of CSC's purpose-built data center, with an interview with Tero Tuononen, can be viewed here: