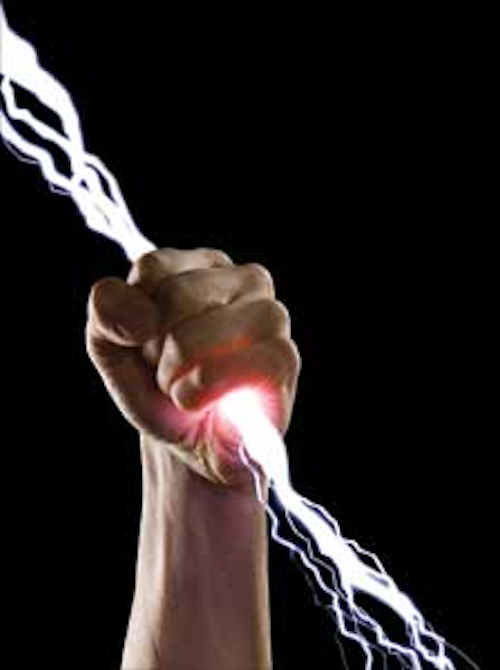 A recent technical white paper from APC-Schneider Electric asks the questions, "Do IT administrators violate arc flash requirements when they turn off or reset a branch circuit breaker? What about swapping out a rack power strip?" The paper's executive summary contends that most data center operators are familiar with fire safety and shock hazard protection, but are less familiar with arc flash safety.
As noted in the document, the term "arc flash" describes what happens when electrical short circuit current flows through the air. A fault (the common term for short circuit) usually occurs between a live conductor (e.g. wire, bus) and another live conductor(s) or grounded metal. In many cases, a single-phase fault quickly evolves into a three-phase fault. In an arc flash, the current literally travels through the air from one point to the other, releasing a large amount of energy, known as incident energy, in less than a second. This energy is released in the form of heat, sound, light, and explosive pressure all of which can cause harm. Some specific injuries can include burns, blindness, electric shock, hearing loss, and fractures.
APC-Schneider Electric asserts that three IT trends have increased the severity of a potential arc flash in the IT space: higher data center capacities, higher rack densities, and higher efficiency designs. The paper discusses these three trends in the context of arc flash safety within the IT space. Arc flash is explained, potential areas of concern in the IT space are identified, and compliance with associated regulations is discussed.
The company says the paper will help to answer common arch flash questions including the following: What is the typical fault current in a 20 amp circuit? Is arc flash different than shock? Is my employer liable if a contractor performs hot work in a data center? Is it considered hot work to plug in a rack PDU? Does "Fingersafe" mean that [a technician] can add a circuit to a live bus? Should I perform an arc flash assessment?