Tripp Lite adds PoE+ to PDU, Ethernet switch 1U combo
Tripp Lite expands its line of PDU Ethernet Switch Combos.
Jul 29th, 2015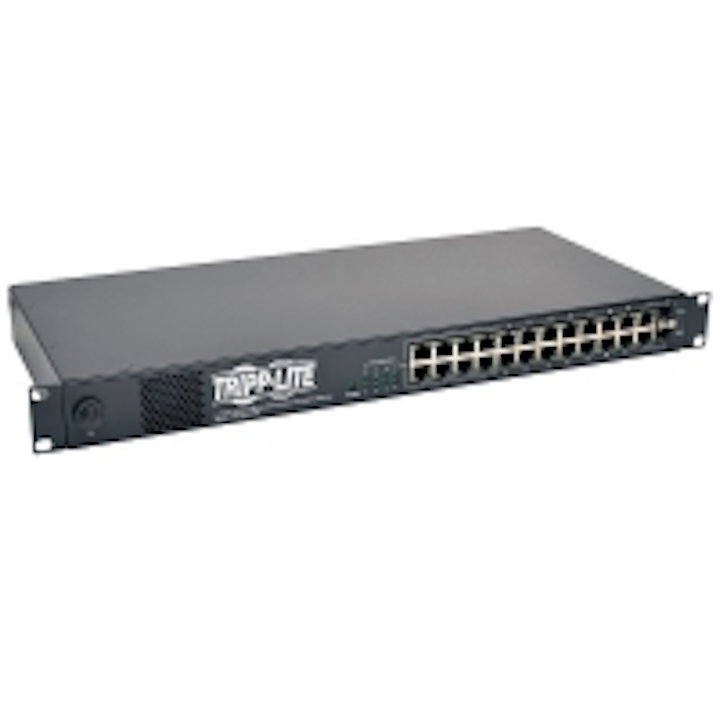 Power protection and connectivity products specialist Tripp Lite (Chicago, IL) has expanded its line of space-saving PDU Ethernet Switch Combos.
Merging a PDU and unmanaged network switch into a single 1U device, the device models generally offer 12 outlets and 24 Gigabit Ethernet ports. Eight of the ports on the new PoE+ (Power over Ethernet) model have the capability to provide up to 30 watts of power per port for devices such as VoIP phones, wireless access points and surveillance cameras. The PoE+ model also includes two SFP ports for optical network uplink to additional units.

Tripp Lite notes that all of the PDU Ethernet Switch Combos incorporate green Ethernet technology, which turns off inactive ports and detects the length of a connected network cable and adjusts power consumption accordingly. The switches are ideal for server rooms, network closets, applications using wall-mount network cabinets and any environment where rack space is at a premium.

"Our newest PDU Ethernet Switch Combos give IT managers additional options to get the features they need for their specific application," comments David Posner, Tripp Lite's product manager. "With Power over Ethernet, users have enhanced functionality without compromising the space-saving 1U design."

Learn more about Tripp Lite's PDU Ethernet Switch Combos.