High-density fiber system houses 576 LC or 3456 MPO fibers in 4U
The 4U LightStack is Siemon's latest addition to its LightHouse Advanced Fiber Optic Cabling Solutions, offering low-loss, high-density fiber connectivity.
Apr 1st, 2015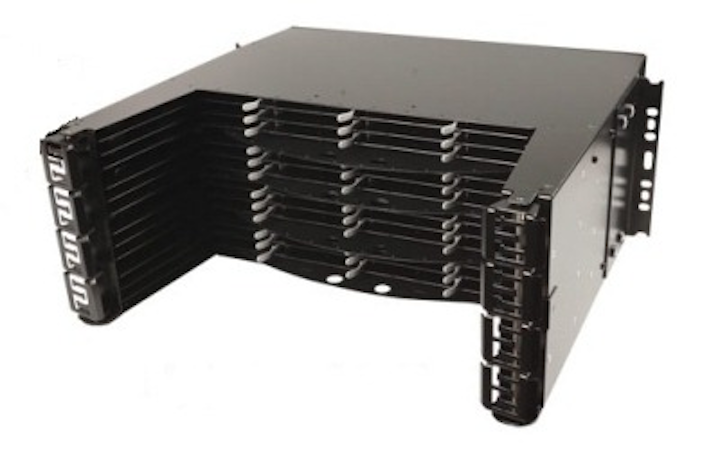 Siemon recently announced a 4U version of its LightStack Ultra High Density Fiber System. The 4U LightStack houses 576 LC fiber connections or 3456 MPO/MTP fiber connections in 4 rack units "while ensuring proper port access, cable management and fast, seamless migration to advance 40 and 100-gigabit applications," the company said.
"Part of Siemon's LightHouse Advanced Fiber Optic Cabling Solutions, LightStack 4U is an innovative rack-mount enclosure with revolutionary horizontal cable management that handles both traditional and uni-tube jumpers and features easy-unlatch, swing-open management clips for full access to the jumpers," Siemon added when announcing the new high-density fiber system. "Swivel trunk cable tie-down points on the rear of the enclosure maintain proper bend radius, while sliding trays offer all-around better access than any other high-density fiber enclosure on the market," the company continued. "Modules are easily inserted or removed from either the front or rear of the enclosure, and the visually appealing easy-open magnetic door eliminates harmful pinch points and offers high-visibility drop-down labeling."
Charlie Maynard, fiber-optic product manager at Siemon, said, "Our 1U LightStack Ultra High Density Fiber System is extremely popular among today's high-density data centers that require easy access and management of high-density fiber connectivity with the capability to easily migrate from 10- to 40- to 100-gigabit speeds. Our latest 4U version simplifies installation for high-fiber-count environments by supporting four times the density in a single enclosure while maintaining the best-in-class LightStack features that help data centers overcome current and future fiber connectivity challenges."
The system includes LightStack low-loss (0.35-dB) LC-to-MTP modules, 0.2-dB-loss MTP passthrough adapters that are fully ready to support 40- and 100-gigabit applications, and 12-fiber LC passthrough adapter plates for current 10-Gigabit Ethernet or Fibre Channel SAN applications, Siemon explained. "Ideal for backbone and SAN applications, the system also includes trunk cables, including MTP trunk cables and LC-to-MTP hybrid trunk cables available in staggered lengths for connecting a variety of active equipment to interconnects or crossconnects."