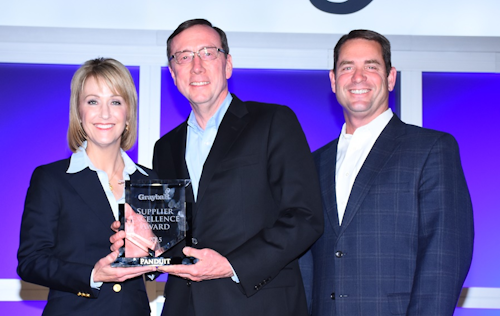 From left: Katheen M. Mazzarella, Graybar's chairman, president and CEO; Tom Donovan, Panduit's president and chief operating officer; and Bill Mansfield, Graybar's senior vice president, sales and marketing.

Last week at Graybar's National Training Conference in Orlando, FL, the distributor presented Panduit with the Graybar Supplier Excellence Award.

"Panduit is known for providing a high level of local support and proactive engagement across Graybar," said Kathleen M. Mazzarella, Graybar's chairman, president and chief executive officer. "We appreciate and admire Panduit's strong product line and innovative solutions that help us work to the advantage of our mutual customers."

Graybar's Supplier Excellence Award is presented semi-annually to recognize a product manufacturer that has collaborated with Graybar in an exceptional manner to successfully grow profitable business together.

"Panduit has been fortunate to have this long-term relationship with Graybar. Their success over the years has helped fuel Panduit's success," commented Tom Donovan, president and chief operating officer of Panduit. "The fundamental strength of the Graybar / Panduit relationship continues to be around our shared core values of integrity, people, and long-term vision. Panduit thanks Graybar for our past accomplishments and looks forward to continued success."
Via its network of more than 260 North American distribution facilities, Fortune 500 corporation Graybar is a specialist in providing high quality electrical, communications and data networking products, and related supply chain management and logistics services.