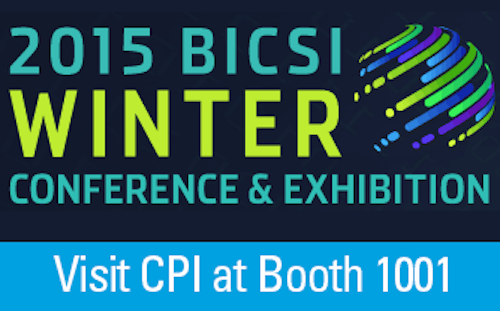 Chatsworth Products (CPI) exhibited its data center cabinets and containment solutions at the recent 2015 BICSI Winter conference and exhibition (Feb. 23-25) in Orlando, FL.

At the show, CPI chiefly displayed two cabinet systems: its N-Series TeraFrame Gen 3 network cabinet, and its F-Series TeraFrame Gen 3 cabinet. The N-Series supports and protects switches, regardless of size, model or airflow requirements. The cabinet is Cisco-compatible and is optimized for high-density network and storage switches. The F-Series features an enhanced frame design, new sizes and panels, easier equipment rail adjustment and smarter airflow management, making it one of the most advanced cabinets available to the market, contends the company.

CPI also showcased its Build To Spec (BTS) Kit Hot Aisle Containment (HAC) Solution for data centers. The BTS Kit arrives on a pallet and includes eight unique components to field-fabricate a duct over a contained aisle in a facility. The solution can be used over a mix of cabinets of varying sizes, and can be ceiling- or cabinet-supported, making it ideally suited for retrofit applications.

Additionally at BICSI Winter'15, CPI presented its Remote Infrastructure Management (RIM) system. The RIM System allows data center managers to resolve environmental problems in equipment rooms and data centers before they cause downtime by providing real-time monitoring of critical conditions. Three configurations are available from CPI: the RIM-750, RIM-1000 and RIM Protocol Converter.

Also on display at the show were CPI's eConnect power distribution units (PDUs), and its Evolution cable management and electronic lock kits (ELS).

CPI is listed with the General Services Administration (GSA) under Federal Supply Schedule IT 70. Products are also available through GSA Advantage and through Government Wide Acquisition Contracts (GWACs), including GSA Connections and NITAAC-ECS III. For more information, go to: www.chatsworth.com/gov.