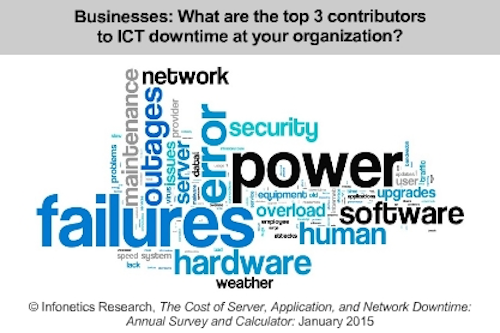 Technology researcher Infonetics Research, now part of IHS, Inc. (NYSE: IHS), recently conducted in-depth surveys with 205 medium and large businesses in North America and discovered that companies are losing as much as $100 million per year to downtime related to information and communication technology (ICT).

"Businesses participating in our ICT downtime survey are losing almost $4 million a year to downtime on average, about half a percent of their total revenue," comments Matthias Machowinski, directing analyst for enterprise networks and video at Infonetics Research.

Infonetics' survey, The Cost of Server, Application, and Network Downtime, explores the frequency, length, cost and causes of ICT downtime, including those related to the network, security, servers, applications and devices. To help IT managers calculate the impact of downtime at their own organizations, for the survey, Infonetics developed a customizable Downtime Calculator that computes the cost of both outages and degradations by type and source.

According to the survey, the most common causes of ICT downtime are failures of equipment, software and third-party services; power outages; and human error. Infonetics' respondent organizations said they experience an average of two outages and four degradations per month, with each event lasting around six hours. Businesses' top strategies for reducing ICT downtime include implementing network monitoring to speed discovery of outages, building more redundancy into systems, and training and hiring staff.

"Fixing the downtime issue is the smallest cost component," adds Machowinski. "The real cost is the toll downtime takes on employee productivity and company revenue, illustrating the criticality of ICT infrastructure in the day-to-day operations of an organization."

Learn more about the survey.