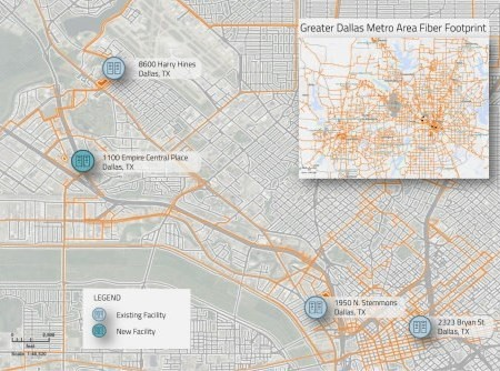 Zayo Group Holdings, Inc. (NYSE: ZAYO) announced that it has doubled its data center footprint in Dallas, TX, with the acquisition of Stream Data Centers' 36,000 square foot facility at 1100 Empire Central Place. Zayo now boasts 61,000 square feet of data center space across four locations in Dallas. The company says it has experienced accelerating demand for data center and interconnection services in the Dallas area, fueled by customers in the technology and energy sectors.

The acquired site will link to Zayo's fiber-optic network backbone in the city's metro area. The local fiber-optic infrastructure runs more than 3,500 miles, including a previously announced fiber-to-the-tower (FTTT) deployment. The fiber cable network also will link the new data center to the company's points-of-presence (POPs) in 1950 N. Stemmons Freeway and 2323 Bryan Street.

Zayo said it has already begun selling space in the new data center, and anticipates a 40% or higher return on its capital investment (the amount of which was not stated).

Greg Friedman, executive vice president of colocation and cloud infrastructure at Zayo, commented, ""Zayo continues to experience very healthy demand for colocation and data center services in the Dallas region. We are able to offer customers benefits that go beyond traditional data center services and include access to our high-performance network and robust communications infrastructure."