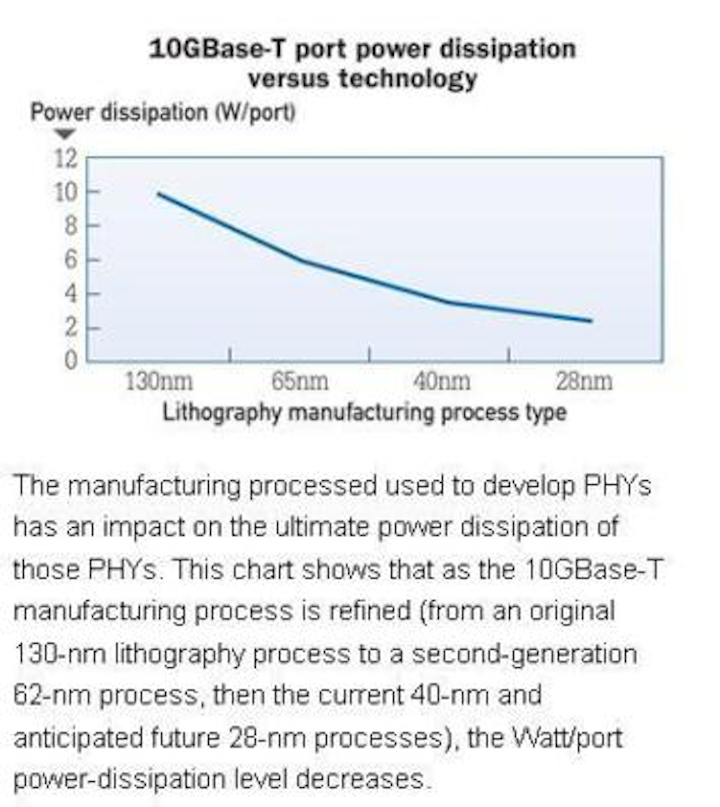 On November 5 integrated circuit (IC) developer Aquantia announced sampling of its latest-generation, 28-nm 10GBase-T PHY. When making the announcement, the company said, "The new device, which is the fourth generation of 10GBase-T ICs from Aquantia, reduces the power consumption of its data center products to 1.5W per port while also integrating such features as Energy Efficient Ethernet, 1588 and MACsec." In an interview with Cabling Installation & Maintenance, Aquantia explained that the 1.5W consumption level applies to 10GBase-T lengths on par with those of 10GBase-CX4—up to 7 meters—used in top-of-rack architectures with direct-attach twinaxial cabling. When used in a full 100-meter 10GBase-T architecture, the PHY consumes energy at 3W-per-port—still a marked improvement over previous- and current-generation PHYs.
Related article: 10GBase-T equipment availability and the future of copper media
Aquantia pointed out a number of network- and cabling-management challenges inherent in CX4 deployments, including the lack of end-of-row or middle-of-row architecture support. "The practical reach is 3 to 5 meters," the company said, "with reliability and cost issues beyond 5 meters." Additionally, the company said, CX4 infrastructure is incompatible with a majority of existing 1-Gbit Ethernet ports; the architecture does not allow for the management flexibility that comes with patch panels. Also, as we reported some time ago, some providers of CX4 networking gear require that their own assemblies are used with their network equipment.
For these and other reasons, Aquantia says, Base-T is a preferred networking architecture to CX4. The company's announcement of its low-power-consumption technology takes down what for some has been a nagging barrier to 10GBase-T deployment. The company said, "The advent of Aquantia's 28-nm generation PHY promises to further the penetration of the 10GBase-T technology in cloud data centers, and fuel its adoption within the mass market of corporate data centers. This market segment commonly utilizes middle-of-row, end-of-row, or zoned approach for the location of first-layer Ethernet switching and requires cable distances of up to 100 meters for connecting to the rack servers. As a result, copper Ethernet (1000Base-T) represents close to 100% of all Gigabit Ethernet connectivity today in corporate data center environments.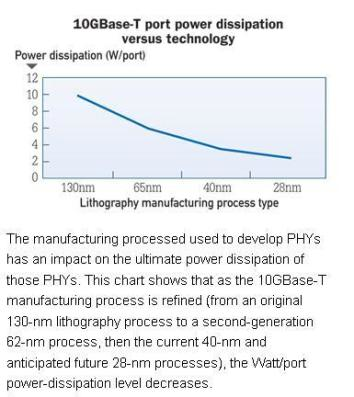 "The 28-nm 10GBase-T PHY generation is expected to experience a similar dynamic as it is deployed in next-generation corporate data center servers and switches. Crehan Research projects that close to 40 million ports of 10GBase-T will ship in the entire data center segment in the year 2017—10 times more than in 2013—making it the fastest-growing connectivity technology in the 10GE segment. In contrast, competing SFP+ technologies are predicted to stagnate in the next few years. Limitations such as too-short-a-cable-reach, interoperability issues and high costs result in SFP+ being assigned to a smaller percentage of the growing 10GE segment."
The 28-nm PHY includes the following features.
IEEE 802.3az Energy Efficient Ethernet (EEE) compliance. "EEE provides significant power savings through the implementation of Low-Power Idle (LPI) modes for a wide range of Ethernet transceivers," Aquantia explains. "As power consumption in data centers continues to be a key focus in the industry, the advent of EEE and Aquantia's implementation of EEE in its 28-nm 10GBase-T PHY delivers the best power performance metrics for 10GE connectivity."
IEEE 1588v2 Precision Time Protocol (PTP) compliance—which "provides real-time clock synchronization on network infrastructures," the company explains.
IEEE 802.1AE Media Access Control Security (MACsec) compliance. According to Aquantia, this capability "enables authentication and encryption of packets between two end-to-end MACsec-capable devices on the network."
Advanced firmware that incorporates three generations of interoperability techniques with all 10GBase-T products shipped to date.
The 28-nm quad-port 10GBase-T IC is shipping in both 23x23mm and 25x25mm packages, Aquantia explains. "The 23mmx23mm version delivers the highest density required in high-port-count fixed and modular Ethernet switches. The 25mmx25mm package provides backward compatibility with Aquantia's 40-nm quad device, allowing customers to migrate their existing designs to the lower-power 28-nm version."