Report: Carriers putting brakes on optical network equipment spending
New data states that total optical spending is flat on a rolling 4-quarter basis.

Nov 19th, 2013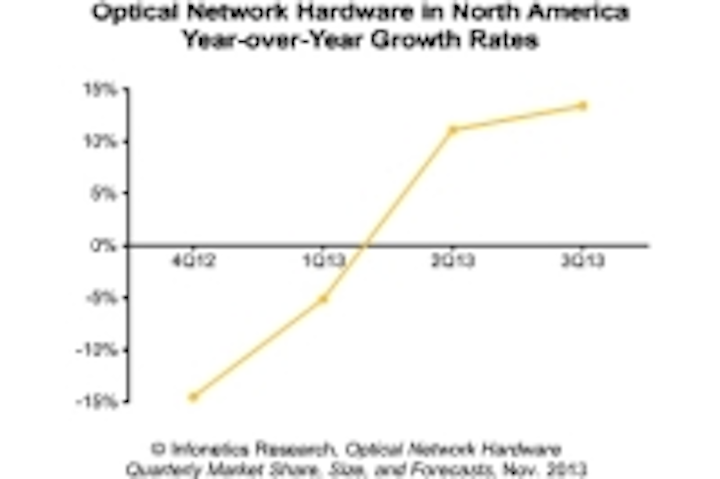 Infonetics Research has released highlights from its 3rd quarter 2013 (3Q13) Optical Network Hardware report. According to the analyst, the global optical network hardware market (WDM and SONET/SDH) is down 7% sequentially in 3Q13, and down 1% from the year-ago quarter. The data states that total optical spending is flat on a rolling 4-quarter basis, with WDM growth accelerating and notching a 5th consecutive quarter of growth in 3Q13.

"In the third quarter of 2013, sales of WDM optical equipment are up 4% from a year ago and remain at the elevated levels reached earlier in the year, but overall optical spending is down on a quarter-over-quarter and year-over-over basis," comments Andrew Schmitt, principal analyst for optical at Infonetics Research.

According to the new report, North America optical spending jumped 13.4% year-over-year in 3Q13 following an 11.1% year-over-year increase the previous quarter, driven by aggressive 100G rollouts by tier 1 operators. "Looking ahead, we expect Tier 1 carriers to dial back spending," Schmitt continues. "Capex was so strong in the first and second quarters of 2013, it's unreasonable to anticipate a big flush in the fourth quarter, especially in North America. There's a general weakness in the market, even from carriers that didn't aggressively ramp spending earlier this year."

The research also finds that in 3Q13, EMEA (Europe, the Middle East, and Africa) WDM spending declined on a year-over-year and sequential basis, nearing the record low set in 1Q13. Japan dragged down the Asia Pacific optical market in 3Q13, a result of spending retracing huge gains in 2012. Huawei, Ciena, and Alcatel-Lucent were the WDM market share leaders in 3Q13.

Infonetics' quarterly optical hardware report provides worldwide and regional market size, market share, forecasts through 2017, analysis, and trends for metro and long haul SONET/SDH and WDM equipment, Ethernet optical ports, SONET/SDH/POS ports, and WDM ports. Vendors tracked include Adtran, Adva, Alcatel-Lucent, Ciena, Cisco, Cyan, ECI, Fujitsu, Huawei, Infinera, NEC, Coriant (NSN), Tellabs, Transmode, Tyco Telecom, ZTE, and others. Learn more about the report.