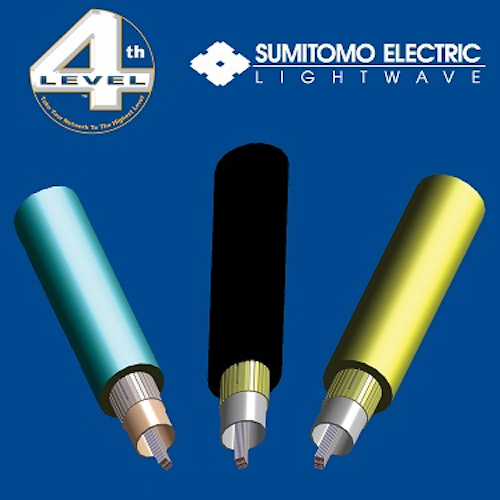 Sumitomo Electric Lightwave has introduced new, flexible all-dielectric indoor-outdoor riser, indoor riser, and indoor plenum ribbon cables within its 4th Level data center and network solutions product line. The company says the new cables enable faster installation, easier connectivity, and space savings required by high density networks in the migration from 10 Gb/s to 40 and 100Gb/s.
The new cables expand the company's integrated, end-to-end optical fiber infrastructure product offering. Prompted by the growing need to upgrade an existing data center or network infrastructure quickly, efficiently, and most cost-effectively with immediate scalability to meet growing bandwidth and transmission speed demands, Sumitomo reportedly designed the cables to allow for fast twelve-fiber mass fusion splicing, quicker and easier cable entry, and faster fiber access through easy-peel ribbon technology.
The new product's patented Easy Split and Peel ribbon design, a key differentiating factor, eliminates the need for special tools, allowing the cabling installer to peel back the ribbon quickly and easily by hand to expose the underlying color coded fibers. The exclusive ribbon design, thereby, increases the speed with which the number of fibers can be either fusion spliced or terminated with MPO splice-on connectors for real-time and on-site cable builds. The ribbon cables test equally well with all splice-on connector types and all conventional industry standard connectors, according to the company.

Development engineers at Sumitomo Electric Lightwave uphold the position that, when ribbon cable is coupled with mass fusion splicing and MPO splice-on connectivity, data center and network managers can customize their existing network infrastructure quickly, easily, and cost effectively, while simultaneously supporting 10Gb/s today and 40/100 Gb/s tomorrow with an immediately scalable, already future-proofed optical fiber infrastructure.

Each of the three new cables also feature a non-preferential bend access for maximum flexibility and bending for easy installation in space constrained areas, an all dielectric cable construction that eliminates the need for grounding or bonding, and flexible dielectric strength members for mechanical durability within a flame retardant jacket. Both the Flexible Indoor Riser and Flexible Indoor Plenum brand cables feature a dry central tube design for easy, no mess, fusion splicing.

"Sumitomo's expertise and leadership in ribbon fiber control processes and manufacturing has led us to the development of outstanding data center and enterprise network ribbon cables," comments Bill Charuk, 4th Level product manager at Sumitomo Electric Lightwave. "Dedicated to continuous innovation, we continue to strive to bring new and better solutions for our data center and enterprise network customers, keeping them ahead of the curve of rapid technology change. "

Both the Flexible Indoor Riser and Indoor-Outdoor Riser rated ribbon cables meet UL 1666, CSA FT4 and RoHS specifications. The Flexible Indoor Plenum rated ribbon cables comply with UL 910, all National Electric Code OFNP, RoHS, and CSA FT-6 requirements. The cables are available in all multimode and single-mode fiber types including bend insensitive SMF.