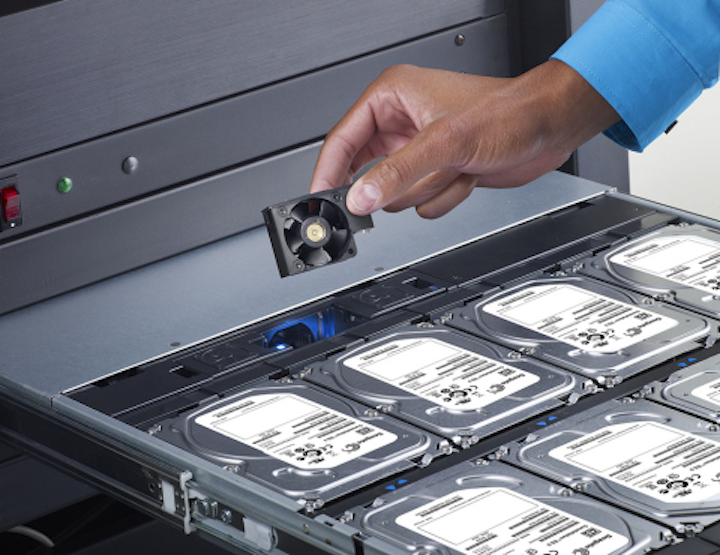 Seagate Technology (NASDAQ: STX) has announced its Seagate Business Storage line of NAS drives for data center infrastructure in 8-bay and 4-bay 1U rackmount form factors. The company asserts that its NAS HDD drives provide the best performing high-capacity storage for NAS servers.

The new drives deliver centralized backup, data protection and remote access to critical information for small and medium-sized business organizations (SMBs) in capacities ranging from 4 to 32 terabytes. For business collaboration and data protection, the Seagate says the new 1U rackmount drives blend cloud integration and security, providing the performance needed for businesses to support multiple simultaneous connections and enable everyone within an organization to easily backup and share files.

The 8-bay rackmount NAS boasts enterprise-class hardware suitable for businesses demanding a higher level of performance and reliability for up to 250 employees. Powered by Seagate's NAS OS and featuring an Intel 2.3GHz dual core processor, this new network attached storage server delivers superior file transfer performance. The design of the 8-bay rackmount features eight 3.5-inch Enterprise Capacity (formerly Constellation ES.3) drives that are hot-swappable for easy storage upgrades and maintenance.

The system showcases an innovative fan design for effective cooling and simple serviceability. Additionally, redundant, swappable power supplies and dual Gigabit Ethernet connections are featured.

Related: Study: Outmoded data center infrastructure hampering virtualization, cloud adoption
"In many cases, SMB storage requirements can be more challenging to meet than those of enterprises," asserts Liz Conner, Sr. Research Analyst, Storage Systems, IDC. "SMBs desire high capacity, efficient storage while dealing with limited budget, physical space, and IT expertise. Seagate's new 8-bay Business Storage helps to meet these demanding needs by providing up to 32 terabytes in a 1U form factor, high ease of use, and desired features at a competitive price point."
Designed for companies of up to 100 employees, the 4-bay rackmount provides high-performance storage capacity featuring best-in-class hard drives optimized for NAS to support customized error recovery controls, specialized power management, and vibration tolerance for optimum performance and reliability. With a 2.13GHz dual-core Intel Atom processor coupled with 2GB of RAM, the 4-bay rackmount NAS delivers impressive file transfer performance for this category of storage, claims the company. Built-in support for iSCSI enables maximum performance and compatibility for virtualized environments.

Designed to backup all Windows and Mac computers within a network to a single centralized location, the new NAS devices are compatible with backup software for Windows PC, and with Apple's Time Machine software for Mac OS X computers. Additionally, the 8-bay and 4-bay rack-mount NAS drives feature the new Seagate NAS OS, which has been re-designed to deliver superior performance along with a clean, intuitive web-based dashboard for managing the server remotely.

Remote access is delivered via the integrated Wuala cloud service and business-focused apps for PC, Mac, smartphone and tablet. The free Wuala app automatically syncs files and make them accessible from mobile devices such as iPhones, iPads, and Android devices. Because the files are encrypted and transferred directly from the NAS to the recipients, business-critical files remain private and secure.

More: Brocade pushing cloud-centric data center infrastructure

The 8-bay 1U rack-mount NAS is available from CDW and other resellers for MSRPs ranging from $2999.99 for the 8-terabyte model to $5999.99 for the 32 terabyte model. The 4-bay 1U rack-mount NAS will be available at the same retail outlets; the rack-mount unit itself will be available without drives for $999.99 MSRP. The lowest capacity 4-terabyte model will retail at an MSRP of $1299.99, and at $2499.99 for the 16-terabyte model.