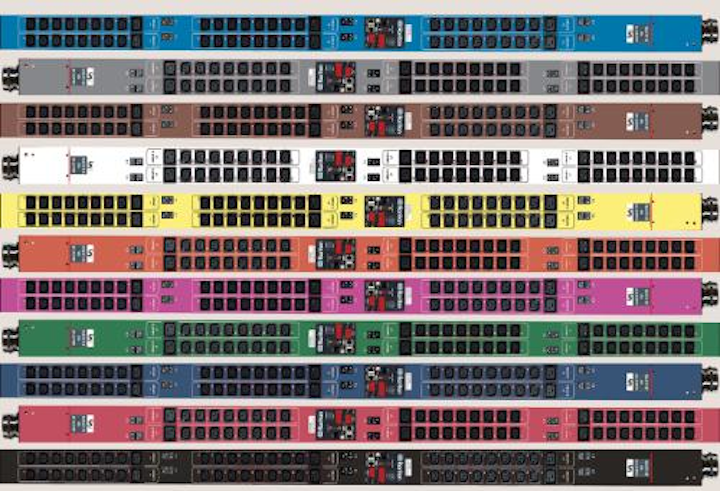 Raritan (Somerset, NJ), a specialist in data center infrastructure management (DCIM) and rack power distribution technology, has added 10 new color choices for its intelligent rack power distribution units (iPDUs) to help data center professionals save time in identifying and locating power distribution pathways, and in differentiating between multiple PDUs in a rack.

Among the largest providers of iPDUs, Raritan now claims to offer the most PDU color choices: red, blue, green, magenta, orange, yellow, white, brown, gray, light blue and black. To make it easier to identify rack PDUs at a distance, from any angle and in all lighting situations, the entire PDU chassis is professionally powder-coated in color vs. affixing color stickers. Raritan also offers color options for its SecureLock power cords, which are used between rack PDUs and server power supplies to prevent them from accidentally disconnecting.

In addition to making it easier to find power components and prevent human error, Raritan says its color PDUs and SecureLock plug cords help maximize uptime in data centers. The company asserts that some of its large customers, such as eBay, use color rack PDUs to make it easier to distinguish A feeds from B feeds for powering servers and other devices with multiple power supplies. Further, it says that many customers select colors for their rack PDUs to match colors used in other elements in the power chain, such as feeds to and from UPSs; while others use color PDUs to identify different types of power, such as 208V three-phase Delta, 208V/120V three-phase Wye.

Related: Study: Rack PDU market to grow on strength of 'intelligent' units
"Our customers, especially those with data centers using high-density server racks, were asking for color PDUs because it was becoming difficult for them to see how their entire power chain fits together," explains David Wood, Raritan's Director of Power Management Solutions. He continues, "Color provides a quick and simple visual identification. A color-coded system, for example, can help to quickly identify a PDU's function and power path while dramatically simplifying troubleshooting."

Raritan's rack iPDU portfolio includes single-phase, three-phase, high power (400V), outlet-metered, outlet-switched, and unswitched rack PDUs and inline power meters to meet the needs of diverse IT environments. The intelligence built into Raritan iPDUs provides real-time, outlet-level monitoring of data center energy and loads, as well as monitoring of environmental conditions when using optional plug-and-play sensors. Raritan iPDUs are available with Ethernet; and, optional Wi-Fi networking may be added.

The 10 new colors for rack PDUs are available worldwide from Raritan's channel partners.