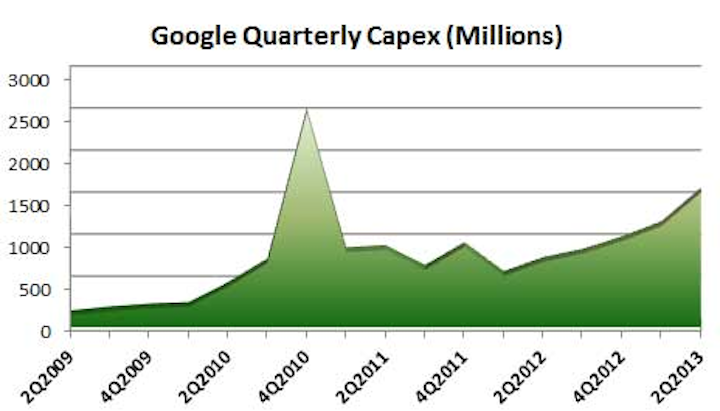 Image Source: Data Center Knowledge
DULY NOTED:Rich Miller of Data Center Knowledgecomments on how Google's extraordinary data center building boom continues to drive its spending, as the company invested a record $1.6 billion in its data centers in the second quarter of 2013. This marked the third consecutive quarter that Google spent more than $1 billion on data centers and servers, reflecting the company's latest wave of data center construction projects.

See: The Illustrated Data Center: Cabling

In the report, Google's quarter-by-quarter spending on capital expenditures (capex) for the past several years is laid out. A capital expenditure is an investment in a long-term asset, typically physical assets such as buildings or machinery. Google says the majority of its capital investments are for IT infrastructure, including data enters, servers, and networking equipment.

Capex numbers related to Google's data center boom were disclosed this week in Google's earnings report for the second quarter, which ended on June 30.
"The Internet services giant fell short of Wall Street's expectations, amid tight scrutiny of its advertising performance," reports DCK's Miller. In the past the company's capex spending has closely tracked its data center construction projects, each of which requires between $200 million and $600 million in investment, according to the reporting.

Full story:Google's Data Center Building Boom Continues: $1.6 Billion Investment in 3 Months (datacenterknowledge.com)