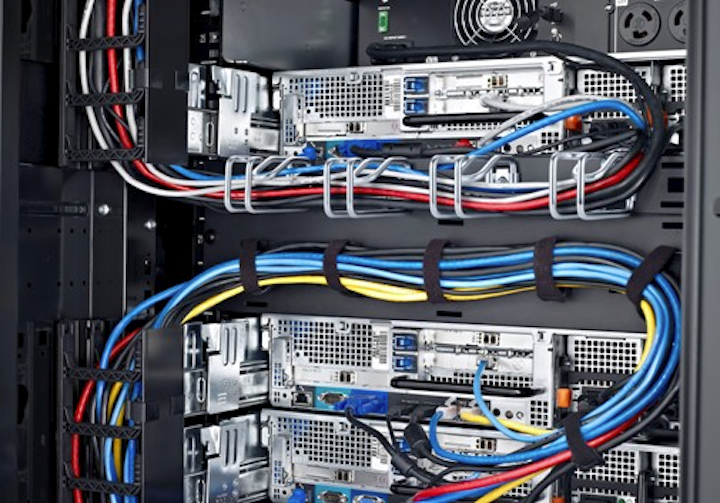 A set of cable-management tools newly available from Dell can be used separately or together within the company's PowerEdge xx20 rack enclosures.
The vertical cable manager "can be installed in the rear power distribution unit (PDU) of the PowerEdge xx20 racks, or many third-party racks that use the same button-mount keyhole spacing," Dell explains, "occupying the width of a single vertical PDU." The vertical cable manager kit also includes alternate mounting holes. It ships with screws to allow installation along the rear equipment mounting posts in the Dell rack enclosures, which are 750-mm wide.
The vertical cable manager has two 18-inch sections that allow users to place the manager in various locations within a PDU tray, "wherever you need it, even in a 24U rack," Dell explains. The manager's finger spacing correlates to the rack-U spacing, and the metal cove snaps into place on the fingers to contain and conceal cables.
The horizontal crossover panels available from Dell comply with EIA-310 specifications and are available in 1U and 2U heights. Several types of attachment-point options are available, including mounting locations for metal cable rings, hook-and-loop straps with a twist connector, and other accessories that use the rectangular twist connectors like claw hooks, the company says. Accessories can be mounted to either side of the crossover panel. Because the panels are EIA-310-compliant, they can be used in any third-party EIA-310-compliant rack.
The metal cable rings available from Dell can be installed in PDU trays in the rack, or attached to the horizontal crossover panels. Each Dell rack comes with a set of six of these rings; a separately available set of 10 rings provides additional cable management.
Dell also offers kits of 10 hook-and-loop straps with twist connectors. The straps provide "a quick and easy way to secure cables snugly against the sides of the rack," Dell says. "These straps can also be connected to the horizontal crossover panels."
Information about Dell's new cable-management accessories, as well as cooling and airflow-management products and other accessories including a grounding kit, can be found in this brochure.
The image below shows each of these cable-management tools in use, with vertical cable managers installed on the left, as well as 1U and 2U horizontal crossover panels housing metal cable rings and hook-and-loop straps, respectively.