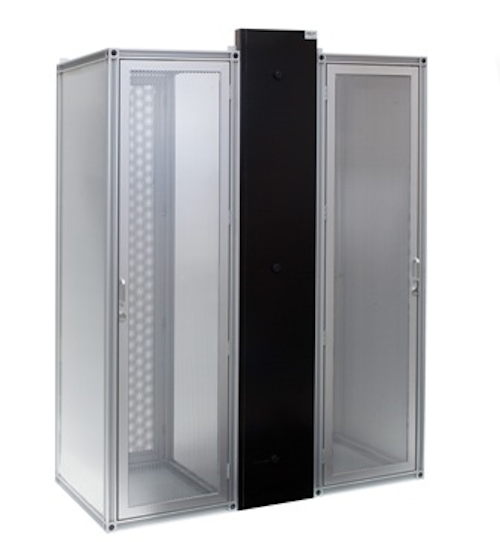 Expandable filler panels from Simplex Isolation Systems are used to close off odd gaps between racks in data centers, the company says. The panels are designed to close off space between racks, power units, columns or other open spaces where hot and cold air can combine. Simplex adds that the panels are also effective as permanent or temporary fillers for missing or removed racks.
Duane McKinnon, president of Simplex, said, "These panels were developed by Simplex engineers after visiting several data center sites and installations and seeing the kinds of challenges facing data center managers out there. Users report they are very effective."
The panels are telescoping and come in five sizes that cover widths from 6.5 to 56.5 inches. Standard height is 84 inches but custom heights are also available. Simplex says they adjust by loosening and tightening three knobs, and are constructed from Class 1 fire-rated, 1/8-inch-thick aluminum-skinned composite material. Two-inch flanges on each side are fitted with a magnetic seal to hold tight to the cabinets. The panels do not require any mechanical fasteners.
Our online Buyer's Guide lists specifications for more than 100 racks for data center and enterprise networks.