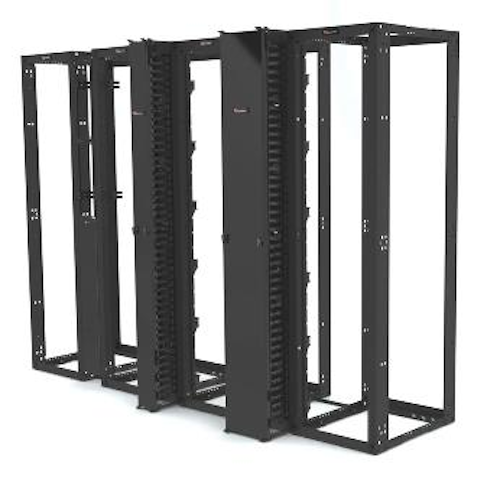 The VersaPOD adjustable-depth four-post rack system from Siemon offers the same high-density, zero-U vertical patching and cable-management systems offered with the company's VersaPOD data center cabinet. According to Siemon, the four-post rack provides a quickly assembled, stable platform for mounting extended-depth active equipment and efficiently managing high-density cabling in data centers as well as telecommunications rooms.
The rack's headers, 45U vertical rails and depth-adjustment brackets feature symmetrical designs meant to eliminate orientation errors during assembly. The company says this design also self-squares the rack, which saves installation time. Siemon claims the rack can be field-assembled in less than 20 minutes.
Seven feet in height and 22 inches in width, the rack features 45U of standard 19-inch mouting spaces and can be adjusted between 22 and 36 inches in depth, in 1-inch increments. It features all-steel construction and uses inward-facing header and footer bars to minimize floorspace consumption while maintaining full load capabilities.
It is compatible with the company's Zero U vertical patch panels for support of copper and fiber patching, providing up to 24U of Zero-U patching space between each set of bayed racks, or 16U along both sides of a single rack. Siemon's Zero-U and existing VPC and RS-CNL vertical cable-management channels also integrate with the VersaPOD 4-post rack. The company explains that mounted between multiple racks or alongside standalone racks, these vertical cable-management options provide a high-capacity cable pathway solution that is both easily accessible and concealable. Moving cabling out of congested equipment-mounting areas and into these dedicated cabling highways or zones improves airflow for more-efficient thermal management, Siemon says.