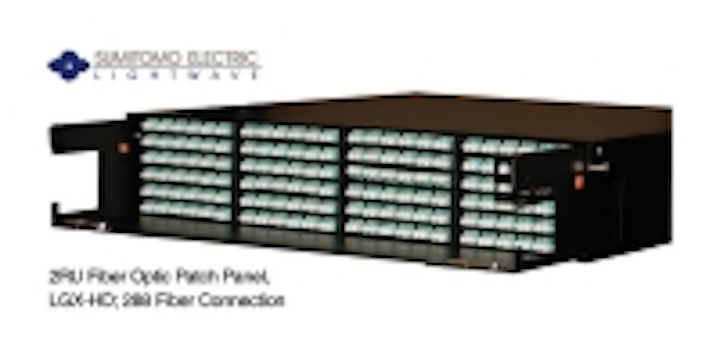 Sumitomo Electric Lightwave's 4th Level DataCenter Solutions division has introduced LGX and High Density (HD) patch panels that the company claims are the industry's first to integrate LGX and HD connectivity into one panel.

According to the company, the primary differentiating factor of the new panels from pre-existing products in the industry is that the 4th Level 1, 2, 3, and 4RU patch panels can be configured for various module footprints, including LGX and HD, with an option for both in the same panel, as well as other customized configurations. Sumitomo notes that, prior to the new 4th Level patch panels, network installers would have to purchase a separate patch panel for LGX applications and another patch panel designed for their HD connectivity projects.

The 2RU model of the new panel can be configured with up to 288 LC connectors. The company contends that, by simply interchanging faceplates and standard cassette products from different manufacturers, installers and network technicians may realize increased flexibility, versatility in network design, and hardware cost savings.

Related: Sumitomo unveils installer-friendly fiber infrastructure line for data center, enterprise networks

Other features of the panels include: a user friendly design with shelf tray tilt or rear slide out for easy cable management access; an innovative tray stop design that prevents unplanned tray egress from the patch panel; a rugged construction of heavy gauge powder coated aluminum for extended product life; and mounting brackets that allow forward and backward adjustments within a standard 19" relay rack.
The 4th Level panels are especially intended for data center, storage area network (SAN), and local area network (LAN) applications. The new patch panels, along with other new 4th Level data center products from Sumitomo, will be unveiled at the 2014 BICSI Winter Conference & Exposition in Orlando, FL (Feb. 3-5), in the company's booth #1019.
See also: Ultra-high density fiber patch panel offers enhanced access