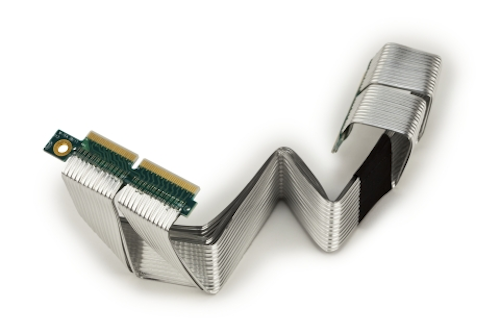 At the Supercomputing Conference (SC14) in New Orleans (Nov. 16-21), the low-profile capabilities of 3M's new Twin Axial Cable Assemblies line are being highlighted. 3M says the new product demonstrates how the company "is thinking inside the box to increase efficiencies inside the data center and boost high-performance computing (HPC) power." 3M says the twin axial assemblies save a substantial amount of internal space and help alleviate cable congestion inside dense server systems, giving design engineers considerably more room for server architecture options. The cable's ultra-flat, foldable ribbon design also optimizes server airflow for better cooling to maintain the high speeds and processing power HPC environments demand, notes the company.

Industry-standard discrete pair internal high-speed cable assemblies typically found in high-performance servers are bulky—between 4-8 mm thick, notes 3M. This type of cabling creates awkward configuration and assembly challenges, difficulties accessing system components and obstructions in airflow, all of which can impact the TCO of the data center. Alleviating these challenges with a thin, bendable design, 3M's Twin Axial cable features a flat ribbon, less than 0.9 mm thick, and an incredibly tight bending radius that takes up considerably less space and provides improved access to system components. The cable's pliable format also allows for multiple turns and sharp folds with little or no impact on performance in a low profile assembly that provides uniform, reliable signal integrity.

3M's Twin Axial Cable line is bringing this capability to Dell's new PowerEdge C4130 rack servers, the latest in Dell's PowerEdge Server Portfolio and a purpose-built solution to support HPC environments within the scientific and medical research, financial, industrial and data-intensive computing fields. Powerful systems like Dell PowerEdge C4130 are designed to accelerate the most complex HPC workloads and enable innovation and discovery through the processing of enormous data sets. These dense servers benefit from the foldable ribbon format of 3M's twin axial assembly, which provides flexible solutions to demanding computing needs of today's enterprises.

"HPC solutions are critical to addressing the toughest problems across industry, academics and government labs," said Brian Payne, executive director of Server Solutions at Dell. "Dell is raising the bar on how Dell PowerEdge servers support the most demanding computing applications with the innovative PowerEdge C4130. The C4130, with 3M's inventive cable design, sets a new standard for GPGPU density in a 1U platform. We are excited about the PowerEdge C4130 and the computing performance that it brings to supercomputing professionals and their efforts to overcome today's academic, research and entrepreneurial challenges."

To learn more about 3M Twin Axial Cable Assembly line, visit www.3Mtwinax.com.