Schneider Electric's new Boston-area R&D campus leverages proprietary data center cooling/UPS, IP security systems
The LEED Silver-certified facility will also serve as the company's new North American headquarters.
Oct 2nd, 2014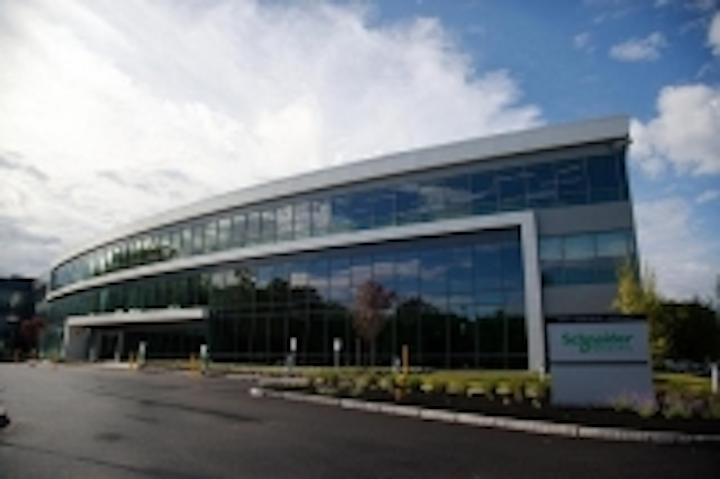 Image via Andover Patch
On Wednesday, Sept. 10, Schneider Electric, a global specialist in energy management, announced the grand opening of its new North American research and development (R&D) center -- the Boston One Campus (BOC) -- located in the town of Andover, Mass. The facility will also serve as the company's new North America headquarters.
Designed to create an environment that encourages collaboration with customers, R&D engineers and employees, the new campus was also built with Schneider Electric's vision of sustainable design and energy efficiency. Further, the BOC incorporates approximately $8 million of the company's own products and solutions and is expected to achieve about a 30-percent operating cost reduction in its first year.

The new facility is U.S. Green Building Council (USGBC) LEED Silver certified and leverages Schneider Electric's SmartStruxure solution; APC by Schneider Electric EcoAisle and EcoBreeze data center cooling systems, data center and server uninterruptible power supplies (UPS); Schneider Electric Altivar variable speed for HVAC control; a variety of ultra-efficient luminaires from Juno Lighting Group by Schneider Electric; intelligent IP security management systems from Pelco by Schneider Electric; and more.

The BOC is built to house approximately 750 employees across all disciplines of Schneider Electric's business segments. Likewise, it is made up of more than 240,000 square feet across two buildings with a design that focuses specifically on employee collaboration and innovation, as well as the needs of Schneider Electric's customers.

The campus's fully-immersive Discovery Center also allows visitors to learn about the history of Schneider Electric's energy management and innovation, as well as experiment with several of its solutions through simulated demonstrations via 65-inch interactive panels. The BOC is also equipped with 53,000 square feet of engineering laboratory space that includes customer-accessible, cross-discipline technology integration laboratories known as StruxureLabs, where Schneider Electric engineers test and validate products through real-world customer deployments.

With the integration of engineering, sales, marketing, and customer support employees across Schneider Electric's multiple disciplines, and as one of only five global R&D centers around the world serving the company's 160,000 employees and customers, the BOC is expected to draw more than 10,000 visitors to the area in its first year of being open.