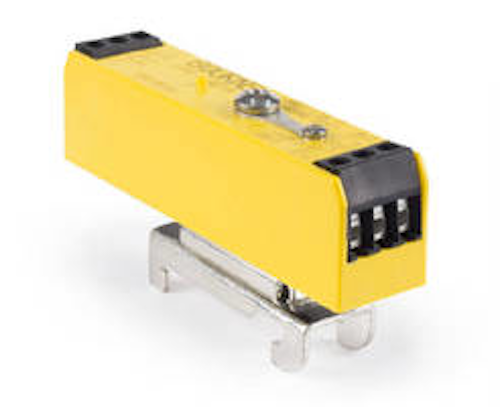 Bourns (Riverside, CA) has introduced a new surge protective device (SPD) optimized for signal and data line applications. Designated Bourns Model 1840, the new device is a heavy-duty, multi-stage protector (MSP) designed to safeguard sensitive electronic circuits and components from damaging surge voltages and currents.
The Bourns Model 1840 supports working voltages of 5, 12 and 24 volts, and may be used directly with RS-232, RS-422, RS-423 and RS-485 standard EIA interfaces as well as with 4-20 mA and 50 mA instrumentation loops. The company says the new model features extremely fast response and low clamping voltages, making it suitable for protecting signal and data lines associated with computer, data communication, instrumentation, broadcasting and industrial controls.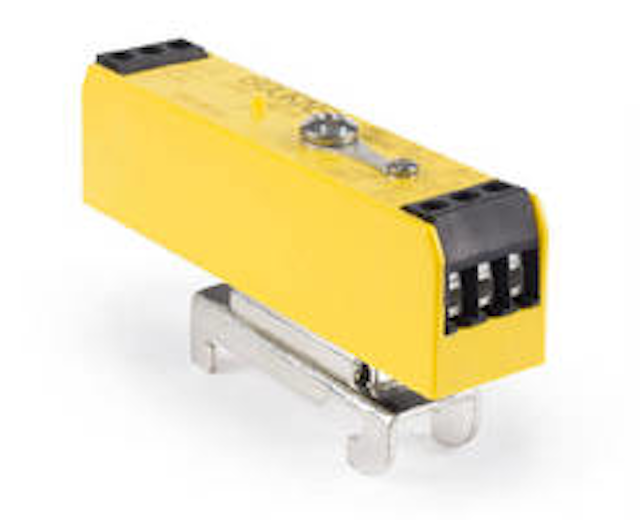 According to Bourns, the new solid-state, third stage protection device works by intercepting the leading edge of a surge within a sub-nanosecond response time. Within micro-seconds thereafter, a primary stage, three-electrode common-chambered Gas Discharge Tube (GDT) activates and crowbars the majority of the surge energy to ground. The new model also utilizes Bourns TBU High-Speed Protector (HSP) technology as a key second stage.
Related product: Ground bonding kits for protecting data center network equipment

Currents exceeding 300 mA through the protector will cause the TBU HSP to quickly transition into high impedance, isolating any harmful voltages and/or currents from damaging the protected equipment. The GDT protector remains in the crowbar state until the surge has passed and line voltages return to safe levels. After an event, the TBU HSP automatically restores the line to normal operation by automatically resetting to a low impedance state.
"Bourns designed our new surge protective device to shield signal and data lines from multiple destructive surge currents in excess of 10,000 amperes on an 8/20 µS waveform to deliver reliable protection for sensitive electronics," explains Kurt Wattelet, product line manager at Bourns. "Giving our customers an extra level of protection, Bourns' new SPD is engineered to provide a low peak clamping voltage even during severe current surges making this new model uniquely robust."

The Bourns Model 1840 features vibration-resistant screw-type clamp terminals and convenient mounting and grounding is possible to any flat surface or to DIN-1 (TS-32) or DIN-3 (TS-35) rails. The new device also has a flame-resistant epoxy-filled housing and cable shields are passed through and may be grounded or arc-protected to ground. The device is available now through catalog distribution and is priced at $120 each.
For additional product specifications, see: http://www.bourns.com/data/global/pdfs/1840.pdf.
Search for Surge Protection Devices in our Online Buyer's Guide