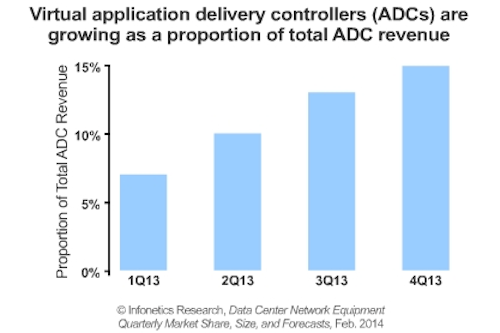 A new report from Infonetics Research finds virtual application delivery controller (ADC) revenue growing fast as cloud services, hybrid cloud technology, and the shift to cloud-architected data centers create demand for virtual appliances.

"Hardware-based ADCs aren't going away anytime soon," notes Cliff Grossner, Ph.D., directing analyst for data center and cloud at Infonetics Research. "They still provide the performance required by larger-scale deployments, and vendors are working to fold in other services such as security, application traffic monitoring, and predictive analytics." Grossner adds, "This will keep the market for hardware-based appliances healthy even as a portion of the ADC market turns to virtual appliances."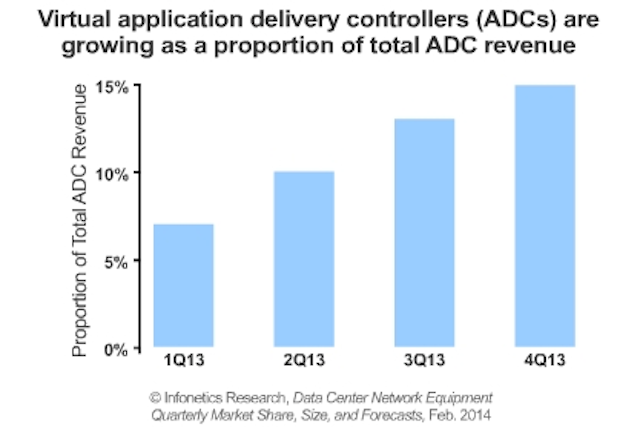 The market share and preliminary analysis for application delivery controllers and WAN optimization products come from Infonetics' recently issued 4th quarter 2013 (4Q13) and year-end Data Center Network Equipment report. According to the report, global application delivery controller (ADC) revenue in the data center market grew 10% in 4Q13 from 3Q13, and finished 2013 at $1.75 billion, up 4% over 2012, when the previous record high was set.
Related: Report discerns slowdown in data center equipment sales
The report also finds that while WAN optimization revenue was up 4% sequentially in 4Q13, this figure remains on an overall downward trajectory, down 8% from the year-ago 4th quarter. ADC virtual appliances are going mainstream, concludes the data, accounting for 14% of ADC revenue in 4Q13; Citrix is the market share leader in this segment. While F5 continues to lead the overall ADC market, Infonetics states that "Citrix was the big winner upon Cisco's exit from the space, gaining 5 points in market share."

The top 3 vendors in the WAN optimization space are Riverbed, Cisco, and Blue Coat, adds the report. The new data suggests that vendors are adding mobility functionality to WAN optimization products to drive new revenue while waiting for the cloud to have a positive impact.

Infonetics' quarterly data center equipment report provides worldwide and regional market size, vendor market share, forecasts through 2018, analysis, and trends for data center network equipment including data center Ethernet switches, application delivery controllers (ADCs), WAN optimization appliances, and Ethernet switches sold in bundles. Vendors tracked include A10, Alcatel-Lucent, Arista, Array Networks, Barracuda, Blue Coat, Brocade, Cisco, Citrix, Dell, F5, HP, Huawei, IBM (BNT), Juniper, Kemp, Radware, Riverbed, and others.
See also: Survey: Most heavy data center equipment is manually lifted