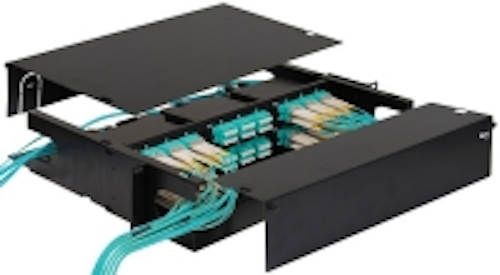 ICC has introduced a new "value line" of rack- and wall-mount fiber-optic enclosures, designed to suit budget-conscious projects without sacrificing important features. Built with powder-coated, heavy gauge steel, the enclosures are designed to protect fiber-optic cabling patched in data centers or telecommunication rooms. Each enclosure fits the maximum number of industry-standard adapter panels possible in a small footprint, says the company.

The rack-mount enclosures have removable front and rear covers, along with a sliding tray for quick access to service connections. They fit distribution racks with 19" widths; extension brackets are available to fit 23" cabinets. These enclosures come in versions for 1U (fits 3 adaptor panels), 2U (fits 6 adaptor panels) and 4U (fits 12 adaptor panels). The wall-mount enclosure includes a lock and key on the front cover for security and fits 4 adaptor panels.
All models allow multiple openings for cable entry and exit. Cable management spools are included for organizing cable slack. Optional splice trays are available for protecting delicate spliced connections. The enclosures are available from ICC distributors nationwide. Learn more at www.icc.com/distributor or call 888-ASK-4ICC (275-4422).
Search for Cable Protection and Management products in our Online Buyer's Guide