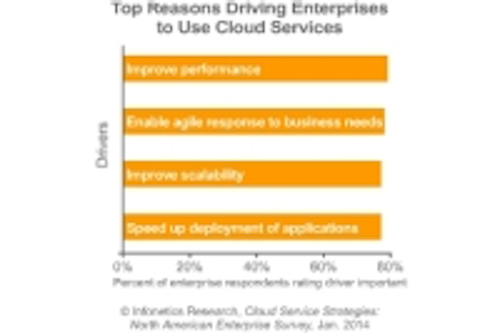 Infonetics Research has released highlights from its new Cloud Service Strategies: North American Enterprise Survey, which explores enterprises' plans for the adoption and usage of cloud services.
Related: Open Data Center Alliance updates roadmap for enterprise cloud adoption
According to the survey, cloud adoption is impacting enterprise IT investments, with not only the WAN -- but also the LAN -- high on the list for upgrades. "Hybrid cloud is the next evolution in cloud architecture, with adoption among enterprises expected to more than double by 2015," reveals Cliff Grossner, Ph.D., directing analyst for data center and cloud at Infonetics Research.

Among Infonetics' enterprise survey respondents, the top ranked drivers for cloud adoption were performance, agility, scalability, and cost reduction. The survey also found that enterprises' mix of cloud services is changing, with platform-as-a-service (PaaS) and cloud-as-a-service (CaaS) offerings having the largest increases in adoption between 2013 and 2015.

See also: CommScope cites mobility, cloud services as top network challenges

Infonetics' Grossner adds, "The transformation to the cloud is spelling disruption and opportunity for network equipment vendors, who would be wise to demonstrate how their offerings can be part of a hybrid cloud environment where interoperability between network management, server virtualization, and data center orchestration platforms are critical factors for success."

Just over half of respondents said they believed that shifting to the cloud will make it necessary to consider alternate network vendors. Moreover, 83% of enterprises surveyed rated service and support a very important criterion for choosing a cloud service provider, followed closely by experience and pricing structure.

Learn more about the survey.

More news: IBM opens federal cloud computing development center