Report: North American optical hardware spending sags
Optical gear spending was flat in 4Q13 as North America sagged and EMEA surged, says Infonetics Research.
Feb 19th, 2014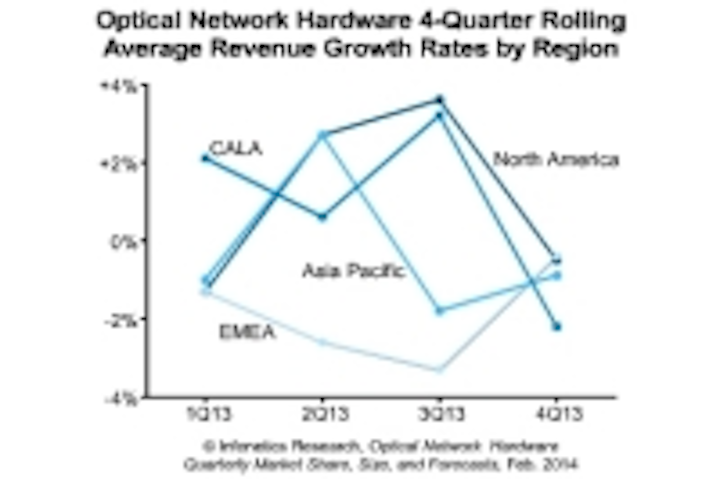 Infonetics Research recently released vendor market share and preliminary analysis from its 4th quarter 2013 (4Q13) and year end Optical Network Hardware report. According to the data, worldwide optical network hardware revenue, including WDM and SONET/SDH, was essentially flat in 4Q13, totaling $3.1 billion. For the full year 2013, the overall optical network hardware market is down 3%, states the report.

"Optical spending flattened in the fourth quarter of 2013, though it wasn't distributed evenly around the world or by vendor," notes Andrew Schmitt, principal analyst for optical at Infonetics Research. "Weakness was concentrated in North America, but a year-end capex surge in EMEA evened things up."

Related: Report: Carriers putting brakes on optical network equipment spending

The report says that EMEA optical heavyweights Alcatel-Lucent, Ciena, Coriant, and Huawei all had a big 4Q13. However, Infonetics emphasizes that "though the traditional 4Q capex flush was in full effect in EMEA," the region recorded a 5th straight year of spending declines. The market researcher expects EMEA to revert back to being a third of global spending within 1-2 years

Schmitt adds, "All indications are that an all-clear from Verizon and AT&T is forthcoming and the Q4 drop was a pause rather than a reversal -- and this is in line with our forecasts."
On another positive note, the report adds that WDM segment posted a 6th consecutive quarter of growth in 4Q13, and ended the full year of 2013 up 11% as 100G deployments hit the ground. Similarly, while the Chinese optical market closed 2013 up only 6%, performance in the region is anticipated to improve in 2014, as 100G rollouts pick up steam.

Infonetics' quarterly optical hardware report provides worldwide and regional market size, market share, forecasts through 2018, analysis, and trends for metro and long haul SONET/SDH and WDM equipment, Ethernet optical ports, SONET/SDH/POS ports, and WDM ports. Vendors tracked include Adva, Alcatel-Lucent, Ciena, Cisco, Cyan, ECI, Fujitsu, Huawei, Infinera, NEC, Coriant, Tellabs, Transmode, Tyco Telecom, ZTE, and others. Learn more about the report.
See also: Re-use old fiber for 100G?