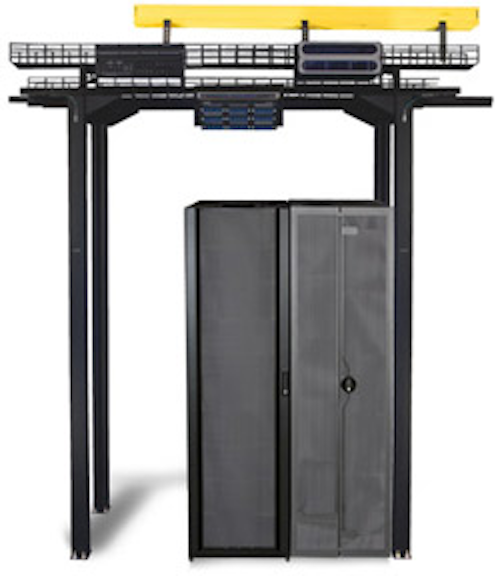 Leviton has released its Overhead Infrastructure Platform (OIP), a floor-mounted frame that provides support for cabling pathways, power, lighting and other data center infrastructure. The company says the platform is designed to increase the amount of available rack space in the data center by adding patching above cabinets or racks -- which also adds flexibility for quick cabinet "rack-n-roll" deployment.

According to Leviton, the OIP solves several major infrastructure challenges in data centers. In terms of time and labor, the company contends that the OIP may reduce installation time by 40 percent when compared to installing overhead-suspended ladder trays and threading cable from high ceilings.

See also:Overhead power raceway a safe approach in TRs

Regarding overhead space and access: Leviton notes that suspending ladder trays and cable pathways from the ceiling is not always possible due to blockage by utility ducting and pipes, or because the roof structure may not allow the added weight. The floor-mounted OIP supports heavy loads and eliminates the need to work around overhead obstructions.

Additionally, with the new platform, equipment swap-out and staging can be more easily accomplished, says Leviton. With the OIP, racks and cabinets are not attached to the overhead infrastructure like wire baskets and raceway. This allows users to quickly decommission and replace an entire cabinet by disconnecting cabling and power from the cabinet without removing hardware, thus minimizing downtime and the potential for human error.

"The Overhead Infrastructure Platform is truly a breakthrough in pathway support and cable routing," comments Riley Lehecka, product manager for Leviton Network Solutions. "It not only provides complete support for overhead cabling, ladder trays and raceway, it allows for patching above the cabinet, freeing up valuable rack space."

For more information, visit www.leviton.com/OIP.
More coverage:Overhead mounting unit takes up no rack or floor space