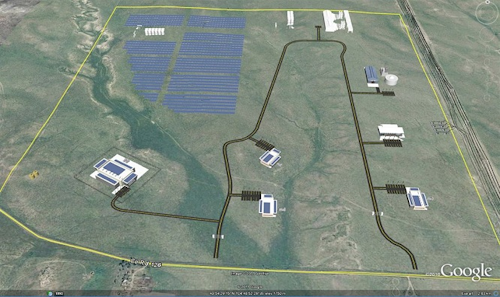 New research shows that the Niobrara Energy Park, a strategically located data center project in northern Colorado, is more than meeting the bar for international data center performance metrics.

The stated vision of the Niobrara Data Center Energy Park is to become the nation's first hybrid natural gas/renewable energy data center park. The project will combine clean fossil fuels, alternative energy, Microgrid, energy storage and cloud computing data centers. When fully built, the project could contain 1.5 million square feet of data center facilities, a 200-megawatt clean natural gas plant, a 20-megawatt solar farm and a utility-scale fuel cell farm all valued near $2.4 billion. Additionally, the site's cloud data centers could house upward of $4 billion in computers.

See also: Ultra-green NYC colocation data center leverages superconductor power cables

Craig Harrison, the park's founder, along with IDC Architects (a CH2M HILL company), developed a comprehensive master plan book to showcase the park in January 2012, which immediately won two prestigious global environmental awards. After six more months of concentrated research and design, CH2M HILL has just released the Niobrara project's updated "Blue Book", emphasizing the site's energy-efficiency potential of 60% lower carbon usage (CUE), 70% lower water usage (WUE) and 40% lower power usage (PUE) than US average benchmarks.

Harrison emphasizes the importance of providing data-driven validation of the superior energy and cost-effectiveness of progressive data center developments such as Niobrara. In addition to the impressive energy and water conserving metrics noted above, Niobrara's value proposition will soon be further supported by a comprehensive economic comparison of the Niobrara site with popular data center markets in 10 U.S. states, to be released in mid-November.

"In both short-term and long-term scenarios, Niobrara's economic and energy-efficiency attractiveness compares very favorably with the numerous sites we compared," says Harrison.
Harrison points to the recent flurry of sizeable "green" data center investments by industry leaders as further validation of the Niobrara concept. This summer, Apple gained approval to build a $1 billion data center in Reno, Nevada. Apple's existing Maiden, NC data center has both on-site solar and fuel cells. "These two Apple projects and Niobrara are the only projects in the US designed to combine energy creation and energy consumption, all within the confines of the project," adds Harrison.

In Wyoming, 15 miles away, Microsoft recently broke ground on a $112 million data center, and Green House Data announced a $35 million renewable energy-powered data center. The National Center for Atmospheric Research recently completed a data center boasting 96% free outdoor air cooling, which houses IBM's Yellowstone Supercomputer, one of the 10 fastest in the world.
Notes Harrison, "The Wyoming developments provide proof of the plan, since these projects are attached to the very same electric grid, fiber network, transportation and workforce as the Niobrara Data Center Energy Park. We believe this project is an unparalleled opportunity for a next-generation, energy-efficient data center campus."

According to a recent "Green Data Centers" report by Pike Research, the global market for green data centers will grow from $17 billion this year to $45 billion by 2016. Pike Research reports recently showed the Niobrara Energy Park as the largest planned grid-backed Microgrid in the world.
"Our project is unique and an opportunity for a developer to be an international trendsetter as they develop the nation's first hybrid natural gas/renewable energy data center park," concludes Harrison. "We are now seeking a large enterprise or master developer with the necessary balance sheet to execute and build the vision."

A 2-page summary of the Niobara Data Center Energy Park can be downloaded here.

Download the new Niobrara "Blue Book" or request a glossy, 35-page copy of it here.
Related story: Putting a number on data center energy efficiency