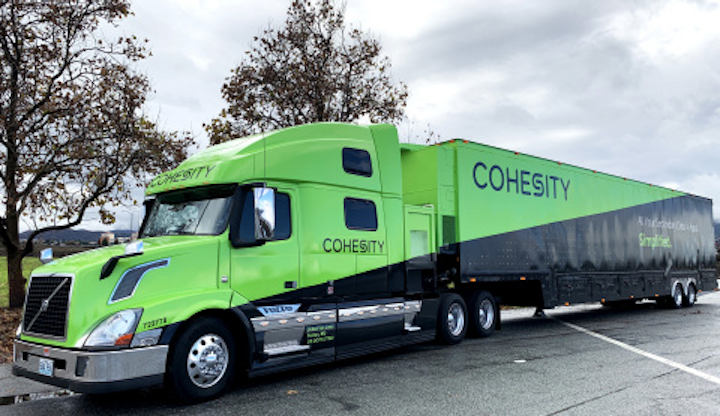 Cohesity, a specialist in hyperconverged secondary storage, on Dec. 17 announced it is "significantly expanding its employee base and office footprint in the United States to meet explosive customer demand and to continue its rapid pace of innovation."
Cohesity is planning to hire 300 new employees by summer 2019 at its San Jose headquarters, nearly doubling the employee headcount at that location. Cohesity also intends to double the size of its employee base at the company's location in Research Triangle Park (RTP), hiring up to 70 employees in North Carolina.
In San Jose, Cohesity is recruiting new employees across all job functions and levels including marketing, human resources, operations, IT, finance, and legal. Cohesity is also focused on rapidly expanding the size of its engineering team to accelerate innovation in areas like artificial intelligence and machine learning within the Cohesity DataPlatform, which is optimized for hybrid cloud architectures. At the RTP location, Cohesity will hire across a wide array of job functions including engineering, customer support, sales, and administrative roles.
"We are planning to nearly double the size of Cohesity to 1,500 employees within a year, and while much of this growth will take place in the U.S., we will also see a significant workforce expansion in the EMEA region and in Asia – building on our partnership with SoftBank," said Paul Whitney, chief people officer, Cohesity. "These new hires will help Cohesity continue to deliver outstanding innovation that will empower customers to protect, store, and manage their apps and data simply and efficiently while solving critical mass data fragmentation challenges."
Expanding Cohesity's Footprint in San Jose and Research Triangle Park
In order to accommodate this rapidly expanding employee base, Cohesity has agreed to lease three additional floors for its headquarters at Riverpark Towers in downtown San Jose, growing from 34,000 to 99,000 square feet of office space. The expanded headquarters will support more than 800 people across five floors and will include a world-class executive briefing center, a dedicated training room, and a video studio.
At RTP, the company is relocating to Bristol Place at the Imperial Center Business Park in Durham, North Carolina. With this move, the company will triple the size of its office footprint, moving from 8,800 square feet to more than 25,000 square feet, with space for 190 employees. This new location will also feature a new research software lab.
Cohesity is quickly growing its employee base and expanding its real estate footprint as more and more customers across the globe transition from legacy infrastructure to Cohesity's disruptive technology. Research shows that nearly 90 percent of customers globally struggle to solve mass data fragmentation challenges. Cohesity continues to disrupt the $60 billion secondary data and apps market by empowering organizations to consolidate secondary data silos including backup, files and objects, testing and development, archiving, and analytics on a single web-scale platform. Cohesity recently announced that it has quadrupled the size of its customer base, increased revenues by 300 percent, and received $250 million in Series D funding led by the SoftBank Vision Fund.
Expanding Cohesity's Presence Coast-to-Coast With the Cohesity Mobile Demo Center
As Cohesity expands its office presence in San Jose and RTP, the company is also expanding its ability to directly interact with customers, partners, and prospects at locations across the country. For "The Unstoppable Tour," Cohesity has rolled out its mobile demo center, a modern 18-wheeler semi-truck that is loaded with 20 demos that gives visitors a chance to test drive Cohesity's technology and get answers straight from the experts, all within a futuristic, comfortable setting. Click here to see a listing of upcoming destinations.
Cohesity Accelerates Public Sector Success by Adding More Than 20 New Federal Customers In Last Quarter Alone
Separately, on Dec. 10, Cohesity announced significant growth and expansion in its public sector business. In its last two fiscal quarters (Q3, Q4), Cohesity has grown its public sector customer base by nearly 200 percent. In the fourth quarter alone, Cohesity added 24 new federal government clients. This rapid growth reflects significant momentum as public sector customers look to consolidate siloed data infrastructure onto a single software platform that is optimized for the cloud and hybrid architectures and is much more efficient and cost effective than legacy alternatives.
Federal customers added in the past year include the Defense Information Systems Agency, the U.S. Army, the U.S. Department of Agriculture, Department of Justice, and Department of Veterans Affairs, the National Science Foundation, and additional U.S. Department of Energy laboratories.
"Cohesity is seeing a significant shift among public sector clients," said Steve Grewal, Federal CTO, Cohesity. "IT modernization initiatives are prompting federal organizations to re-examine legacy approaches to protecting, storing, and managing their secondary data, both on-premises and in hybrid cloud environments. Cohesity's unique DataPlatform reduces architectural complexity, brings simplicity into organizations, helps lower costs, provides cloud-native integrations, and makes it easy for customers to extract value from large volumes of untapped data. All of this is really resonating with public sector customers."
Cohesity provides an easy on-ramp for federal customers to consolidate disparate and fragmented secondary data workloads onto one web-scale platform, which in turn helps lower the total cost of ownership and comply with federal mandates like DCOI, FITARA, and Cloud Smart. Cohesity also provides comprehensive technical controls that federal agencies expect of enterprise solutions, including:
Always-on encryption, based on AES-256
FIPS 140-2 Level 2 validated
TAA compliant
FedRAMP certified government cloud integrations with leading public cloud partners
Federal Information Security Management Act (FISMA) Compliance | Authorities to Operate (ATOs) on Civilian and DoD networks
WORM Compliant - SEC 17a-4f certification
To support the rapidly growing demand from public sector customers, Cohesity has also increased the size of its public sector team by nearly 300 percent over the last 12 months. Significant new hires during this period include Federal CTO Steve Grewal, who previously served as deputy chief information officer for the General Services Administration, Federal District Sales Manager Rob Place, and Federal Systems Engineering Director Marlon Hughes.
For more information, visit www.cohesity.com.