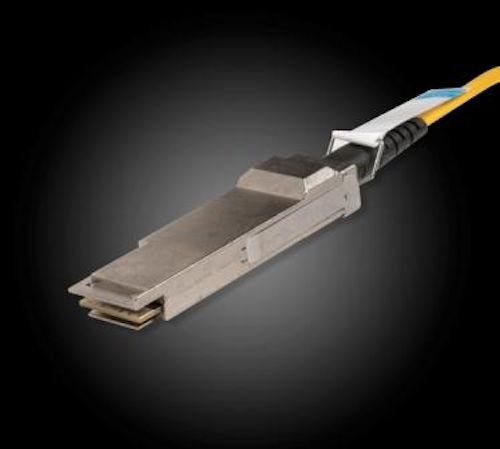 Siemon has introduced a line of four-lane QSFP+ 40-Gbps active optical cabling assemblies. Designed to support interconnect applications such as high-performance computing (HPC), enterprise networking, and network storage systems, the high-speed interconnects are a part of Siemon's Moray Active Optical Cabling (AOC) product family.
The Moray QSFP+ active optical cable assemblies incorporate what the company asserts is the lowest power transceiver in the market (typically requiring 780 mW) using Silicon CMOS Photonics technology developed by Luxtera. The transceiver features an integrated opto-electronic chip with a directly attached fiber and a micro-packaged laser.
Related Story:NOAA selects Luxtera's AOC to power multi-room data center
This "fiber-to-the-chip" technology enables the Moray active optical cabling to offer reduced costs while decreasing the number of components in the AOC and improving its reliability versus active optical cabling that uses vertical-cavity surface-emitting lasers (VCSELs) and multimode fiber, Siemon says. Moray's single-chip transceivers support distances from 1 m to 4,000 m for inter- and intra-building applications.
The Moray singlemode active optical cable assemblies are designed to overcome the technical challenges of legacy technologies to support Ethernet, Fibre Channel SANs, InfiniBand systems, and several other IO interface links between various blades, boxes, racks, containers, and buildings.
Related News:Luxtera, Siemon collaborate to deliver active optical cabling for data centers
The Moray product is available in custom length options ranging from 1-4,000 m. EPROM programming options are also available.
For more info, visit www.siemon.com.