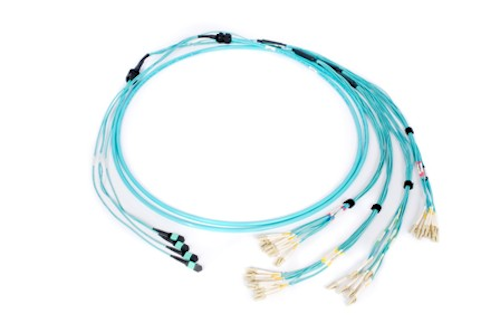 The new Systimax 360 Ultra High Density (UHD) fiber-optic solution from CommScope Enterprise Solutions was developed for data centers requiring the luxury or more floor space as well as high-performance physical-layer connectivity. Developed by CommScope Labs, the system is designed to support high-density data center fiber applications such as storage area networks (SANs), the company says.
"As density, computer loads, and storage needs in the enterprise data center increase, commScope's Systimax 360 UHD Solution saves floor and cabinet space by enabling network architectures that were not previously possible while preserving migratory paths to next-generation data rates and reducing costs," CommScope said when announcing the products.
The system can fit 864 fibers in a 1U space with a shelf that provides what CommScope says is the highest fiber-patching density currently available. (Photo at bottom of story.) Tailored for the company's LazrSpeed and TeraSpeed fiber technologies, the shelf facilitates integration of SAN directors into data center environments.
CommScope says the system achieves pathway-space conservation through the use of factory-terminated and -tested InstaPatch-brand fiber MPO trunk cables and MPO/LC ruggedized fanouts. (Photo at top of story.) Despite its density, the company says, the system provides easy accessibility to equipment ports. Other components include shelf and panel options that CommScope says provide alternative form factors to address tight IT budgets and cabinet-space constraints while providing modular scalability with incremental expansion.
Watch a video demonstration of the 360 Ultra High Density system.
According to CommScope Enterprise Solutions' vice president of data centers for enterprise solutions George Brooks, "Data center operators continue to face ever-increasing IT demands, cost pressures, changing technology, and architectures. Our experts at CommScope Labs designed the Sysimtax 360 UHD solution with a 50-percent increase in usable density, enabling new data center architectures to face these challenges head-on.
"The Systimax 360 UHD solution enables storage growth to support the explosion of network information, allows for future growth with its modular design, and provides a clear upgrade path for 10G, 40G, and 100G applications," Brooks continued. "The complete solution makes the design, implementation, and management of new, innovative ultra-high-density data center architectures possible."