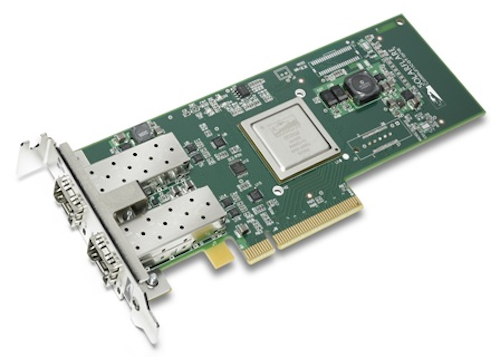 Until recently the Solarflare brand name was found only inside the devices that carry some of today's highest-speed data traffic. But now users will also find the name on the outside of 10 Gigabit Ethernet networking products, as the company has introduced a family of 10-GbE products under its own name.
"We've evolved our business model in a way we're excited about," said Mike smith, vice president of product marketing. "We've always referred to ourselves as a fabless semiconductor business focused on 10G. That's still true, but now we're also building and selling server adapters. We've taken our core technology, productized it, and are bringing it to market."
The two new products from Solarflare are the Solarstorm SFN5122F 10GbE dual-port server adapter and Enterprise OpenOnload, which the company says provides the industry's lowest-power and lowest-latency 10-Gbit Ethernet solution. The SFN5122F is now available directly to customers worldwide to address growing demand for applications including virtualization, cloud computing, and high-performance computing in financial services. Enterprise OpenOnload is an application-acceleration product that Solarflare says is ideal for high-performance computing in financial services and other vertical markets that require low-latency and high-message-rate application acceleration.
"We're excited to offer a broad portfolio of Solarflare-branded products directly to global customers to meet emerging market and network demands," said Smith. "Our solutions allow enterprises and data centers to best utilize the next-generation infrastructure and optimize the adoption of virtualization and cloud computing."
Bruce Tolley, Solarflare's vice president for corporate and financial services vertical marketing, explained what the SFN5122F brings to the financial services industry - particularly the trading space (see diagram at bottom of story).
"Oftentimes a network conducting trading has migrated to 10G, but the connection to the exchanges remains 1000Base-T," he said. "Customers are using twinax or optical" to achieve the 10-Gbit/sec rate, but "when they want to connect to the feed, they connect a 1000Base-T NIC to the server adapter."
The SFN5122F's latency reduction is significant, he further explained - upwards of a 50-percent reduction compared to other options, he said. Customers will be "going from 9, 10, or 11 microseconds of latency down to 4 or 5 microseconds" by using the Solarflare product. In this environment, he said, "we give people the ability to make more money faster by increasing throughput and reducing latency."
Solarflare has established a VAR agreement with Agilysys and has what Smith described as a "tight distribution strategy. "We're working with partners that bring particular value and reach into vertical segments we're targeting," he said.