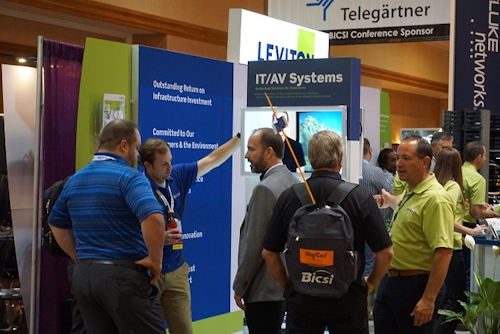 Leviton exhibited its latest system solutions for copper, fiber, and IT/AV networks at the 2017 BICSI Fall Conference from September 25-27 in Las Vegas, Nevada. Leviton also delivered two technology-focused presentations during the conference. Attendees heard from Leviton experts on how recent TIA standard updates will impact network management and the latest enterprise wireless deployment trends and technologies.
For his talk entitled, "A Fork in the Road: OM5 vs. Single-Mode in the Data Center" on September 27, Gary Bernstein, Leviton's senior director of global product management, fiber and data center solutions, discussed how the actions of technology leaders and recent market trends can offer insight into whether OM5 will leave networks better prepared for growth than single-mode. Also on Sep. 27, in a talk entitled "Enterprise Wireless: 4 Steps to Successful Deployment" Leviton senior product manager Yuna Shin covered the latest in wireless trends and technologies, including what's coming next, planning the right wireless network based on the environment and applications, and cable and connectivity choices including 2.5/5GBASE-T.
On display at Leviton's BICSI show booth in the Mandalay Bay Hotel & Convention Center were systems that enable copper and fiber migration from 10 to 400 Gb/s networks, and solve some of the latest IT/AV network challenges. Leviton's Atlas-X1 system is built on a unified connector form factor and termination method across Cat 5e, Cat 6, Cat 6A and Cat 8 media. The feature-rich system supports mission-critical networks and allows for a seamless migration from 1GBASE-T to 40GBASE-T. On the fiber-optic networking side, the Leviton Opt-X Unity System of MTP connectors, trunk cables, harnesses, array cords, adapter plates, and cassettes provides options for installing and reusing a 24-fiber backbone through multiple tech upgrades from 10 to 40,100, 200 and 400 Gb/s. Additionally, the company's HDX TAP Cassettes, part of the popular HDX platform, help provide real-time monitoring for security and performance in the network or storage area network (SAN), with options for LC, MTP, 40 to 10 Gb/s conversion and BiDi transceivers.
Finally, Leviton's IT/AV Systems product line at the BICSI Fall show included its AV control wallplates that connect, switch and extend multiple high-definition AV signals to displays or projectors, with no programming required, to prepare classrooms and conference rooms for the latest technologies such as UHD displays with 4K resolution.
Search the Cabling Installation & Maintenance Buyer's Guide for companies, new products, press releases, and videos: