Chatsworth Products wins Platinum-level 2017 Cabling Installation & Maintenance Innovators Award for vertical cable manager's breakthrough design
Tool-less accessories and a space-utilization approach to cable management earned CPI's Motive Vertical Cable Manager the awards program's highest honor.
Oct 3rd, 2017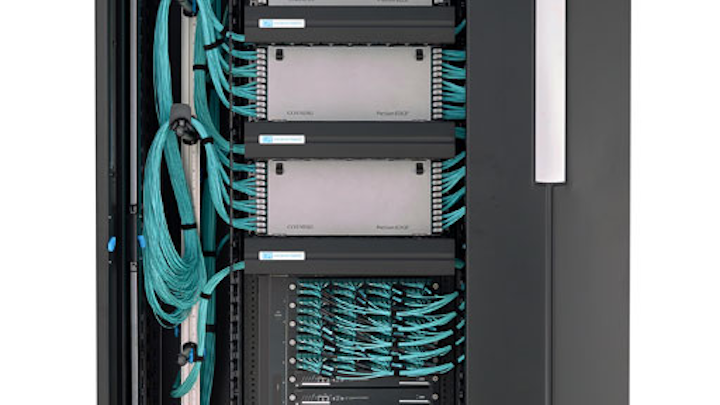 Duke Robertson, product manager of open systems for Chatsworth Products, Inc. (CPI) receives the company's 2017 Cabling Innovators award from Cabling Installation & Maintenance chief editor Patrick McLaughlin (L) and publisher Alan Bergstein (R).
Chatsworth Products, Inc. (CPI - Agoura Hills, CA) was presented the Platinum-level award—the program's highest honor—for its Motive Vertical Cable Manager at the 2017 Cabling Installation & Maintenance Innovators Awards ceremony on Sept. 25 during the 2017 BICSI Fall Conference & Exhibition in Las Vegas. With a breakthrough design and set of tool-less accessories, Motive is the first cable manager of its kind in the marketplace today, contends CPI.
"Motive further demonstrates CPI's continued ingenuity in how cables are managed. A lot of time and care were put into the development of Motive to make it the best cable management solution in the industry. It is an honor to be recognized by CI&M for our efforts," states Duke Robertson, CPI Product Manager of Open Systems.
Drawing from CPI's extensive experience in cable management and close relationship with contractors and end users, many design elements, both big and small, are integrated into Motive to enhance the user experience.
Motive features a central track system, which the company says "allows for infinite, tool-less adjustability anywhere within the cable management space. Additionally, the unique design of the accessories enable a wide range of cable management configurations that allow for direct support of cables with optimal airflow through the cable manager, preparing networks for higher wattage Power over Ethernet (PoE) applications." More advantages of CPI's Motive platform, according to the company, include:
• Maximum utilization of space – Central track system provides unlimited adjustability with versatile direct support for cable bundles, while allowing maximum use of interior space.
• Intuitive, tool-less design – Accessories attach to the cable manager, enabling support and management of cables, as well as quick attachment, removal and adjustment.
• Effortless Deployment – Superior form and functions provide quick and easy moves, adds and changes through intuitive design and tool-less adjustability.
• Support of current and future cabling needs – Versatile configurability and fiber-friendly design mitigate poor cabling practices regarding cable slack, bend radii and cable organization.
Per the company, "Also, the front door of the Motive system features a patent-pending hinge and latch design. With its ability to open from the left or right, the door offers easy push-to-close convenience that securely locks the door into place. Furthermore, an integrated hook on the front door provides a dedicated space for technicians to hang a test meter. Further, the Motive system can be used with open two- and four-post CPI Racks and is available in a vast variety of heights, width and configurations, matching all facility requirements. It ships partially-assembled, requiring minimal packaging, storage space and assembly, saving users valuable time and money."
Chosen by a panel of cabling and communications system specifiers, designers, integrators and managers, the Cabling Installation & Maintenance Innovators Awards program recognizes the most-innovative applications of cabling and communications technology products and systems within the structured cabling industry. Company and product entrants to the program were judged based on key criteria including: innovation; value to the user; sustainability; meeting a defined need; collaboration; and impact on the industy.
"The judging panel consisted of cabling and communications system specifiers, designers, integrators and managers with vast professional experience," said Alan Bergstein, publisher of Cabling Installation & Maintenance. Bergstein added, "This prestigious program allows Cabling Installation & Maintenance to celebrate and recognize the most innovative products and services in the structured cabling industry. Our 2017 Honorees are an outstanding example of companies who are making an impact in the industry."
The 2017 Cabling Installation & Maintenance Innovators Awards Honorees will be featured in the November Issue of Cabling Installation & Maintenance magazine, as well as on http://www.cablinginstall.com.