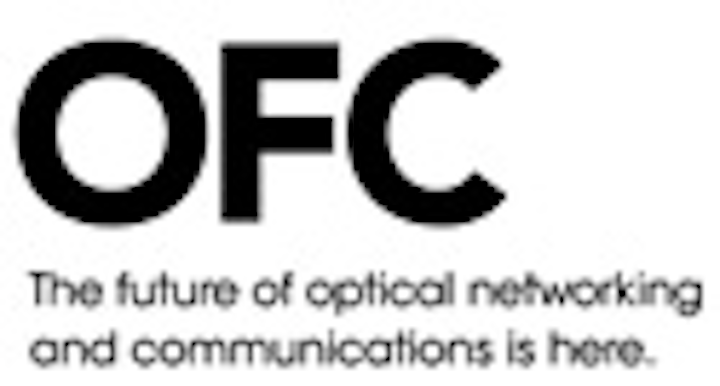 SAN DIEGO — OFC 2018, the single-most important annual event in optical communications, being held 11-15 March at the San Diego Convention Center is expected to draw more than 700 exhibitors from around the globe. The conference and exhibition, showcasing the innovation behind the technology powering our communications today, is expected to draw more than 15,000 executives, technical experts, university research teams, media and analysts.

"5G, Next-gen optical transport, multi-layer optical internetworking, open transport hardware/software and disaggregation will be some of the most discussed topics at OFC this year," said OFC General Co-Chair, David J. Richardson, University of Southampton, UK. "OFC is the industry platform for leading organizations to unveil their plans for the technology that drives consumer applications like ultra-high definition televisions (UHDTV), machine learning networks, connected cars and more."

More than 25 exhibitors have pre-announced their news through OFC's First News program (available exclusively to media/analysts), including DATA-PIXEL, Fujitsu, Luna Innovations, MACOM, Molex, Optelian, OIF, Sumitomo Electric and more. Additional exhibitor news announcements by Go!Foton, NeoPhotonics, MaxLinear and INGENERIC GmbH are posted to the OFC Newsroom.

Three days of exhibits by international organizations demonstrating the latest optical innovations for future networking growth segments will be kicked off by a plenary program featuring industry luminaries:
Marcus Weldon, Bell Labs President and Nokia CTO
John C. Doyle, John G Braun Professor of Control and Dynamical Systems Electrical Engineering, and Bioengineering, California Institute of Technology (Caltech)
Chengliang Zhang, Vice President, China Telecom Beijing Research Institute
EXHIBIT HIGHLIGHTS:
OFC has increased in overall square footage by 44% and experienced a 21% growth in exhibitors and attendees in the last five years. More than 700+ global organizations will occupy 350,000 square feet of exhibit space using the yearly event to unveil and demonstrate products and solutions.

Organizations participating in OFC 2018 include: Arrayed Fiberoptics Corporation, ATOP Corporation, Cicor Group, Ciena, Coriant, Corning Incorporated, Cisco Systems, EFFECT Photonics, Finisar, Fujitsu Optical Components, Global Communication Semiconductors, Inc.; Huawei Technologies, Infinera, Juniper Networks, Liverage Technology, Inc., Lumentum, Mellanox Technologies, Mitsubishi International, Nokia and more. Technologies on display include network and test equipment, optical transport systems and optical component, fiber cables and specialty fiber manufacturers.

EXHIBITION FLOOR PROGRAMMING HIGHLIGHTS:
In addition to the dynamic exhibits, OFC also provides attendees with complimentary exhibition floor programming, including:
The scenarios will provide a realistic insight into the major issues faced by the communications industry in the region, which include network reliability, environmental restrictions, limited funds, regulatory issues, and more. Audience members will gain awareness of optimal design solutions for broadband development and important services in emerging regions. Presented in two theaters on the show floor and open to all OFC 2018 registrants, individual programs covering topics from 5G mobility networks, Optical Cross Connect (OXC) and All-optical Intelligence, 5G network requirements for front, mid and backhaul, submarine optical fiber. A comprehensive schedule is available.

OFC is also host to several special events and demonstrations including the Lab Automation Hackathon and The Suzanne R. Nagel Lounge, providing an Inclusive Space to Spark Conversation and Community. A complete listing of special events can be found here.