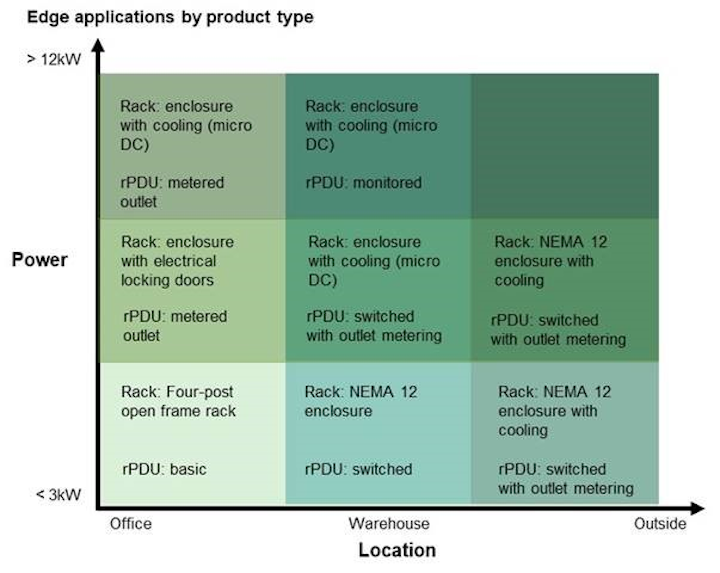 By MAGGIE SHILLINGTON, IHS Markit -- "Edge" has become an exciting buzzword for data center infrastructure manufacturers. However, for suppliers to edge deployments, the power required and the location of deployment are the most important considerations for product design -- and not solely whether the equipment is to be used in an "edge" deployment, or not.
Location
The location of the device has bearing on it two factors:
• Harshness of the environment - The harshness of the environment is measured by how likely it is the IT equipment would be damaged if left unprotected. For smaller deployments, equipment located in offices is the least likely to be damaged by employees or weather. Thus, depending on cooling and security requirements, open frame racks can be used in this environment. When IT equipment is needed in warehouses or located outside, it requires a more robust enclosure. Often these environments require enclosures that are NEMA 12 certified or are IP55 rated.
• Remoteness of the environment - The remoteness of the environment is measured by how easy it is to get remote hands to the IT equipment. For some facilities, like offices and warehouses, there may be someone on staff at the location who is able to do basic troubleshooting or even an IT staff member on-site. For other environments, the facility might be 'lights off' meaning there is not even a human present on site. Often, these 'lights off' environments are found in applications like deployments at the base of cell towers. It might take several hours to get a human to the site. This means that these sites require the highest level of intelligence from their rPDUs. They need rPDUs that allow remote staff members not only to see the power metering but also to remotely switch power off at an outlet to remotely power cycle a device.
Power
The power requirement not only affects the power rating and phasing of the rPDU, but it also affects the cooling requirements. Active cooling can be placed in an enclosure for high-density applications, like high-performance computing or in environments where the temperature is uncontrollable. In addition to active cooling within the enclosures, the rPDU can be leveraged to provide environmental monitoring. These environmental monitors can measure the temperature and humidity outside the cabinet, which can be extremely important for dense power applications, which often push the limits of both.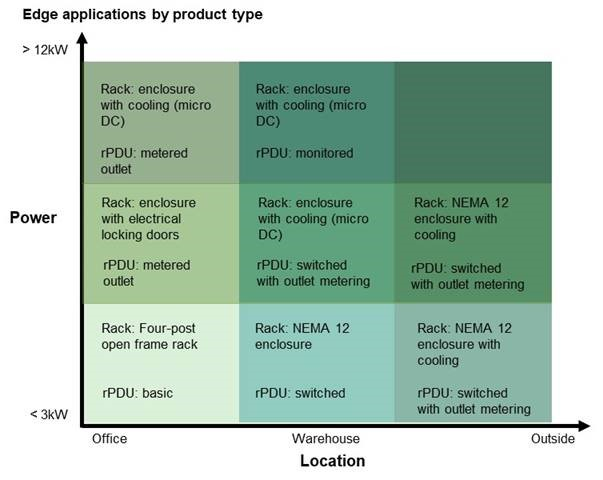 'Edge' an exciting buzzword for makers of data center infrastructure -- but good product designs hinge on power and location
Notable edge products on the market
There exist a variety of offerings from vendors that support edge deployments. Besides considerations for power and location of the deployment, many of these products are also designed to be deployed quickly and easily. For example, Eaton's RACKPACKIT is an all-in-one solution that minimizes deployment time. The single product includes a pre-configured rack-level UPS, rack PDU, and management solution. All-in-one solutions, like Eaton's RACKPACKIT, are the best solution for edge applications, like retail offices, which need many small deployments.
Also focused on rapid deployments is Vertiv's Liebert ITA 2 UPS. It is a flexible, plug-and-play UPS that's designed for small edge deployments that can be deployed in either a rack or tower configuration. The Liebert's ITA 2 UPS's flexible output distribution PODs allow fast, easy receptacle connections, while the optional maintenance bypass cabinet provides the availability needed for critical edge applications, like those in the banking or financial sectors. In addition to solutions designed for power backup of office environments, Vertiv has integrated outdoor modular enclosures designed for rapid deployment at outdoor locations, like cell sites. Because the solutions are designed to both stand up to various weather and utilize free cooling, they are a great example of a solution for content delivery networks looking to expand their data caching sites into areas without a large data center presence.
Additionally, companies are looking at providing custom solutions to solve a host of unique needs for edge deployments. For example, Chatsworth Products Inc.worked with AmerisourceBergen, one of the world's largest distributors of pharmaceuticals, to deploy enclosures to protect their IT equipment in their warehouses. AmerisourceBergen needed enclosures that not only protected their IT equipment from the dust and debris in the warehouse but also were able to fit the new IT equipment, including larger network switches. The solution for AmerisourceBergen was CPI's RMR Modular Enclosure. The RMR Modular Enclosure is certified NEMA Type 12 and IP55 ingress protection rating. These ratings make it ideal for warehouse environments given the amount of debris and dust present.
Finally, Legrand provided a total integrated edge solution for the recent Cisco Live! event. Their integrated solution was designed to support the network connectivity for all the event's attendees. The solution was ideal for the Cisco Live event because it was a total integrated solution, reducing the time it took to deploy it before the event. Also, the solution used a vertical wall-mounted cabinet, in order to minimize the space required. Also, because the cabinets were in a public area, they were designed with a SmartLock Handle to secure the networking equipment.
What's next for the edge
Vapor.IO and SWIM.AI are two companies who believe the answer to the future of edge is not a problem that infrastructure can solve alone. They believe software plays a vital role in edge infrastructure as well. SWIM.AI's edge software, SWIM EDX, is designed to be deployed on a multitude of equipment and locales. This includes the ability to run SWIM EDX on preexisting equipment at edge sites, like network switches that already have underused CPUs and then pooling all these underused computing resources to create a mesh-like compute pool to run the predictive software analysis on. By performing analysis closer to the edge devices, SWIM EDX reduces the cost and time to transfer and store large amounts of data.
Vapor.IO believes that while software is vital for the edge applications, the related hardware is equally important. Vapor.IO's Vapor Chamber encapsulates this dual focus by creating an edge infrastructure solution that is empowered by the software. The Vapor Chamber can contain up to six individually accessible wedges to keep users' IT equipment secure from others being able to access it. According to Vapor.IO, each of the six wedge racks in a Vapor Chamber can accommodate 36 RU of equipment and up to 25 kW of IT load per rack. For the software side, each Vapor Chamber has a fully-integrated Vapor Edge Controller (VEC). The VEC is a highly-redundant, and highly-available embedded subsystem that monitors the Vapor Chamber continuously adjusts fan speed and supports the Vapor Chamber control plane and API for remote operations. This software design allows a better insight into the infrastructure and provides developers to write their own systems to customize action and alerts based on environmental changes. Vapor is also a consumer of its own products, building out a nationwide network of edge data centers as part of a colocation business in partnership with Crown Castle.
Whether companies are approaching edge designs from a software, hardware or a combination approach, it is clear that the edge requires greater flexibility than more traditional data center spaces.
MAGGIE SHILLINGTON is an analyst with IHS Markit's Cloud & Data Research Practice.