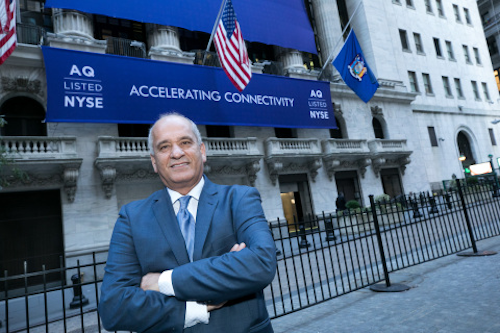 Aquantia Corp. (NYSE: AQ - San Jose, CA), a specialist in high-speed, multi-gigabit Ethernet connectivity, announced it was recognized with the "Most Respected Private Semiconductor Company" award at the 2017 Global Semiconductor Alliance (GSA) awards dinner celebration on December 7, 2017.
"GSA proudly recognizes Aquantia as the Most Respected Private Semiconductor Company," said Jodi Shelton, GSA President. "This award highlights Aquantia's proven track record as a technology leader, with world class customer engagements and solid financial performance."
See also:Ethernet chip supplier Aquantia files registration statement for proposed IPO (Oct. 10, 2017)
Per a press release, "The GSA Most Respected Private Semiconductor Company Award is designed to honor the private semiconductor company garnering the most respect from the industry in terms of its products, vision and future opportunity. In addition, the award recognizes leading semiconductor companies that have exhibited market growth through technological innovation and exceptional business management strategies."
"Aquantia is honored to receive this prestigious award from our peers in the GSA. 2017 was a year of breakthroughs; we moved into new, high-growth markets and more importantly, made the transition from a private to a public company," said Faraj Aalaei, CEO at Aquantia Corp. "This award recognizes Aquantia employees plus the dedication and skill it takes to get to this point. We look forward to bringing that same determination and ingenuity to all our future endeavors."
For more information, visit www.aquantia.com.
Search the Cabling Installation & Maintenance Buyer's Guide for companies, new products, press releases, and videos: