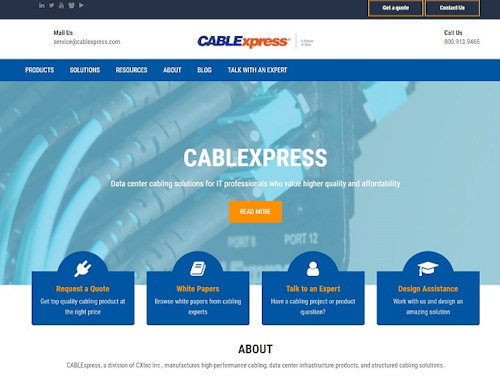 CABLExpress, a division of CXtec Inc., has launched a new and enhanced website. The company says its new site, www.cablexpress.com, "is designed with enriched content to better feature the data center cabling solutions that are available for IT professionals who value higher quality and affordability."
At the refurbished site, visitors will find a comprehensive view of the multitude of products and solutions that are offered by CABLExpress. "The improvements made to the site have produced a streamlined and device-friendly platform that provides visitors with easy access to our products and services," says Renee Duffy, vice president of marketing for CABLExpress. "But beyond the user experience, the site is a true tool, showcasing 40+ years of industry knowledge and expertise."
CABLExpress joins TIA TR-42 cabling standards committee
The new site's improved functionality allows for easier navigation when looking to access products or design assistance, notes the company. A new 'Talk with an Expert' section is now in place for better customer engagement with CABLExpress professionals, who are there deliver project and product support as well as data center design assistance.
Also, the site's new resources section contains content developed to help those in the field stay current on the latest in high-performance cabling, innovative data center infrastructure products, and structured cabling solutions. This section includes videos, white papers, case studies, visio stencils, podcasts and more.
Finally, the CABLExpress blog continues to provide end users with thought-provoking and educational content from the company's experts, who share their latest innovations and news from within the structured cabling industry with readers.
CABLExpress MultiPath System honored with 2018 Cabling Installation & Maintenance Gold-level Innovators Award