Optical fiber polarity tester gets patented
Data Center Systems' benchtop system tests fiber polarity for the company's MPO assemblies without endface damage.
Oct 24th, 2018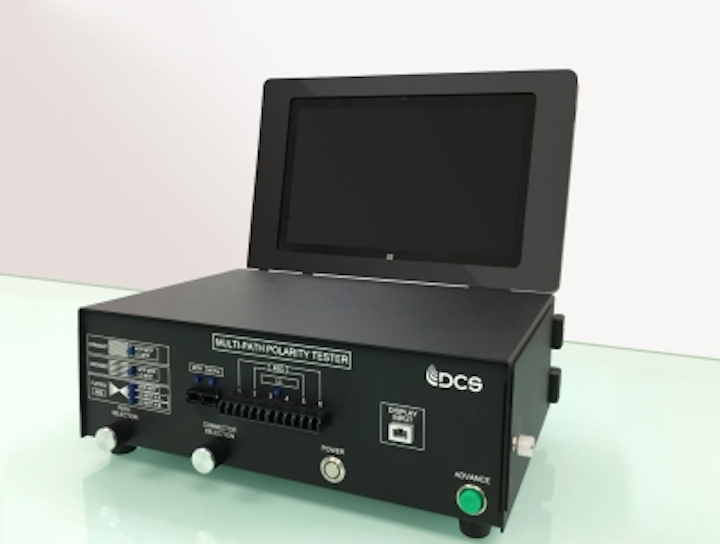 Data Center Systems (DCS) recently announced it was awarded a patent for its optical fiber polarity tester. The company said that the test solution, originally developed in 2016, tests polarity of bundles of assemblies while preventing the optical fibers from contacting any other components as the tests are conducted.
"Using a programmed microcontroller, series of LEDs, microscope, PC tablet with viewing software, and internal fiber optics, the optical fiber polarity tester sends the appropriate light sequence for the polarity type being tested," DCS said. "The pattern is presented in a 1-to-12 sequence regardless of the polarity type. If the light sequence doesn't follow this pattern, that is an indication that the assembly being tested has the wrong polarity configuration and needs to be reworked."
Troy Cummings, production manager for DCS, added, "In the past, operators used a more-manual process that risked damage to the endface of the fiber ferrule and left room for human error. The optical fiber polarity tester eliminates that error, allowing quality control operators to focus on the performance and integrity of the product."
The "mother of invention" (i.e. necessity) for this test system was DCS's need for a benchtop solution to properly and efficiently test its multifiber MPO/MTP assemblies for correct polarity without damaging the endface, prior to quality-control (QC) testing. "There's no contact made with the endface of the connectors that have just been polished and cleaned during the production process," Cummings said. "That leads to higher performance and more-efficient testing during the final QC process."
Because MPO-based connectivity systems facilitate parallel-optic transmission schemes, a single bad fiber connection in an assembly can create downtime. Cummings added, "Finding the bad channel in a series of connected cables should never happen inside the data center. The optical fiber polarity tester is designed to be used at the end of the production process before going to QC departments, to ensure the cables are configured properly before being performance-tested."