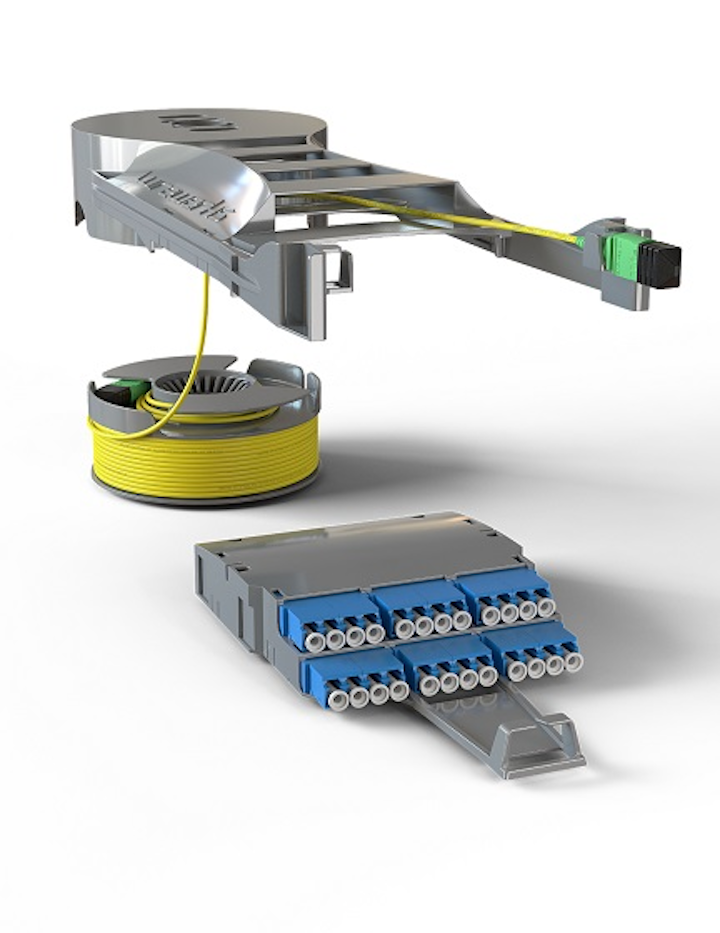 Network infrastructure specialist Wirewerks has announced the global launch of a new module for its NextSTEP Technology fiber management system. The NextSTEP FLEX Module is billed as a ready-to-use 12/24F MPO-MPO factory terminated cable assembly with up to 30 meters of trunk cable spooled on an integrated reel for instant deployment. Trunk cable lengths may be extended up to 500 meters with use of Wirewerks' Open Spool, an external cable reel.
Per the product's press release:
"NextSTEP FLEX Modules are configured from three interchangeable, reusable components including:
1) The NextSTEP FLEX Module Base
2) The NextSTEP FLEX Module Reel
3) The NextSTEP FLEX Module 24-port LC Distribution Cassette
Related: Wirewerks launches NextSTEP high-density fiber-management product line
-- The NextSTEP FLEX Module provides instantaneous 12/24F MPO-MPO trunk cable deployment with or without 12/24 LC/SC distribution ports – just unspool the factory terminated MPO assembly from the integrated reel and snap MPO connectors together for highly reliable, high-performance fiber networks. The on-board reel of 12/24F trunk cable eliminates the need to measure exact lengths and then wait for cable fabrication and delivery. Unspooling just the exact cable length needed eliminates the slack management issues that come from ordering cable assemblies with a 'just-in-case' length margin factored in. It's all completely plug-and-play, eliminating the need for fiber-expert installers or data center technicians.
-- The NextSTEP FLEX Module is fully compatible with all NextSTEP patch panels and enclosures, and comes complete with integrated fiber management features for proper cable routing, bend-radius and strain-relief protection."
Edouard Tabet, Wirewerks' head of engineering, comments, "The FLEX Module takes the mystery and complexity out of fiber deployment with its ready-to-use MPO plug-and-play technology. It's extremely cost-effective, reliable, and easy to inventory for instantaneous deployment in data centers, headends, PONs and premise LAN applications."
The NextSTEP FLEX Modules are available now from Wirewerks Authorized Distributors (ADs) throughout North America. Learn more at wirewerks.com.