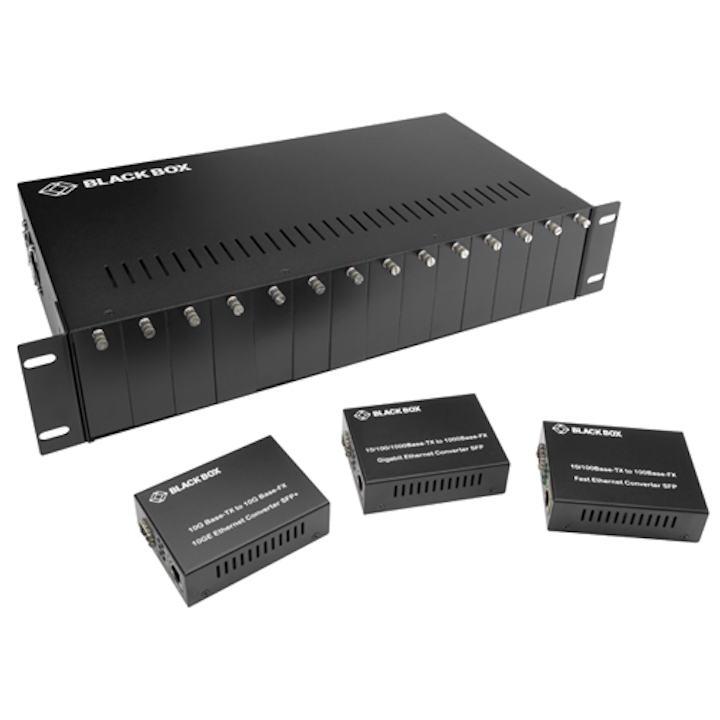 10/100/1000 Mbits/sec through 10GbE media converters available
Easy to install and reliable, Black Box Ethernet media converters make it simple for enterprises to extend LAN segments over fiber-optic cable, the company says. Per Black Box, "Military and intelligence agencies trust Black Box media converters for highly secure fiber-to-the-desktop applications, and surveillance integrators deploy the company's PoE media converters to simplify IP camera installation and backhaul video to security operations centers."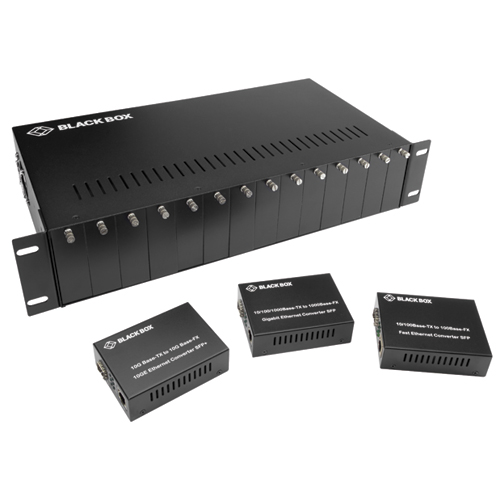 Available in both standalone and high-density rack-mount chassis, the new Pure Networking media converters from Black Box support a wide range of speeds, including 10/100/1000 Mbits/sec and 10GE. Other media converter products on offer include fixed optics and modular SFP/SFP+ models for range flexibility.
Black Box, blackbox.com/mediaconverters
PoE media converter
DMSI's Power over Ethernet (PoE) media converter allows the user to connect fiber to copper to power PoE+ devices. It features an unshielded twisted-pair (UTP) RJ45 port, and an empty small-form-factor pluggable (SFP) port, in which the user can use a swappable SFP for singlemode or multimode applications.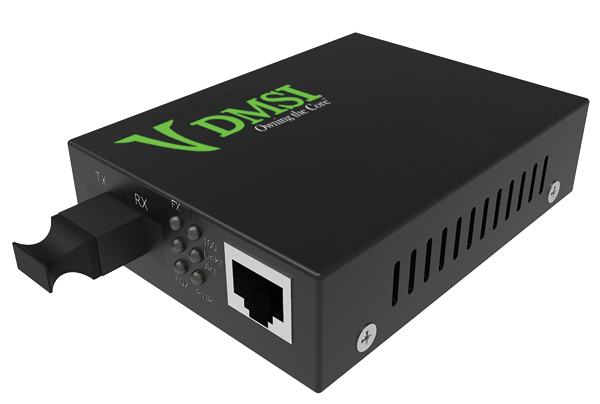 The product can automatically switch between 10-, 100- and 1000-Mbit/sec bandwidths, and each unit includes an AC power cord for internal power, and power sourcing equipment (PSE) controller to output power into Category twisted-pair cable to power devices.
DMSI,dmsimfg.com
PoE powered media converter
Omnitron's miConverter GX/T PoE/D is a miniature 10/100/1000 media converter that can be powered with Power over Ethernet (PoE), and enables plug-and-play fiber connectivity when connected to PoE switches and midspans. The miConverter GX/T PoE/D requires no external AC or DC power, and can be deployed as a standalone device when fiber runs are required from a PoE switch, and AC or DC power availability is limited in the data closet.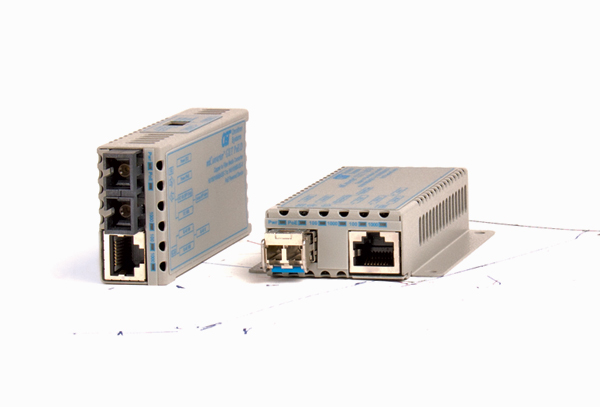 It can also be deployed with PoE and AC or DC power redundancy for mission-critical applications. The miConverter GX/T PoE/D supports fixed fiber ports, or 100-Mbit/sec or 1-Gbit/sec SFP transceivers, and is available with 0 to 50 degrees Celsius commercial and -40 to +60 industrial temperature ranges.  All Omnitron media converters are made in the U.S.A., and backed with a lifetime warranty and free 24/7 technical support.
Omnitron Systems,
omnitron-systems.com
Power and data to remote end devices made easy
Transition Networks' Gigabit PoE+ media converters easily and affordably provide solutions for security, smart building, and other smart city applications, the company says. They provide network connections between different types of cabling, while delivering power to remote, high-bandwidth devices such as cameras, wireless access points, IP phones, and other powered devices.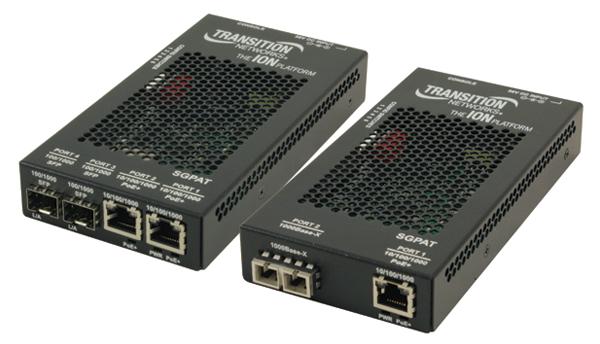 Fully compliant with IEEE 802.3at standards, these converters reduce power consumption and improve uptime with the Active-Link Pass Through (ALPT) feature to automatically detect link failure and the Auto Power Reset (APR) feature to automatically reset power to end devices. These standalone gigabit PoE+ media converters (SGPAT Series) convert 10/100/1000Base-T copper to 1000Base-X fiber and support network speeds (100/1000) with the optional configuration of the SFP port. These converters come with 2, 3, and 4 ports, with the 4-port version offering the functionality of 2 individual media converters.
Transition Networks, transition.com
Highly versatile AV switcher
The Atlona AT-UHD-SW-510W is a highly versatile AV switcher designed for meeting spaces and a wide range of presentation applications, from collaboration to video conferencing. The SW-510W provides universal connectivity for BYOD (bring your own device), allowing presenters to connect their laptops or mobile devices through wired connections including HDMI, DisplayPort, and USB-C.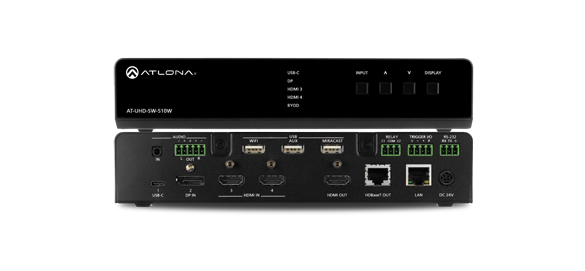 Additionally, presenters can connect over WiFi to the SW-510W's built-in wireless access point from iOS or Android, or Miracast via Windows. Two AV outputs are included: local HDMI and long-distance HDBase-T, with the option of having both outputs function simultaneously (mirrored) or independently (matrixed). The SW-510W is designed for effortless user operation, says Atlona. When a presenter connects a device, the switcher automatically selects it and powers up the display.
Atlona, atlona.com
Industrial converter with fixed fiber
Antaira Technologies' IMC-C100-XX series is a compact industrial converter featuring a 10/100TX Ethernet port and a fixed fiber interface that supports ST or SC connectors depending on the model. Multimode and singlemode versions are available to support applications of varying fiber-type and distance requirements.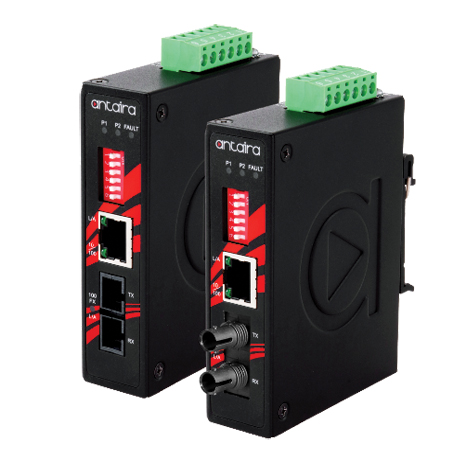 The converter series is designed to fulfill industrial applications that require fiber-optic distance extension while minimizing space utilization. The media converter series has a built-in link-fault passthrough (LFP) and far-end-fault (FEF) function with 12 ~48VDC redundant power inputs with reverse polarity and overload current protection. It supports DIN rail and wall-mountable orientations. Operating temperature ranges include -10 to +70 degrees Celsius and -40 to +80 degrees Celsius.
Antaira Technologies, www.antaira.com