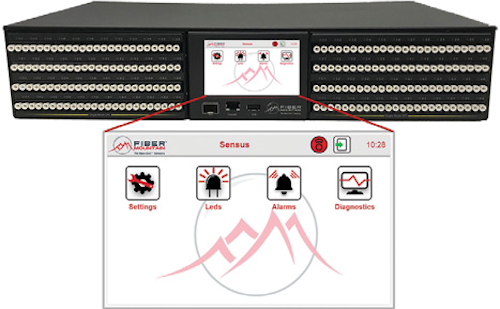 CABLING MANAGEMENT
Fiber Mountain launches Sensus, a software-controlled, sensor-based optical cabling system
Fiber Mountain, Inc., a provider of managed fiber connectivity for hyperscale, enterprise and colocation data centers, has announced its Sensus system, a software-controlled patch panel solution. The company says its Sensus technology "illuminates the previously unmanaged physical layer by gathering real-time information via the use of sensors in cables and connectors, thus putting the physical layer infrastructure of a company on the road to digital transformation. Sensors and the use of central software put information about the network at the fingertips of network operators, providing real time network knowledge, unparalleled security, predictable growth management and enhanced uptime."
Per a statement, "Patch panels in the Sensus family are equipped with LCD touchscreens, integrated nearfield communication (NFC) readers, and per-port LEDs. Fiber-optic cables including LC connectors and 8-fiber MPO, 12-fiber MPO, or 24-fiber MPO connectors have a field-upgradeable clip that provides readable uniqueness to each end of the cable. Cable ends are equipped with NFC technology that can be read by Sensus patch panels, or a mobile device such as an iPhone or an Android device capable of reading NFC. The Sensus system is modular and allows mixing of different types of connectors including singlemode and multimode in the same chassis."
At the heart of the Sensus platform is Fiber Mountain's Glass Core, a software-defined physical infrastructure that includes the company's AllPath Director (APD) software, Sensus patch panels, Sensus cables, Optical Path Exchange (OPX) Layer 1 switches and L-Series fiber port aggregators. These devices are intended to enable network operators "to build any type of network at any scale, with the ease of software managed control in a growing or changing network landscape," says the company.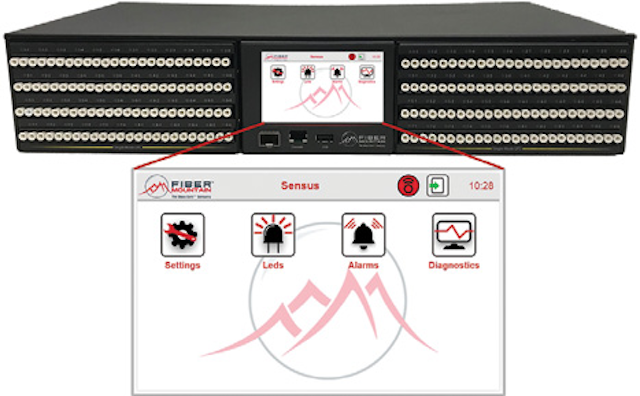 "Data center operators invest in the testing of fiber-optic networks at time of installation. After initial installation, it is usually difficult to maintain the integrity of the fiber infrastructure. Sensus panels have integrated diagnostics and test capability, so that end-to-end fiber connectivity can be tested at any time that the operators desire, without external test equipment," explains M. H. Raza, CEO of Fiber Mountain, Inc.
Raza continues, "Sensus changes the way network operators manage their day-to-day activities. The primary benefits include the ability to centrally track every connection and ensure 100-percent accurate topology documentation. With software control of physical assets, new levels of functionality are available in the network, human errors are eliminated, growth can be managed and planned, and the costs of network maintenance become controlled and predictable."
The Sensus platform is currently in various stages of deployment at hyperscale, government and enterprise networks, says the company.
CONNECTIVITY
Belden's Thinklogical combines KVM extender and VDI processor
The TLX Client Integration module from Thinklogical, A Belden brand, is a full-featured virtual machine processor combined with a high-performance KVM (keyboard, video and mouse) extender, eliminating the need for separate client devices in virtual desktop infrastructure (VDI) installations. The new integrated KVM module client reduces VDI hardware costs as it increases security, says the company.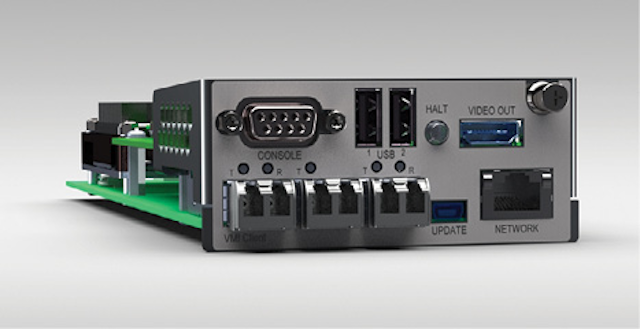 The integrated client machine can host any standard VDI client software, including those produced by VMware, Citrix, Microsoft, and others. It is also compatible with many third party accredited software images. For security, productivity or performance reasons, customers in government, defense, media and entertainment often back-rack their physical VDI client machines in secure IT rooms, providing the user with remote access to the devices through a separate KVM extension and matrix switching system. The TLX Client Integration module simplifies this architecture by combining a VDI client with a KVM extender transmitter, eliminating the need to purchase separate clients and KVM transmitters. This reduces hardware and cabling complexity and cost and saves up to 50 percent of the rack space previously required, according to Thinklogical.
"Thinklogical developed the TLX Client Integration module in response to customer requests for hardware savings and better space utilization in KVM-extended virtual desktop applications," said Mitch Hillsberg, senior director of engineering for Thinklogical. "This module addresses the need to simplify extended VDI architectures without compromising data security, video image quality or computer peripheral performance."
MERGERS AND ACQUISITIONS
R&M expands operations into Brazil with fiber-optic and copper cabling systems
Cabling system provider R&M (Reichle & De-Massari AG) recently announced that it has successfully integrated the fiber-optic business of Brazilian brand PETCOM into its operations. In April 2017, the Wetzikon, Switzerland-based R&M acquired the fiber-optic business of Minas Gerais, Brazil-based PETCOM. R&M recently stated that by the end of 2017, the business and its production activity were fully and successfully integrated into R&M.
"The company is today able to offer its complete LAN, FTTx, and data center assortment to the Brazilian market," R&M said. "The production is meeting the quality standards of the R&M Group."
Markus Stieger, R&M's chief operating officer, said, "The plant in Brazil plays an important role in our production framework for the Brazilian and other cabling markets in Latin America. In our plant in Minas Gerais we produce high-quality fiber-optic products for data centers and public networks. In the last months, we established copper patch cord and platform assembly lines with the support of technical experts from the headquarters in Switzerland."
"R&M is now able to manufacture a complete line of copper and fiber-optic products in Brazil," added Paulo Campos, managing director for Latin America. "This will support us in strengthening our position in the LAN market. There is still a large need for high-quality communication infrastructure."
THE C-SUITE
Panduit announces Dennis Renaud as new CEO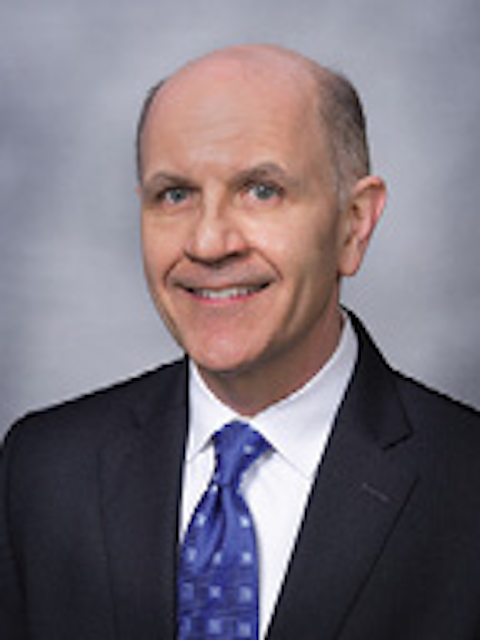 Panduit Corp. announced that its board of directors has appointed Dennis Renaud as CEO, effective January 23, 2018. Tom Donovan is retiring from the role of CEO and supporting the transition in an advisory capacity.
Andrew Caveney, the company's board executive chair, said, "Panduit is well positioned for growth, thanks to our exceptional leadership team, employees and channel partner community. I'd like to thank Tom for his contribution to the success of the company and its culture. Tom's vision, integrity, work ethic, and commitment to Panduit and our employees is without equal.
"I'm looking forward to working with Dennis to shape business strategy and innovation," added Caveney. "Dennis is well qualified to champion our extraordinary culture with an ability to inspire and connect with others. The board is confident that Dennis will continue our tradition of customer focus, innovation, and quality."
Renaud is entering the role of CEO after leading the company's enterprise business unit. "I'm incredibly honored to serve as Panduit's CEO," said Renaud. "Panduit is a special company. With our customer-first approach, talented workforce, and broad product portfolio, the opportunity ahead of us is tremendous."
According to Don Mrozek, Panduit's board director, "The board is extremely enthusiastic about this appointment. Andrew's role as executive chairman continues our legacy of family business leadership, while Dennis is ideally suited to lead the company forward as CEO. He has 30 years of experience in the electrical and communications industry and a proven track record of success. Andrew and Dennis are committed to growing Panduit for the benefit of its employees, business partners, shareholders, and the communities in which it operates."
Renaud has excelled at leadership roles in his career in sales, marketing, engineering, product management, and business unit leadership and has lived in both the United States and Japan. Dennis holds a Bachelor's of Science in Chemical Engineering from Penn State and a Master's Degree in Business Administration from Babson College.
STANDARDS
Latest Ethernet Alliance PoE Plugfest provides critical support for Power over Ethernet certification program
The Ethernet Alliance, a global consortium dedicated to the continued success and advancement of Ethernet technologies, announced details of its most recent plugfest. Dedicated to pre-standard testing of Power over Ethernet (PoE) technologies against Draft 3.2 of the IEEE P802.3bt standard, the event was held the week of February 12, 2018, at the University of New Hampshire InterOperability Laboratory (UNH-IOL) in Durham, N.H.
Per an Ethernet Alliance statement, "Open to Ethernet Alliance members, component developers, system providers, and test equipment manufactures will benefit from participation in this PoE plugfest. Test results will be important to both the ongoing development of the IEEE's PoE standard and the second generation of the Ethernet Alliance's PoE Certification Program."
The statement added, "As the range of PoE-enabled devices and applications expands and diversifies, the need for additional power is becoming more urgent. With emerging devices and applications requiring increased amounts of power, the IEEE P802.3bt standard is being developed to allow delivery of up to 90 watts of power via existing Ethernet cabling. With the specification's ratification expected in September of 2018, the Ethernet Alliance is hosting a members-only interoperability plugfest to test equipment to perform pre-standard testing against the IEEE P802.3bt draft standard. Findings will be shared with the IEEE P802.3bt Task Force, providing the group with valuable insight; data gathered during the event will also be leveraged for the second generation of the Ethernet Alliance's PoE Certification program. This Ethernet Alliance plugfest will allow the industry to get ahead of intensifying interest in advanced PoE solutions, opening the door to new market opportunities."
"We're seeing a rapid acceleration in the global demand for the latest PoE-enabled technologies, and interoperability is the key to satisfying the market's growing appetite," commented John D'Ambrosia, chairman, Ethernet Alliance and senior principal engineer, Huawei. "Bringing the ubiquity of PoE to new audiences means first ensuring products deliver the interoperability users expect of Ethernet. The Ethernet Alliance remains committed to supporting the industry through sharing plugfest results data, and undertaking vital initiatives like our PoE Certification Program."
For more details on the Ethernet Alliance PoE Certification Program, visit https://ethernetalliance.org/poecert.
EDGE COMPUTING
Vertiv unveils compact UPS system for edge IT deployments
Vertiv, formerly Emerson Network Power, has introduced the Liebert ITA2, a compact, three-phase, 8 and 10kVA uninterruptible power supply (UPS) system designed for local and remote IT deployments at the edge of the network. The latest addition to the Vertiv UPS portfolio gives customers a powerful, efficient battery backup solution with three-phase input and output for 208/220V IT requirements. The system is available in various models globally and through Vertiv channel partners.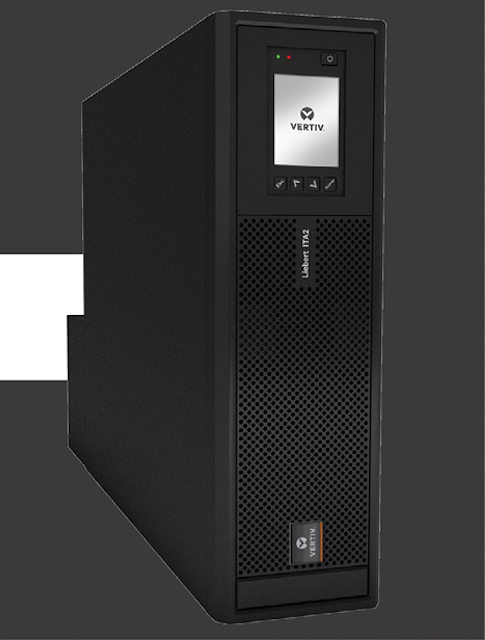 Per a Vertiv press release, "The Liebert ITA2 is a true online UPS that can be used in rackmount or tower arrangements, with a compact design allowing easy installation and flexible placement in the tight spaces typical of edge deployments. Three-phase input allows users to utilize a building's existing electrical architectures more effectively, with a power factor of up to 1.0, helping the UPS maximize rated power to the IT systems. The Liebert ITA2 saves utility costs by operating at over 93 percent efficiency in dual conversion mode and up to 99 percent in eco-mode. Intelligent network communications and monitoring is provided via a Vertiv Unity communications card."
"We hear from customers a lot about their challenges at the edge of the network and with good reason. These are increasingly critical sites, and reliable power protection in these locations is non-negotiable," comments Kyle Keeper, vice president, AC power product management for Vertiv in the Americas. "The Liebert ITA2 delivers reliable, efficient three-phase power protection in a compact, flexible system that is easy to install and manage and fits the growing demands of these critical IT processing spaces."
POWER OVER ETHERNET
In-ceiling PoE switch supports digital lighting and other building applications
Microsemi recently introduced the PDS-208G Power over Ethernet switch that the company said offers "an optimal and cost-effective solution designed specifically for digital ceiling installations." It is compatible with any IEEE 802.3af or 802.3at PoE lighting fixture. When the 802.3bt standard is completed—which is expected to happen later in 2018—Microsemi will offer a compliant PDS-208G, the company added.
Sani Ronen, director of product management for Microsemi's PoE systems, commented, "Our new PoE switch is a unique offering from Microsemi, as it is differentiated from enterprise switches by enabling lighting fixtures and other Ethernet terminals to receive power and data over standard Ethernet cables in the most efficient manner possible. The device's high-power efficiency results in minimal losses to ensure the support necessary for digital ceiling applications, enabling installation of connected lighting systems that offer improved lighting experience, new features and power savings."

The 240-watt fanless switch supports full-power mode by providing 30 watts for eight ports simultaneously. Any individual port can operate at up to 72 watts.
Ronen explained, "It's preferable to have a switch that installs in the ceiling," as opposed to in a telecom room. "The basic control happens through the switch, directly to the powered device. There are hundreds of models of PoE switches in the market. Few are suitable for ceiling installation." The PDS-208G fanless switch operates silently, he pointed out, which avoids distraction in the workspace from noisy fans in the ceiling. The fanless product is also highly reliable, Ronen added, with a highly efficient power supply.
In addition to supporting LED lighting, the switch can support building applications including presence sensors, building automation, HVAC, IP cameras, and WiFi access points.
The company added that the switch's eight 10/100/1000-Mbit/sec ports with PoE capabilities are based on Microsemi's energy-efficient four-pair PoE technology, "enabling 50 percent power-loss savings on the Ethernet cables when compared to similar installations using an Ethernet switch. It also features two Gigabit ports that can be used for uplinks and can be remotely managed through SNMP and the web."