Fueled by hyperscales, 100G to grow rapidly through 2019, edging out 40G
IHS recently released a report exploring the demand for 1-, 2.5-, 10-, 40- and 100-Gigabit optical and Ethernet ports.
Dec 1st, 2015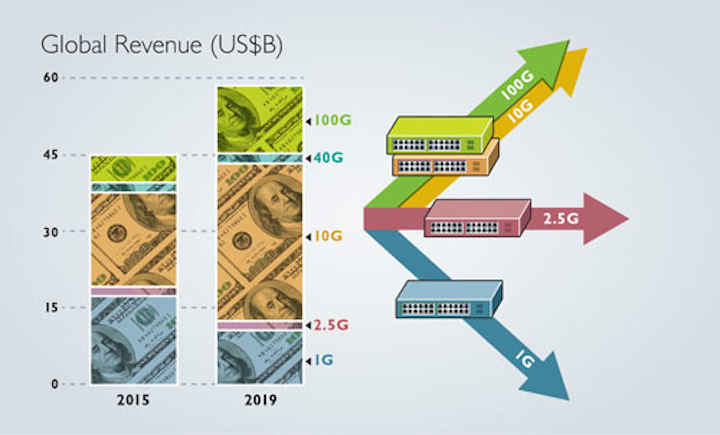 IHS recently released a report exploring the demand for 1-, 2.5-, 10-, 40- and 100-Gigabit optical and Ethernet ports.
The semiannual market tracker report, IHS Infonetics Networking Ports: 1G, 2.5G, 10G, 40G, 100G, covers port revenue, port shipments, and port pricing for enterprise routers, Ethernet switches, and other enterprise communications equipment, as well as service provider IP edge routers, IP core routers, carrier Ethernet switches, customer premises equipment, broadband access, WDM and SONET/SDH optical, and other service provider communications equipment.
"Deployments of 1G and higher networking ports continue unabated by both enterprises and service providers as they seek to bring capacity in line with the demands placed on their networks," comments Matthias Machowinski, research director for enterprise networks and video at IHS. "In general, the higher the port speed, the higher the growth rate, which means that 40G and 100G are the key growth segments of the market."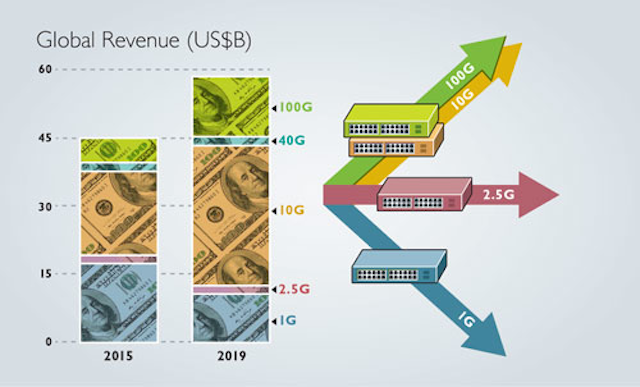 The new market tracker report also analyzes the size of the overall market, how fast each segment is growing, and which technologies and speeds are being adopted on various types of enterprise and service provider equipment.
"In a bit of a twist, 2.5G revenue had the highest growth in 2014 due to massive increases in GPON OLT spending in China and the rollout of Gigabit services in North America," reveals Machowinski. "Looking ahead, we expect 40G revenue to start falling as early as 2017, as enterprise and data center demand shifts to the newly released QSFP-based 100G technology."
1G/2.5G/10G/40G/100G port shipments are anticipated by IHS to exceed 700 million in 2015, totaling $45 billion. The researcher points out that 100G port shipments more than doubled in 2014 from the prior year, reaching 163,000. IHS forecasts worldwide 100G port revenue to grow at a 137 percent compound annual growth rate (CAGR) from 2014 to 2019.
"2016 is poised to be a breakout year for 100G technologies as coherent 100G ports ramp in metro networks, and companies such as Google, Microsoft and Amazon introduce 100G Ethernet switching technology into their massive hyperscale data centers," concludes Andrew Schmitt, research director for carrier transport networking at IHS and co-author of the report.