Report: Big opportunity for 40G connectivity
Trends point to 40G switches being deployed much more quickly than their 1- and 10-G predecessors.
Dec 22nd, 2011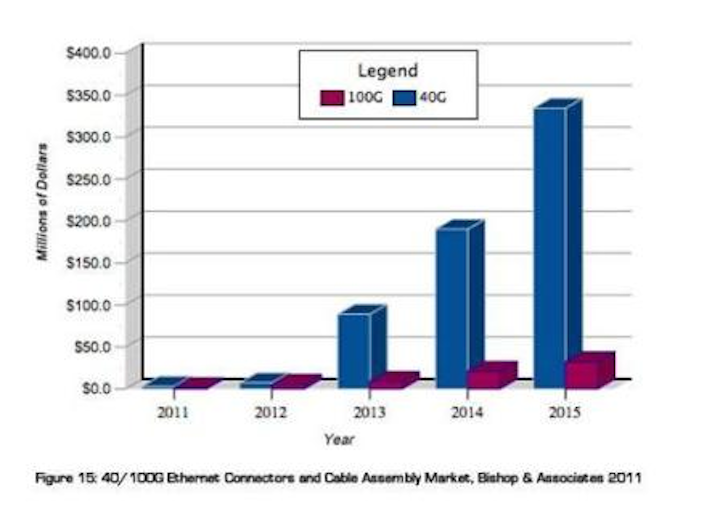 Lisa Huff, an analyst who examines the high-speed networking, cabling and interconnect industries, recently reported on the market potential for data communications connectors and cable assemblies for 40G systems.
Huff, a telecom director with the research firm Bishop & Associates, recently wrote about the state of the market - from both technical and business perspectives - for 40/100G connectors, QSFP+ connectors and cables, and CSP and CFP connectors and cables for 100G Ethernet. In her reporting she noted, "As each new data rate has been released, the servers' adoption of it lags by at least three years. And for 10G it has been more than eight years before the servers have been able to take advantage of the I/O speed. Server manufacturers were concerned that if the IEEE adopted 100G without a "speed bump" in between, it may drastically slow its adoption. ... 40G was added, and we see early adoption of it, at least for high-end data center applications, only a year after the standard was released."
The graph that appears at the bottom of this page is from the Bishop & Associates report entitled "Gigabit Data Communications Connectors and Cable Assemblies, 2011 to 2015." As the blue bar indicates, the ceiling for 40G connectivity products is extremely high and great optimism exists for the next four years.
At least some of that optimism may come from the dynamic that Huff observes in the 40G market. She says, "Traditionally Ethernet switches lag in the development of server technology when it comes to speed migration. This is because it is much easier to develop a chipset and optical module to fit on a traditional network interface card than it is to fit into a high-density switch port. We saw this with gigabit and 10 gigabit Ethernet, but it seems to be reversed for 40G. Several switch manufacturers have already released products with multiple 40G ports. The switches have 48 10G SFP+ ports for connections to servers and four 40G QSFP+ ports for uplinks to aggregation/distribution switches."