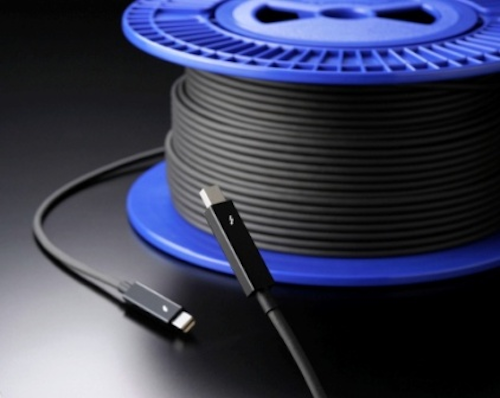 Sumitomo Electric Industries has begun sample product shipments of its Thunderbolt optical cables, based on the high-speed, dual-protocol PC connection technology developed by Intel which provides 10 Gbps data transmission for PCI Express and DisplayPort devices.
Last September, Sumitomo launched its electrical Thunderbolt cable based on Intel's technical specifications. Following this success, the company developed the optical Thunderbolt cable currently being sampled, drawing on its optical fiber and module technologies. According to Sumitomo, notable features of this product include its long-distance connection and high flexural strength capabilities.
The optical Thunderbolt cable is an active optical cable (AOC) that enables long-distance transmission of optical signals with no signal degradation. Connectors at both ends of the cable convert electric signals into optical signals and vice versa. It employs the same interface as the electrical Thunderbolt cable and can be connected to Thunderbolt ports on PC and peripheral devices. This cable comes in lengths of up to 20 m.
The optical Thunderbolt cable is as thin in diameter as the conventional electrical Thunderbolt cable (4.2 mm), and therefore handles just as easily, says the company. Further, Sumitomo says its specially designed optical fiber makes the cable robust and tough enough to be used in general consumer devices. This optical fiber will provide high bend performance even when pinched by up to 180 degrees or tangled in knots, claims the company.
The Sumitomo products will be used at the Thunderbolt demonstration to be performed at Intel's booth during the 2012 NAB Show in Las Vegas (April 16-19). "Thunderbolt technology is a groundbreaking new high-speed interconnect technology providing 10 Gbps connectivity to the PC," comments Jason Ziller, Intel's Thunderbolt marketing director. "We are very excited to have Sumitomo optical Thunderbolt cable sampling in the market to provide much longer cable lengths to the users that need them, such as media creators."
See also:Structured cabling fending off active optical cables in data centers, for now