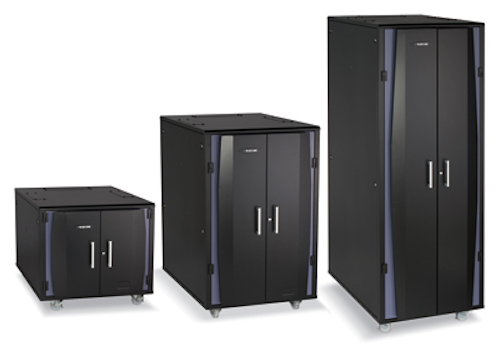 From the October, 2014 Issue of Cabling Installation & Maintenance Magazine
Elite QuietCab acoustical enclosures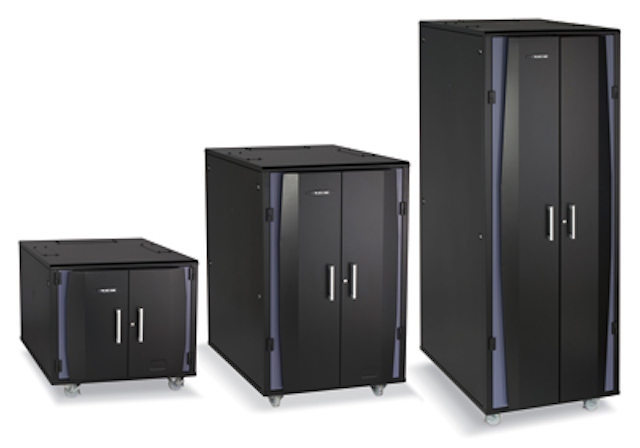 Black Box's Elite QuietCab acoustical cabinets reduce equipment noise to a level below background noise in an average office, or even to a whisper, the company says, attenuating sound by 28.5 dB-"the most you can get today in a soundproof enclosure," says Black Box. The company adds, "They've been independently tested as the most-effective quiet cabinet in the world."
The cabinet's airflow design achieves 7.2 kW heat dissipation, which the company notes is the equivalent of 37 single-processor servers and peripherals. "They're ideal for environments where you need to store network equipment near workers, such as offices, schools, medical offices, and retail establishments," Black Box says. The enclosures are available in 12U, 24U and 42U sizes and hold all leading servers; the 19-inch m6 mounting rails are adjustable. "Load-bearing casters make them easy to move, and locking doors secure equipment. The cabinets also have very generous cable management for horizontal and patch cables," the company concludes.
Black Box
www.blackbox.com
All-white Mighty Mo 20 system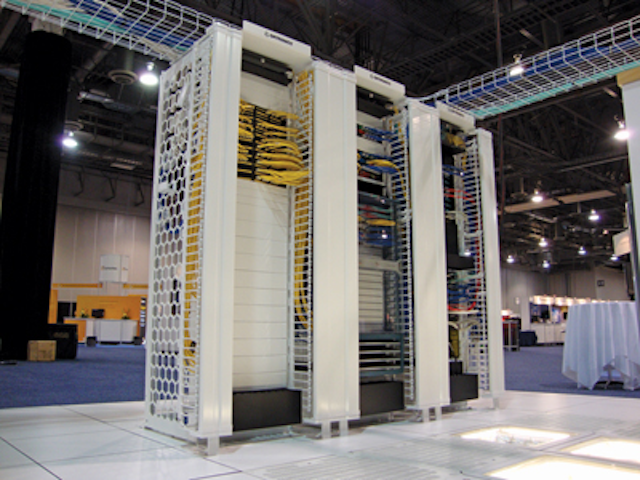 Legrand recently introduced the Mighty Mo 20 system, which it describes as "the industry's first all-white rack and all-white cable management accessories. The Mighty Mo 20 system is a comprehensive solution that meets the needs of networks requiring greater flexibility, optimum efficiency and superior design," Legrand says. Mighty Mo 20 has more than 120 new, innovative products, the company adds, and is designed for any LAN, SAN or data center-both copper and fiber-as well as any network equipment. "The well-designed physical support infrastructure maximizes network performance by minimizing the signal loss caused by improper cable support," the company notes. Mighty Mo 20 also "guarantees the flexibility necessary for future technology and growth, and increases cooling efficiency through proper airflow management."
The Mighty Mo 20 system includes 26 new racks- 12 channel racks with hex perforations, and 14 four- post racks. The system also includes 20 new vertical finger managers.
Legrand
www.legrand.us
N-Series TeraFrame Gen 3 cabinet system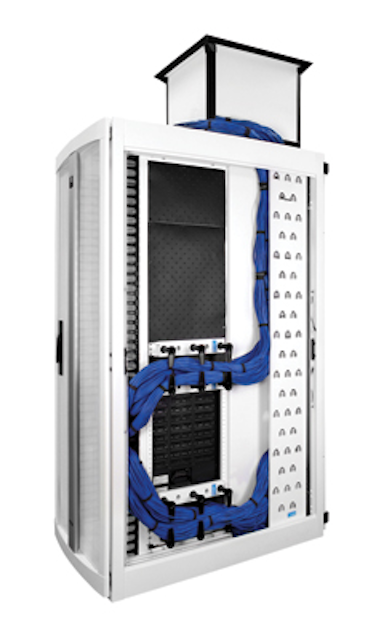 Chatsworth Products Inc. (CPI) reminds network and data center managers they can "support and protect network switches regardless of size, model or airflow requirements with the newly redesigned N-Series TeraFrame Gen 3 Cabinet System." The company adds that this system "takes equipment management one step further," including its ability to support the deployment of different-sized devices within one cabinet, without the need for additional accessory kits, while providing complete airflow isolation.
Chatsworth Products Inc.
www.chatsworth.com
Non-metallic surface-mount lock box for APs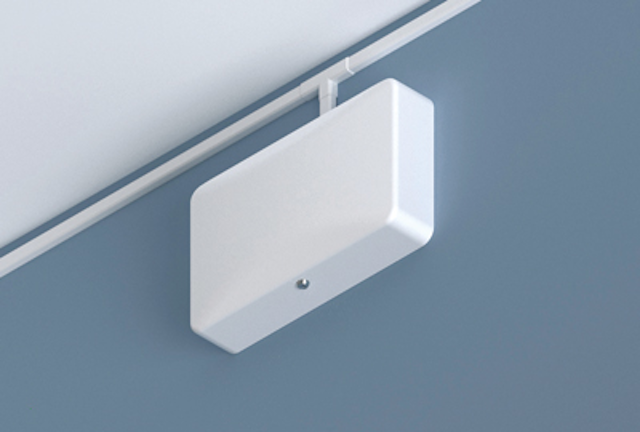 Oberon's Model 1016-00 is a wall-mounted cabinet for organizing and securing networking components in a professional office, retail, MDU, classroom, or similar environment. "The 1016-00 provides a convenient way to interconnect and stow a broadband modem, wireless router, small network switch, power strip, network storage, and other components," the company says. "This 18x12-inch cabinet has a polycarbonate back-box with an adjustable shelf for components, and wire tie-downs to manage the data and power wiring."
Oberon adds that the 1016-00's locking, impact-resistant polycarbonate door is virtually transparent to wireless signals. The door is available in white (model 1016-00) or frosted/translucent (model 1016-C). The cabinet mounts on the wall in minutes, the company adds, and "aesthetically secures all of your network components, including wireless routers, access points, and small-cell devices. The cabinet's low 5-inch profile allows it to be mounted just about anywhere, and it can be painted to blend into the environment."
Oberon Inc.
www.oberonwireless.com
Mini ladder rack enclosure

CABLExpress's Mini Ladder Rack Enclosure is designed to mount directly to overhead conveyance in the data center, enabling more-efficient use of conditioned rack space, the company explains. "The mini ladder rack enclosure has multimedia capabilities for fiber (96 duplex LC ports) or copper (48 ports), or a combination of the two," CABLExpress says. "It includes space for eight modules or feed-through adapter panels."
The enclosure also features stable spring couplers, an acrylic glass front cover, and an optional cable-management channel with flexible telescoping to safeguard cables, the company notes. "The mini ladder rack enclosure is part of the CABLExpress Skinny-Trunk Solution, and directly integrates with the recommended TIA-942 structured cabling standard," says CABLExpress. "The ladder rack enclosure is also available in full-size with capacity for 192 LC duplex ports or 96 copper ports."
CABLExpress
www.cablexpress.com
LL-580 optical splicing enclosure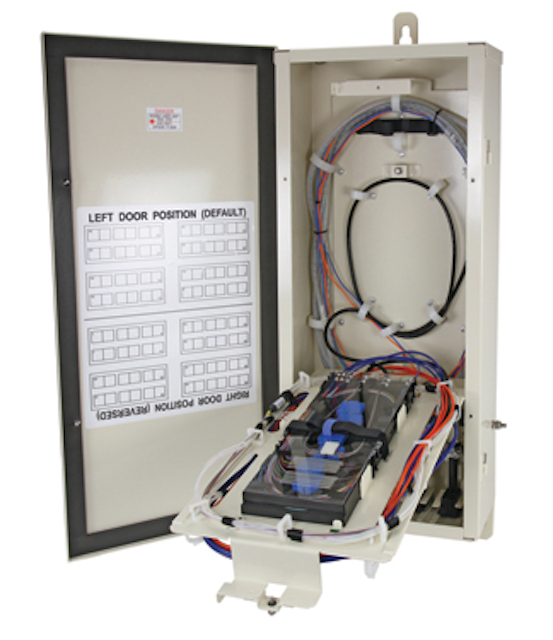 AFL's LL-580 optical splicing and distribution enclosure was designed for organizing, splicing and interconnecting fibers, the company says, and addresses the need to patch, patch-and-splice, express cut/drop fibers, and manage wavelengths in a single enclosure. According to AFL, the enclosure's features include a fully gasketed cover that installs on either side in tight-space situations; removable internal chassis and back plate for complete splicing, fiber-routing and fiber management; four interchangeable configurations at the cable-entry base that allow for installation of cable through a grommet system or preinstalled conduit couplings; LGX-compatible adapter/interconnect module that allows for SC, FC, LC or ST configurations; and a universal splice tray for 60 single-fusion or 288 mass-fusion splices, mechanical splices or a combination of splices.
The LL-580 houses passive optical-wavelength-management components and provides a clean and efficient means to access these components both at the initial installation as well as during the network's growth cycle, AFL concludes.
High-capacity, high-functionality V800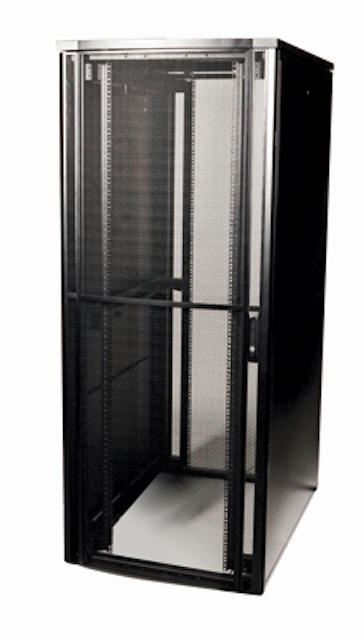 The V800 cabinet from Siemon is designed to provide "a robust, high-performance, cost-effective enclosure for high-density data center environments," the company said when launching the cabinet. It offers increased cabling and equipment density, Siemon explained, while providing easy accessibility and thermal efficiency. "Effective as a standalone enclosure or in a multi-bayed configuration, the V800 provides a modular configuration to enable use as a cabling, network-switch or server cabinet," the company noted.
The V800 is available in 42U, 45U and 48U heights with a choice of 1000-mm or 1200-mm depths, delivering "high capacity and exceptional functionality to suit a wide range of application environments," the company said. The V800 "represents a mid-range expansion to Siemon's current global cabinet offerings," the company added. "It can be used in conjunction with Siemon's standard V600 cabinets or premium VersaPOD data center cabinets, and shares a common design appearance. While feature-rich, this cabinet is cost-effective and its modular platform enables flexible scalability," the company concluded.
Siemon
www.siemon.com
Net-Contain system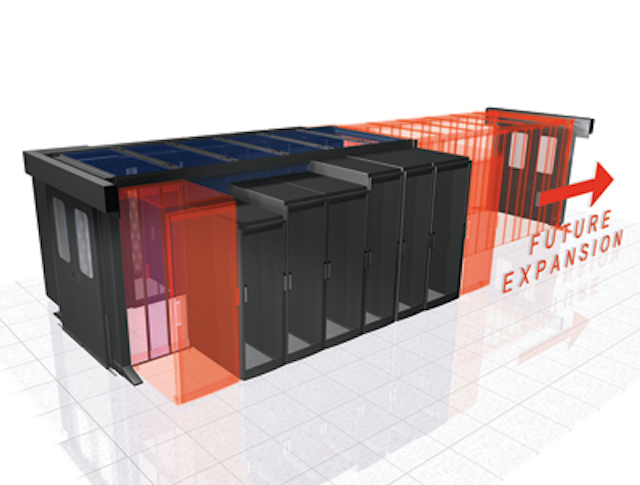 The Net-Contain Universal Aisle Containment System allows users to reclaim underutilized cooling capacity, reduce energy expense, and reduce operating expense by retrofitting their existing data center with a versatile containment system, Panduit says. The system includes an independent support structure, sliding doors, vertical blanking panels, and roof structure. The offering's flexibility enables it to be configured in hot-aisle or cold-aisle containment.
"The Net-Contain System is designed to retrofit in existing data centers," the company notes. "It can be configured as a roof containment or vertical wall containment. This is an independent containment system that accommodates any manufacturer cabinets of varying heights and widths. It can be deployed in a full or partial populated row." It also can be used in greenfield applications, as Panduit points out: "The Net-Contain System allows flexibility to build a containment system and then add cabinets of varying sizes and design as your needs dictate, reducing deployment time and capital investment."