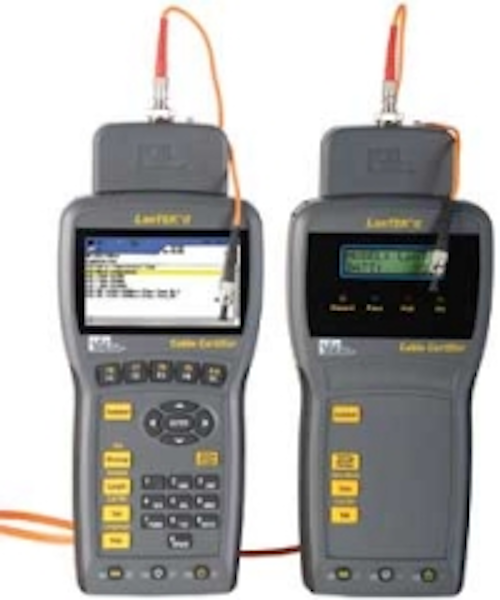 Gig-speed PoE media converter
The OmniConverter GPoE/S media converter is a 10/100/1000 UTP to 100Base-FX or 1000Base-X fiber multi-port media converter; according to the manufacturer, it is the first such device on the market to support the IEEE 802.3at (PoE+) standard. Classified as power sourcing equipment (PSE), the OmniConverter GPoE/S provides power to one or two powered devices (PDs) using standard unshielded twisted-pair cables that carry the Ethernet data. The GPoE/S can power a variety of IEEE-compliant and non-IEEE-compatible powered devices, such as IP phones, wireless access points, and network cameras. The GPoE/S is available in models that support both the IEEE 802.3af standard and the 802.3at (PoE+) standard. 802.3af models provide up to 15.4W of power per UTP port. The higher-powered 802.3at models provide additional power of up to 25.5W per port for more demanding PDs such as LCD panels, pan-tilt-zoom IP cameras and 802.11n wireless access points. A variety of port configurations are available, including single or dual UTP and small-form-pluggable (SFP) ports. Models are also available with redundant SFP port option for critical applications that require protection and sub-50-ms restoration in the event of a fiber failure. The standalone GPoE/S comes in a compact form factor, which can be tabletop mounted, wall mounted, or DIN-rail mounted using an optional DIN-rail mounting kit. The product is DC powered and available with an optional external 100 - 240VAC universal power adapter.
OMNITRON SYSTEMS TECHNOLOGY
www.omnitron-systems.com
Fiber modules for optical testing
The FiberTEK FDX Fiber Optic Modules are designed to extend the capabilities of the LanTEK II cable certifiers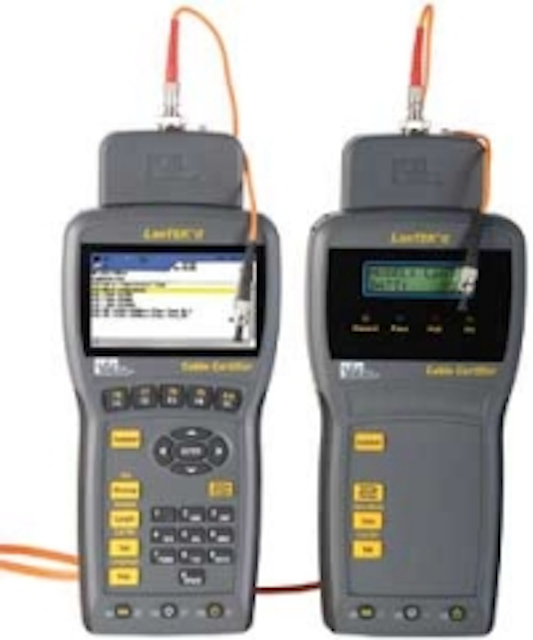 from certifying copper-cabling links to the certification of multimode and singlemode fiber-optic cabling to Tier 1 specifications. Fitting into the unit's adapter bay, the optional modules transform the LanTEK II into what the manufacturer describes as "a cost-effective alternative to traditional OTDRs for certifying or troubleshooting fiber backbones and fiber links. Field-changeable SC, ST, and FC adapters eliminate the need for hybrid launch cables." Three modules are available: multimode LED for certification of conventional multimode fiber-optic cabling and 850 and 1300 nm (no mandrels required); multimode VCSEL/laser modules for certification of laser-optimized multimode fiber at 850 and 1300 nm; singlemode module with laser sources for certification at 1310 and 1550 nm. A single strand of fiber connected between handsets is tested at two wavelengths and in both directions simultaneously, while the length of the fiber is measured. This task previously required the technician to swap test instruments or connectors, Ideal explains.
IDEAL INDUSTRIES
www.idealindustries.com
Residential structured wiring system
Leviton has launched its "Connected Home" line of residential structured wiring products. Available on January 4, 2010, the full product line includes more than 1,000 products, with 136 new items, including the company's HOME 5e and HOME 6 residential-grade connectors and patch cords. The company adds that a 128-page catalog is now being sent out to its Connected Home distribution network to support the new product launch. Applications assistance, configuration worksheets, and diagrams are included, along with product listings to help homebuilders and contractors select an ideal mix of equipment for their projects. In addition, qualified contractors now may be selected to become members of the new Leviton Residential Network Installer program. The program will allow member companies to promote themselves as being officially associated with the Leviton brand. Members also can offer their customers exclusive 25-year Leviton product warranties. Connected Home is part of the Leviton Network Solutions business unit. The full line of Connected Home products is offered through the company's extensive electrical distribution network.
LEVITON
www.leviton.com
Crossover fiber-distribution system
The FieldSmart Crossover Fiber Distribution System (FxDS) is billed by its manufacturer as a custom-configured system of fiber management components that may reduce the cost of fiber deployment, while maximizing ease of use and system density. Based on Clearfield's Clearview Cassette, which provides integrated fiber management within a 12-port footprint, the company says the FieldSmart FxDS provides a modular and scalable solution, requiring only four SKUs to support hundreds of configurations. Supporting on- or off-frame splicing and scalable to 1,728 ports across a network, the FieldSmart FxDS can be deployed from the inside plant or outside plant of the network. The FxDS component can be configured for deployment as a standalone panel into an existing fiber frame, data cabinet or active outside plant cabinet. For inside plant density, the FxDS can also be deployed as a dedicated frame. The building block elements of the FxDS include the Clearview Cassette, a frame kit, crossover bulkhead, front fiber protection block, and rear fiber protection block.
CLEARFIELD INC.
www.clearfieldconnection.com
Energy-efficient cabinet system
Panduit recently introduced the Net-SERV Cabinet System, which it says enables improved thermal management and reduced power consumption in a design that optimizes flexibility and space utilization in the data center. According to the company, the Net-SERV Cabinets incorporate cable management design features that optimize space utilization and thermal management for server applications. Cabinets are available in 600mm (24") and 700mm (28") widths, 1200mm (48") depth and in 42RU and 45RU heights. The cabinets are available configured from the factory with a variety of cable management options including high density, standard density, and vertical patch. Additional elements of the Net-SERV Cabinet System optimize cooling system effectiveness by maintaining hot/cold air separation and eliminating exhaust-area choke points. The Panduit Vertical Exhaust System (VES) channels hot air from the cabinet directly into the overhead return plenum, preventing hot air recirculation and allowing room and chilled water temperature set points to be raised. Air-sealing accessories prevent the mixing of hot and cold air by eliminating leakage through cabinet and floor openings, boosting cooling system efficiency. When deployed as an integrated solution, the Net-SERV Cabinet System enables data center managers to optimize airflow and reduce energy costs by 25% or more in a typical deployment, its manufacturer says.
PANDUIT
www.panduit.com
120-Gbit interconnect system
Molex has introduced the iPass+ High-Speed Channel (HSC) pluggable CXP copper and optical interconnect system, designed to enable 12 channels of 10-Gbit/sec data for up to 120 Gbits/sec of total bandwidth. The iPass+ CXP provides both optical and copper direct-attach options for the same system port, thereby increasing the flexibility of system-level hardware for end users, the manufacturer says. This dual paddle-card system was adopted as the InfiniBand Architecture Specification Vol. 2 Release 1.2.1; Annex A6 in September 2009. The unitary press-fit connector and cage assembly provides one-step placement to the host board and is offered in both single and stacked dual-port configurations. The copper versions are the first to hit the market. The Molex CXP 12X direct attach copper cables are designed to accommodate single, ganged, or stacked connector configurations in extremely high-density requirements. The CXP passive copper cables are available in a variety of lengths. The active optical cable (AOC) versions of the CXP interconnect, with pluggable optical module cable assemblies and loopbacks, are still in development. Cabling options for CXP optical products will include 24-fiber round OFNP-rated jackets in 3.8- and 5.4-mm diameters, filling both shorter rack-to-rack and longer riser cabling requirements.
Molex Inc.
www.molex.com