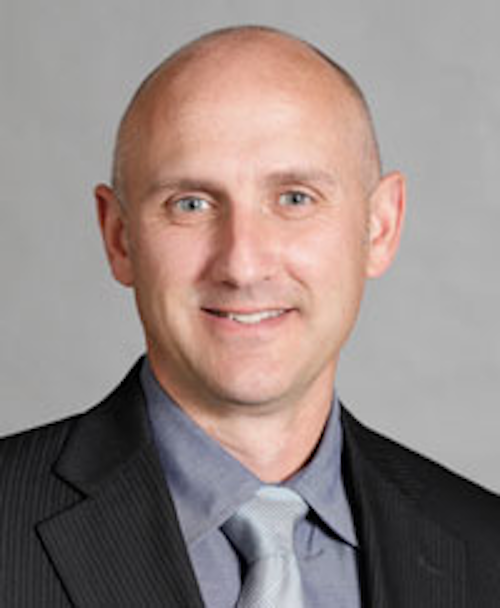 From the July, 2015 Issue of Cabling Installation & Maintenance Magazine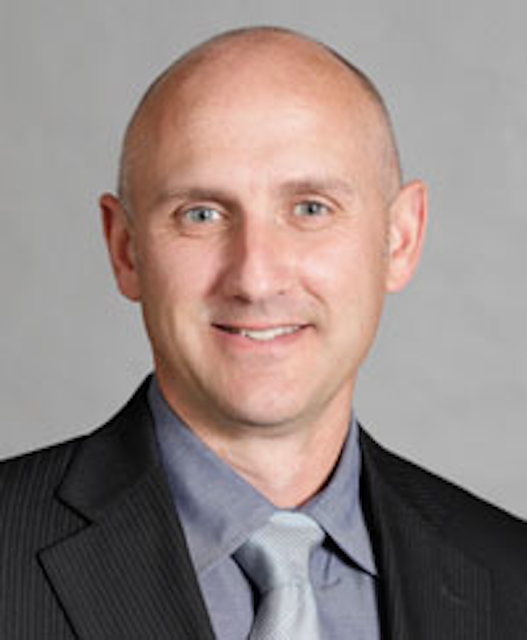 Jason Woods, RCDD has joined technology design and consulting firm BJL Enterprises as partner and vice president. Woods, most recently director of technology for Alfa Tech, has more than 20 years' experience in technology design and consulting.
When announcing he joined BJL, the company said Woods "will advise BJL's clients on the design and construction of their mission-critical facilities and use his expertise in structured cabling construction, data center and enterprise design and project management." BJL said Woods also will assist clients on strategy for their IT infrastructure requirements "while providing a vendor-neutral approach, ensuring lower risk and the implementation of cost-effective solutions." He's also overseeing the firm's business-development activities and strategic partnerships.
BJL was founded in 2013 by former Arup executive Bill Lizotte. The company reported revenues of $400,000 in its first year and $600,000 in 2014, and projects $1.5 million in revenue this year. "Since its founding, BJL has helped a number of firms, both large and small with a variety of technology and design consulting needs," the company said. "Projects have included enterprise design for various Bay Area Fortune 100 and 500 companies and multiple data center projects located in the U.S, Australia and Europe. BJL is currently engaged with multiple end-users in project management as well as owner representatives for the construction administration phases of their projects."
Likewise, Woods has overseen enterprise and IT infrastructure projects, as well as design and construction of data centers, for numerous Fortune 100 and 500 companies, BJL added. "Projects under Mr. Woods have included the low-voltage infrastructure design, wireless design, security design and project management for more than 3 million square feet of office space and campuses for multiple clients, as well as the design and construction management of multiple LEED Platinum and Gold certified data centers."
Lizotte commented, "BJL is delighted to welcome an IT industry veteran like Jason to our team of experts. Jason's experience and contacts in the mission-critical industry will provide BJL with the expertise we need to service current and future clients while helping BJL keep pace with the explosive growth it has experienced over the last several years."
Woods said, "I am excited to join Bill and the rest of the team at BJL Enterprises. In just two short years, BJL has become a leader in technology design and consulting, assisting clients with a wide variety of network infrastructure needs. I look forward to helping the company continue its impressive growth in the high-performance building marketplace."
---
Anritsu enhances portable testers for mobile fronthaul, optical transport networks
Anritsu has announced enhanced capabilities for its portable, all-in-one MT1000A Network Master Pro and MT1100A Network Master Flex transport network testers.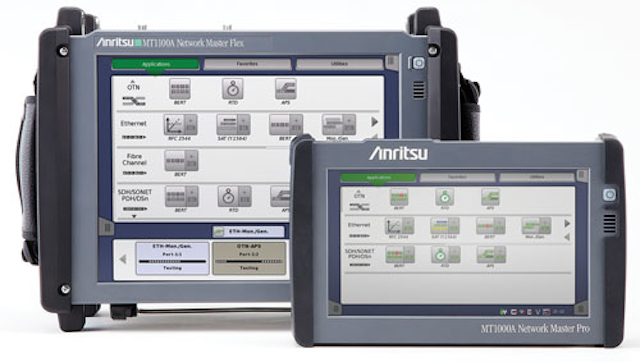 Via the upgrades, the MT1000A and MT1100A bring greater flexibility, accuracy, and versatility to testing high-speed networks designed for emerging high-bandwidth requirements, says Anritsu. Both instruments now support all eight CPRI interface rates from 614.4 Mbits/sec to 10.1376 Gbits/sec, which ensures testing of all current and future mobile network requirements. Testing of CPRI over OTN and testing of OBSAI are included, as well. To verify IP network performance, a new TCP Throughput option allows the MT1000A and MT1100A to support the RFC 6349 test methodology, making them ideally suited for TCP throughput optimization up to 10 Gbits/sec.
According to the company, other enhancements for the testers specifically include: OTN multi-stage mapping for OTU3/4; and MDIO analysis, an event logging feature with filtering and support of a video inspection probe (VIP). With the enhancements, network managers and field technicians are afforded a single-instrument handheld solution to test new technologies designed into mobile fronthaul networks, as well as OTN, Ethernet, Fibre Channel and SDH/SONET and other technologies in transport networks.
The MT1000A and MT1100A can be connected to a VIP, so users can evaluate the fiber endfaces and confirm that quality practices are maintained based on the IEC 61300-3-35 standard. Also, a remote operation function allows the MT1000A and MT1100A to be remotely operated via a Windows-based PC. The remote control package also supports file transfer, including download of measurement reports and results files, upload and download of configuration files, and remote software upgrade. In addition, the dedicated remote control package supports multi-user access to the instrument, allowing one user per port.
Inputs and outputs of the MT1100A Network Master Flex support XLAUI/CAUI signals, allowing connection of devices such as 40G/100G/400G transceivers, framer ICs and network equipment using a CFP 10 lane extender. The MT1100A also supports CFP4 transceivers, the latest 100G optical transceiver, using a CFP2-CFP4 adapter.
---
WiFi-enabled doorbell camera integrates with smart home system
Smart home technology provider Vivint announced its Vivint Doorbell Camera, a WiFi-enabled smart home product that integrates with the Vivint Sky smart home system.
Via the camera, customers can engage in 2-way conversations with visitors on their doorsteps from their mobile devices, and use Vivint's smart home technology to remotely unlock the front door, open the garage door, disarm their security systems, and perform other functions. The camera's advanced video analytics alert homeowners to approaching visitors with customized notifications sent not only to a mobile device, but also to the Vivint SkyControl panel, located inside the home.
When the Vivint Doorbell Camera detects a visitor, it begins recording video with audio and saves 30-second clips for later, on-demand viewing. The unit also automatically broadcasts a live video feed to the Vivint SkyControl panel, as well as to linked mobile devices. With the camera's built-in microphone and speaker, homeowners can have a visual, 2-way conversation with a visitor on their doorstep, remotely from any mobile device.
Other key features of the doorbell camera, according to the company, include: a 180-degree lens that shows a home's entire doorstep in high quality video, without a distorted "fish-bowl" view; night vision technology that sees visitors approaching a home even in low-light conditions; advanced echo cancellation and noise isolation for an enhanced 2-way communication experience from mobile devices; and a built-in, omni-dimensional microphone that makes conversations clear and easy to understand.
---
Samsung launches open-platform silicon to accelerate Internet of Things development
At the recent Internet of Things World (IOT 2015) event in San Francisco, Samsung Electronics Co., Ltd. announced the Samsung ARTIK platform, designed to allow for faster, simpler development of new enterprise, industrial and consumer applications for the Internet of Things (IoT).
According to a Samsung press release, "ARTIK is an open platform that includes a best-in-class family of integrated production-ready modules, advanced software, development boards, drivers, tools, security features and cloud connectivity, designed to help accelerate development of a new generation of better, smarter IoT devices, solutions and services."
"We are providing the industry's most advanced, open and secure platform for developing IoT products," said Young Sohn, president and chief strategy officer, Samsung Electronics. "By leveraging Samsung's high-volume manufacturing, advanced silicon process and packaging technologies, and extensive ecosystem, ARTIK allows developers to rapidly turn great ideas into market-leading IoT products and applications."
Samsung says the ARTIK platform comes in a variety of configurations to meet the specific requirements of a wide range of devices, from wearables and home automation, to smart lighting and industrial applications. All members of the Samsung ARTIK product family incorporate proprietary embedded hardware security technology, on-board memory and advanced processing power in an open platform. Security is also a key element of the advanced software integrated into the platform, Samsung says, along with the ability to connect to the Internet for cloud-based data analytics and enhanced services. As an open platform, Samsung ARTIK can be customized for deployment of IoT devices and the services that can be delivered using them, notes the company.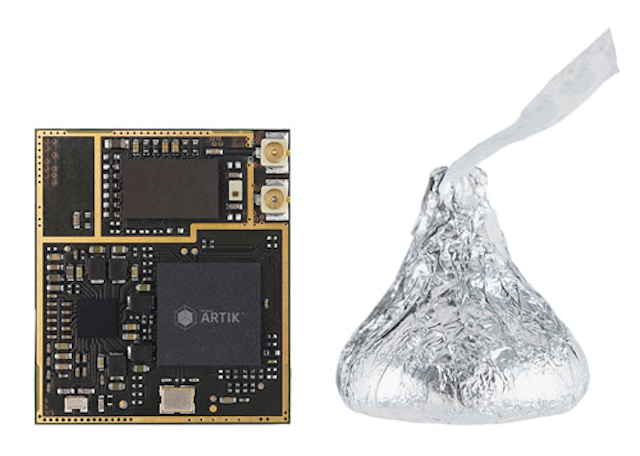 Initial members of the ARTIK family include: ARTIK 1, billed as the smallest IoT module currently available in the industry at 12mm-by-12mm, which combines Bluetooth/BLE connectivity and a nine-axis sensor, designed for low-power, small form-factor IoT applications; ARTIK 5, which the company says delivers a balance of size, power and price-performance, and is intended for use in home hubs, drones and high-end wearables; ARTIK 10, which enables high-performance IoT capabilities with an eight-core processor, full 1080p video decoding/encoding, 5.1 audio, and 2GB DRAM along with 16GB flash memory. The ARTIK 10 includes Wi-Fi, Bluetooth/BLE and ZigBee connectivity and is designed for use with home servers, media applications, and in industrial settings.
"Industry requirements for IoT devices vary in terms of battery life, computational horsepower and form factor," concludes Samsung's Sohn. "With this family of ARTIK offerings, Samsung is directly addressing the needs of the widest range of customers, uses and applications."
---
Allied Control recognized for data center immersion cooling technology
Allied Control, a builder of immersion cooling systems for supercomputing and data center applications, recently won the Green Innovations Award, presented by Hong Kong's government to recognize innovation in finding environmentally friendly technology solutions. Allied Control has developed its third-generation immersion cooling system usng 3M's Novec Engineered Fluids to create energy-saving data center cooling systems for high performance computing applications.
Allied Control contends that, with a PUE of less than 1.01 via immersion cooling technology, more than 99 percent of electricity used for cooling data centers can be saved even in hot and humid Asia, while barely wasting any water. The company notes that, in its two-phase immersion cooled system, electronic components are submerged into a bath of dielectric heat transfer liquids, which are much better heat conductors than air, water or oil.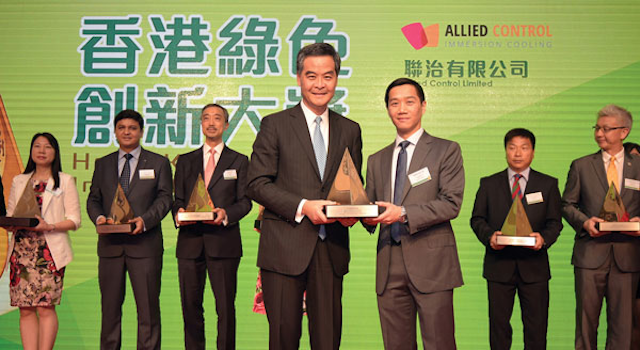 It is this simplicity that eliminates conventional cooling hardware and results in better cooling efficiency, adds Allied Control. Compared to traditional air, water or oil cooling, this passive process results in the use of much less energy and lower water consumption. Two-phase immersion cooling can be up to 4,000 times more efficient at removing heat from chips than air, asserts the company.
An Allied Control press release states, "Data centers usually require not only a lot of electricity, but consume a lot of water using evaporative cooling towers and water chillers. For example, it has been reported that the U.S. National Security Agency's massive data center in Bluffdale, Utah, the second driest state in the country, consumes up to 6.6 million gallons of water a month. In addition to onsite cooling water, data centers also indirectly consume an enormous amount of water embedded in electricity generation which, even excluding hydroelectricity, is estimated to consume 1.8 liters of water per kilowatt-hour (L/kWh) electricity in the U.S."
The release adds, "Although some of the largest data center operators have begun to slash their onsite cooling water usage, the overall water footprint (including both onsite and offsite water) is still one of the important aspects of cloud computing from the perspective of sustainability. In California, some companies have moved their data centers out of state, to colder climates. However, the key reason why many U.S. companies and international internet giants like Alibaba are moving a considerable amount of their cloud data center operations to California, is to utilize the high-tech talent pool and already existing infrastructure in and around Silicon Valley."
Kar-Wing Lau, vice president of operations at Allied Control, comments, "With California being in its fourth consecutive drought year and regulators proposing mandatory reduction of up to 35 percent in urban water consumption, Allied Control's immersion cooling technology might offer an effective solution to cool down the many data centers serving the hungry and ever-growing demand of cloud services and other Silicon Valley applications. In our standard configuration, the closed loop cooling units do not use evaporative water towers, and as a result, the water usage effectiveness is close to zero."
Allied Control was recently acquired by Bitcoin infrastructure provider and Blockchain transaction processing company, BitFury Group. "We take environmental concerns seriously," concludes BitFury's CEO Valery Vavilov. "Our proprietary technology is highly energy efficient. We are committed to growing our transaction processing infrastructure with the smallest carbon footprint, continuing to rely solely on renewable energy sources."
---
Media converters slash Gigabit connectivity costs in harsh environments
The cost of gigabit fiber conversion can be prohibitively high for many industrial users, when network links need to be extended beyond the 100-meter limit imposed by unshielded twisted-pair copper cable. To combat this problem, Moxa has introduced its IMC-21GA Gigabit Ethernet-to-fiber media converter, engineered for harsh industrial environments.
Appropriate for use in high-bandwidth applications, such as megapixel machine vision inspection or IP video surveillance, the IMC-21GA is described by Moxa as "an exceptionally full-featured and cost-effective option for converters in its class, with an MSRP for entry-level models beginning at under $200 (USD)."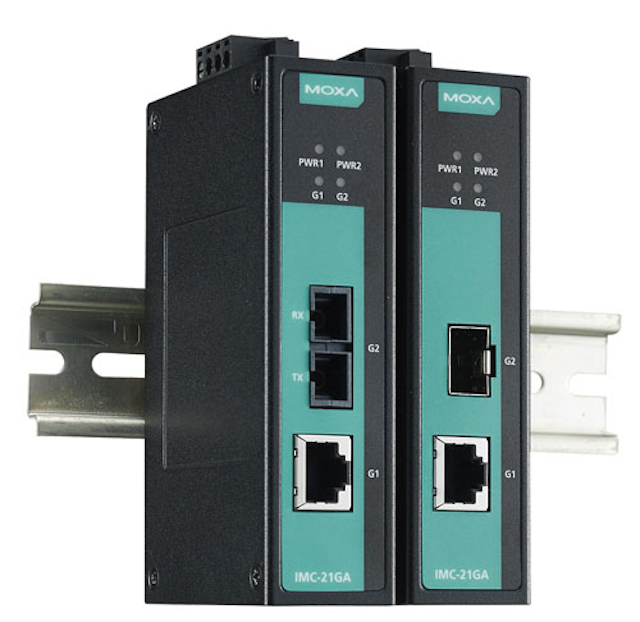 The IMC-21GA provides conversion of 1000Base-T(X) to 1000Base-SX/LX or select SFP module media, so links can be extended to allow real-time, end-to-end management of devices several miles away. Both IEEE 802.3az (Energy Efficient Ethernet) and 10K jumbo frames are supported, resulting in reduced power use and enhanced transmission performance by increasing the networks' throughput and eliminating congestion, the company explains.
The IMC-21GA media converter is industrial-grade and comes equipped with a relay output warning alarm. It is available in models that support a standard operating temperature range of 0° to 60°C (32° to 140° F), and an extended operating temperature range of -40 to 75°C (-40° to 167° F). The converter's advanced link fault passthrough monitors the state of the link to end devices and ensures that each endpoint knows whether the entire link is operational.
"Network connectivity is more important than ever for our users to benefit from the industrial Internet of Things," says Paul Wacker, product marketing manager for device connectivity for Moxa Industrial Wireless. "The IMC-21GA is an attractive new option for engineers trying to establish reliable high-bandwidth network connectivity over long distances, such as for remote IP cameras."
---
CEC becomes authorized BICSI training facility
Communications Engineering Company (CEC) announced that it has earned BICSI Authorized Training Facility status. The systems and technology integrator, based in Hiawatha, IA, announced it "is now one of two" authorized BICSI training facilities in Iowa, "and the only authorized facility in eastern Iowa."
The company further explained, "By replicating a BICSI classroom environment in-house, CEC now has the ability to offer [our] own training on the proper methods for installing data, voice, and video cabling in commercial buildings. In the future, CEC may also offer this combination of classroom lectures and hands-on learning to customers and other industry professionals.
"By taking on the charge of educating the industry and advancing the education of cabling installers and technicians, this investment in employee education and development will help CEC maintain its position as one of the top integrators in the business."
Brian Morrow, CEC's director of installation services, said, "The growth that CEC has experienced over the past 10 years put us in a position where we need to find qualified employees quicker than ever before. This training will provide our employees with not only the basic training requirements of their chosen career, but also the ability to grow and develop the skills necessary to succeed. Becoming a BICSI Authorized Training Facility allows us to expand on a culture based on industry standards and best practices."
To meet BICSI's requirements to become an Authorized Training Facility, CEC followed strict procedures regarding classroom design and lab setup, as well as employing its own BICSI-certified trainer.
IEEE 802.3bm standard, which specifies "4x25" 100-GbE, now available
IEEE recently announced the availability of the IEEE 802.3bm specification, officially entitled "IEEE Standard for Ethernet Amendment: Physical Layer Specifications and Management Parameters for 40 Gb/s and 100 Gb/s Operation Over Fiber Optic Cables."
The institute says the amendment to the IEEE 802.3 IEEE Standard for Ethernet is intended to support a number of advances in optical networking, enabling migration to higher-density applications, reducing cost and power demand of 100-Gbit/sec devices and simplified metropolitan services.
"The rapid growth of Internet traffic is driving the need for higher data rates, higher density and lower-cost fiber-optic solutions for the data center," commented David Law, chair of the IEEE 802.3 Ethernet Working Group and distinguished engineer with HP Networking. "IEEE 802.3bm demonstrates how IEEE 802.3 is taking a forward-thinking approach to stay ahead of global demands on Ethernet networking, which paves the way for innovation in devices and services."
According to the IEEE, the 802.3bm specification was developed to amend the IEEE 802.3 base standard to reduce "lane count" for 100 Gb/s applications (from 10 lanes at 10 Gb/s each to four lanes at 25 Gb/s each), to expand reach for 40 Gb/s services to 40 kilometers and expand Energy Efficient Ethernet capability to include optical links.
"Significantly higher Ethernet performance, capacity and reach in optical networking are needed especially inside and among data centers across metropolitan areas, given the ongoing proliferation of smartphones, video-on-demand, cloud computing and other bandwidth-intensive applications such as the Internet of Things," added Dan Dove, chair of the IEEE P802.3bm Task Force and chief consultant with Dove Networking Solutions.
Dove concluded, "The project to develop IEEE 802.3bm addressed these market needs through a globally open, collaborative effort that drew contributions from a broad spectrum of engineers and end users across the Ethernet ecosystem."
IEEE 802.3bm is now available for purchase at the IEEE Standards Store.