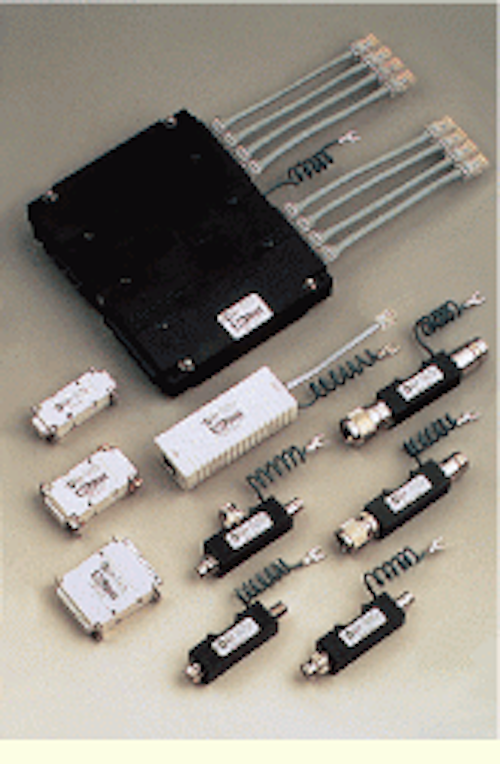 Barbara E. Thompson
Harmful power surges not only get to local area network systems on alternating current power lines, but they can also travel along communication lines. As LANs connect computers, telephone, data, video and security systems in and between buildings, each connection can create a path for data-line surges to enter the system. Even when equipment is protected by AC power-line suppressors and uninterruptible power supplies, data-line surges can enter the network through a "backdoor," including unprotected modem lines, printers or other networked peripherals.
To prevent potential damage caused by these backdoor surges, installers can connect data-line surge suppressors directly between LAN data cables and equipment network ports. You can use them at building cable entry points, punchdown blocks or other network distribution points. You can also use them to protect hubs, routers and other LAN equipment from surges, or transients, caused by lightning, electrostatic discharge and ground loops. LAN data-line surge suppressors are designed to divert damaging surges before they reach critical equipment.
Secondary protection
Why do you need this secondary protection in addition to an uninterruptible power supply? One reason, according to Brad Hendricks, product manager at Panamax (San Rafael, CA) is that "the UPS does not protect communications and data lines. When the UPS starts dumping the surge into ground, the surge finds the data line, which is the path of least resistance. The surge will then go right through the computer chassis and damage the communications card in the computer," he explains. "Surges are trying to find the path of least resistance to ground, and this tends to be the communications and data lines during surge conditions."
When choosing the type of device, "always stick with the spec," says Tim Hemhauser, service manager at Newington Electric (Newington, CT). "For example, we`re finding that surge devices are `blowing` a lot because they were not installed according to specifications. Then you don`t know if it`s because the device doesn`t meet the specification or you have a potential power problem."
Data-line devices protect your equipment by diverting or shunting the transient voltage away from the data line to the building ground. This function, referred to as clamping, is the point above which transients are eliminated. `Breakdown` or `breakover` voltage is the voltage level where a protector would begin to conduct--and at which point the device`s failsafe disconnect activates. "Data-line devices can handle hundreds of transients," says Tom Leonard, specification engineer at Leviton Telcom Manufacturing Inc. (Bothell, WA), "but if a surge comes along that is beyond the scope of the device, it will fail, or disconnect itself, to prevent the transient from reaching the equipment."
Joe Loberti, business unit leader for surge products at American Power Conversion (West Kingston, RI), explains: "Failsafe is the last point of the protection device, where the product actually sacrifices itself to protect the equipment."
Common grounding is also important. Your AC, data and telecommunications products should be grounded into one unit so that "if all the grounds are at the same reference," says Hendricks, "when the surge comes in, all the grounds go up at the same time, and they all go down as the surge dissipates."
Price is important, too. However, you should ask your manufacturer`s representative about product warranties and if there is an equipment protection program. Most manufacturers offer a period of warranty for the LAN data-line protection device and, in addition, several offer a repair or replacement program for connected equipment that is damaged by a surge.
Data-line surges can be from natural causes, such as lightning or static buildup. However, data-line surges can also be caused by faulty wiring, ground loops and AC circuit variations across facilities and from building to building. Symptoms of these problems can appear as garbled data, system lockups, protection faults and slow transmissions. More serious damage can include failed network interface cards, serial ports, modem/ fax cards and motherboards.
The configuration of the RS-232 serial port has been cited as a reason for the data-line`s susceptibility to surge problems. The reason is that the port is configured so that the ground--which drains high-energy surge and fault currents--also shares the same line as the data signal return. Consequently, small surges seeking ground can enter the network through the serial port and travel to computers and printers. Telephone/modem lines can also conduct transients directly from outdoor power lines. In addition, unshielded twisted-pair and coaxial network interfaces can conduct surge voltages from nearby lightning strikes and electrostatic discharge.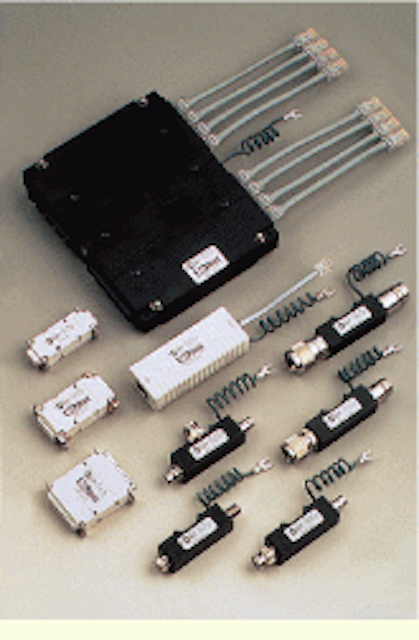 Click here to enlarge image
Data-line surge suppressors protect networked devices against transients caused by lightning, electrostatic discharge and ground loops.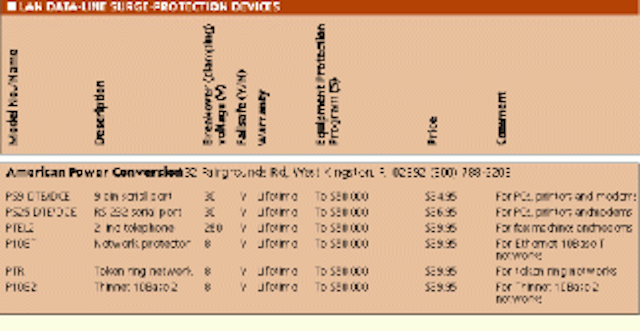 Click here to enlarge image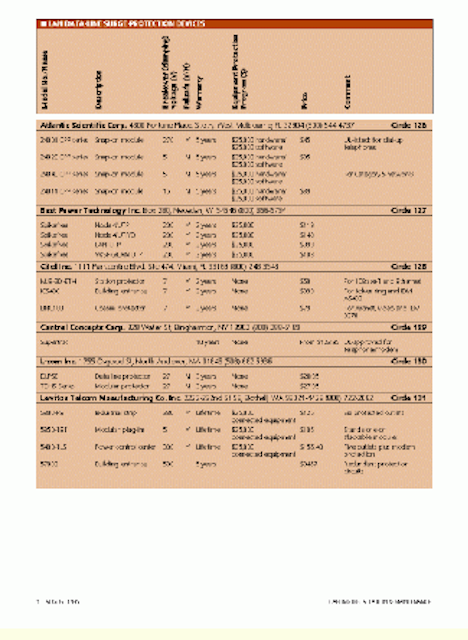 Click here to enlarge image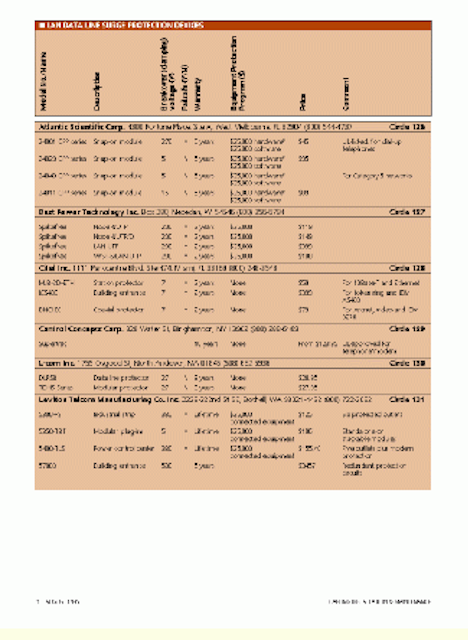 Click here to enlarge image